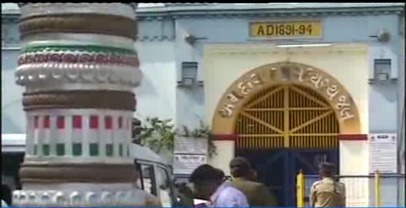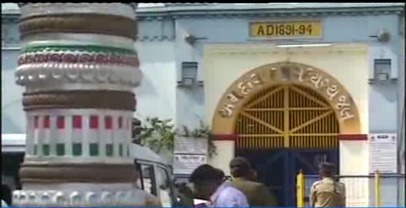 An 18-feet long tunnel inside the Sabarmati Central Jail in Ahmedabad has been discoverd by Authorities. Officials say the tunnel was being dug for the past five to six months and the detainees were trying to escape using the tunnel.
The police officials said there were over 50 under-trials in that jail, out of which 14 have been identified. They said the tunnel was half way when it was discovered by the jail authorities. "We have found a tunnel dug in the barrack where 14 of the serial bomb blasts accused are lodged. We have registered an FIR and investigation is on," said Superintendent of Sabarmati Central Jail VM Parghi as reported by CNN IBN Live News.
On Sunday night, when jail authorities suspected something amiss in the behaviour of two inmates at barrack number four, called 'Chhota Chakkar', they searched it and found the tunnel dug from inside the barrack, police said. "Out of 68 accused of the serial bomb blasts case, 14 were lodged in this barrack and we have started probe on since how long digging work was on, how they were digging it and who else are involved," said Parghi without divulging any further details.
On July 26, 2008, 20 near simultaneous bomb blasts across the city had killed 57 people. All the blast accused are lodged in Sabarmati Central Jail as trial has been ordered to be conducted in the premises because of security reasons.
The state Home Ministry has ordered an enquiry into the incident following a high level meeting held this morning by Minister of State for Home Rajnikant Patel. Pargi said they have not found any tools but it seems the accused were using dinner plates and wood to dig the tunnel.
"They had volunteered for the gardening work around the barrack and under that cover they were dumping the sand extracted from the tunnel into the garden outside," said Jail IG PC Thakur.
"Everyday they used to get three hours free time to do work of their choice and we are suspecting that they might have used that time to dug the tunnel," Thakur added.
He also claimed that no matter how long they might have dug the tunnel, their escape was impossible as the wall surrounding the barracks are 21 feet high and 20 ft deep into the earth. Thakur, however ducked queries as to how could jail authorities fail to know about it till now. "Let us first investigate the whole incident," he said.
A battery of high ranking officers including State Jail IG PC Thakur, JCP city Crime Branch Himanshu Shukla and other officer from Anti Terrorist Squad (ATS), Special Operation Group (SOG) and Forensic Science Laboratory (FSL) have rushed to the jail premises.
Some of the 14 bomb blast accused who were lodged in the barrack where tunnel was found are: Sajid Mansuri, Yunus Mansuri, Shamshood Shahpurwala, Javed Sheikh, Kadri Juhapurawala, Arif Kadri, Umar Kala, Usman Agarbatti, Kayamuddin and Mufti Abu Bashar. Usman Agarbatti, a civil engineer, is allegedly the master
mind of the plan, sources said.
Additional Principal Sessions Judge Jyotsana Yagnik, who is conducting the trial of the serial bomb blast case also visited the jail premises on Monday morning.
Trial of the serial blasts case is being conducted inside Sabarmati Central Jail, as state government has invoked section 268 of the Criminal Procedure Code(CrPC) against all the accused in the case, restricting their movement.
More then 35 FIRs have been filed and nearly 24 accused are still absconding, including Riyaz Bhatkal, Mufti Sufiyan Patangia.
(With additional information from CNN IBN Live and PTI)