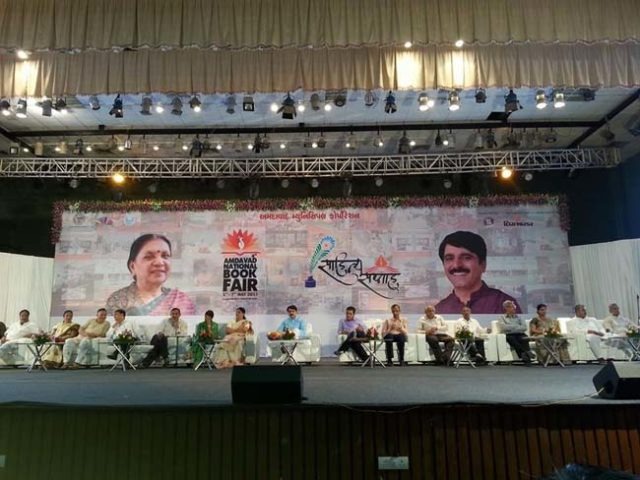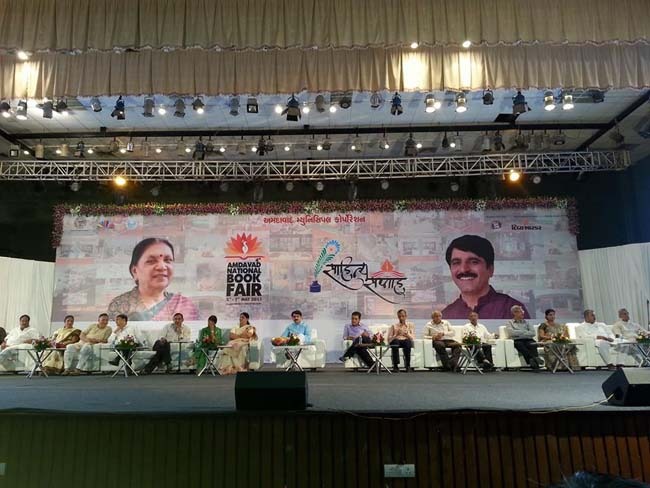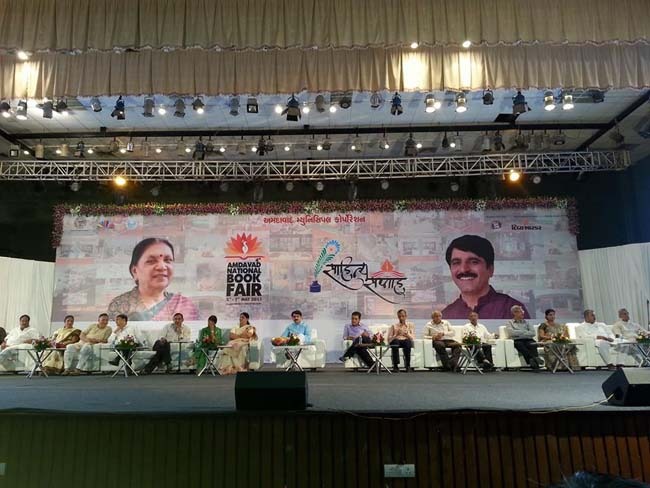 The 4th Amdavad National Book Fair organized by Ahmedabad Municipal Corporation in association with National Book Trust, India and with participation of Gujarati Sahitya Parishad and Gujarat Prakashak Mandal ended on a successive note today after a week long Fair at University Convention Hall.
As an initiative of Prime Minister Narendra Modi's 'Vanche Gujarat' Abhiyaan, the 4th Amdavad National Book fair which was inaugurated on 1st May by Hon. Minister Shri Shankerbhai Chowdhury with Chief Guest Mayor Meenakshiben Patel, Municipal Commissioner D. Tara (IAS)and other dignitaries. Vanche_Gujarat‬ is a big Achievement of Former C.M Shri Narendra Modi and the inivitiative is carried forth as 'Gatisheel Gujarat' by our CM Anandiben Patel, said Mayor Meenakshiben Patel at the event.
Each year, it is a challenge to host the Book Fair on such a massive scale that cuts across language barriers, cultural programs and children entertainment. The Amdavad Book Fair, this year, saw a mix feeling of expression with the with biggest attraction it offered not only Book but also over 300 Publisher and participants with Stall holders who varied from Book genres that can be categorized from Management, Spiritual, Cookery, Children books, Fiction, Science, Encyclopedias, etc. Nevertheless to mention, spirituality books and anti-terrorism books were major attraction. Any 3 to 4 Books for Rs.100/- and huge discounts made the city youth grab copies of their choice.
A host of Literary Personalities, Authors, Artists, Print & Electronic Media were actively involved in making the fair, a grand success. Apart from Print Media, Radio and Television media played a huge role in the massive success of the Amdavad Book Fair 2015. It has been a revolution in providing a big opportunity to integrate technology in making Book Fair popular among citizens as the tools of White Boards and Power Point Presentation on big screens were visible for workshops conducted at the venue.
Amdavad National Book Fair can be termed as the biggest Literary Fair in the nation which sets an example for other States in India. The Book Fair had attractions with sections of Triveni, Gyan Ganga and Rang Rang Vadaliya with 7-day confluence of literature, entertainment and interaction through art, music and cultural activities.
Main attraction at the fully air conditioned Convention Hall fell in the category for citizens to beat the summer productively range from Pustak Parab to Publisher bookstalls from all over the nation, huge tableau,banners, mascots depicting knowledge and information, Comics and Cartoon character pavilion at Rang Rang Vadaliya, Workshop areas, Cartoon-Caricature exhibits, Old film legend depicted posters and music area, Knowledge sharing Author's Corner and Special Food Court area with other facilities of wifi, etc.
The Amdavad Book Fair 2015 presented a feast of different dimensions of literature for the visitors. The Author's Corner saw Literary Experts in the field who shared their knowledge and wisdom. 19 Authors Participated in this secion who contributed to society with Book written in English, Gujarati and Hindi. The topics related from Short Stories, Novels, Health, Parenting, Women and issues, Historical depiction, Management, stress and Management, Marketing strategies, Gujarat, on Language usage, on Online Gujarati magazines, portals on Gujarati Word Dictionary, etc.
In Gyan Ganga, programs like Rubaru,Sarjak ni Sarjan Yatra,Workshops/Book Review/Book Release, Kavi Sammelans and the like enthralled the audience as they had the best opportunity to interact with the favorite Authors. A rich literary event that Gujarat can take pride of with its own language Authors.
The Triveni – Shabd, Sur and Taal had amazing cultural programs of music, drama and literature. The performances ranged from well known artists in jam packed hall every day with people awe struck and influenced by the artists. ABF takes pride to see the unity of citizens as they shared the seats and many of them made way, sitting on the floor. These artists at the main auditorium were par excellence in entertaining the audience. Ankit Trivedi, Shahbuddin Rathod, Paresh Raval, Osman Mir, Bhikhudan Gadhavi, Gunvant Shah, Bhagyesh Jha, etc.
In Rang Rang Vadaliya, the Children's Corner has been a major attraction for children and parents as well. It made one dive into the ocean of knowledge going down back memory lane to childhood. The themed walls was an amazing decoration of Cartoons and Indian mythology characters. Children participated in all events in huge numbers. The activities and workshops ranged from Origami, Drawing Competition, Creative writing, Blog making, Elocution, Crafts, film scripting, and Indian Comics to match the theme of the Rang Rang Vadaliya. V Ramanuj, Satori, Bhakti Shah, Ilaxi Patel and many experts in children field made the colorful event for kids.
Ahmedabad Book Club with its major role managed the Author's Corner and moderated the event. Reading Forums by AMC and ABC were held with reader participations who spoke about their favorite books in the forum.
The Amdavad National Book Fair in partner to MY FM 94.3 was a major coverage on the Radio show all through the day. It's Radio show MY FM's Zindagi Express became a live story telling at the Author's Corner by Aarti Patel. They featured bytes of people who visited the fair and 'Tum Tak Pustak' were recommendations they recieved on the white board at the Gyan Ganga hall by well known personalities which they continuously announced on MY FM 94.3 Radio show.
The Food court area got a huge response with excellent set up of a Food court with various delicious dishes to serve. Nice arrangements for water and toilet facilities. Even cold drinks were served free of charge to all visitors at the event venue.
Shri Morari Bapu's presence had an added dimension to the whole even with his thought process to 'Pustak Devo Bhavo.'
A big applaud for the management of Amdavad Book Fair 2015 who were responsible to make the show run smooth all through the seven days with its glitter and gradeur at the event place.
A report by Ahmedabad Book Club (Founder Priyanshi Patel, Co Founder Khurshid Ravji, President Bhakti Shah (2015)
The Author's Corners powered by the Ahmedabad Book Club was truly a treat to behold with members, new members and the audience who joined us at the Book Fair!
The insights provided by each were beyond amazing! Each day I walked into the book fair, we were greeted with a new flavour of words, perceptions, people, stories, moments and so much more!
Starting from Jayant Dangodra on the first day with 'Phuloni Pank Par'..to Kusum Chopra speaking about her book and perceptions on the case of 'Nirbhaya'…with Dr. Shruti and her mother…to a fiery Mr. Kunal Shah with his perceptions on 'Rajdharma ke Rashtradharma'..and Dr. Manoj Chauhan on a quest to and journey in search of life and its mysteries .to a soothing session of 'Zindagi Express' by RJ Aarti from MYFM…we ended the day on 2nd with a after taste of unconditioning that Amit Shankar left with his 'Cafe Latte' and other experiences and short stories…A special thank you to him for traveling all the way from Delhi to join us here at the Ahmedabad National Book Fair!
Starting with the next day, 3rd May Rajeshwari Chauhan brought about a very eloquent flavour to the author's corner with 'Daniel's diary'…followed by Anurag Lalkhani, an author of many interests, also helping people discover and manage themselves through many practices and meditation who spoke about his book on 'Managing your Mind.' Dr. Darshana Thakker, a gynecologist by profession and a director of the communications firm Sarjan, spoke on the celebrating of the girl child and had the audience engaged in a lively lucid understanding of life! The self published author, a vital part of our ABC, Mrs. Ilaxi Patel, spoke about her journey and shared very generous insights offering each a chance to self publish and become successful. Her efforts in putting her book 'Guardian of Angels' in the international market is commendable and needs to be applauded. Mr. Mahendra Sharma..who spoke on Hu Gujarati..Mr. Urvish Kothari who spoke on 'Jya Hase Ek Gujarati' and a wrap up by Mr. Deepak Bhatt on the 'Mangement Mantra' followed by RJ Pooja Dalal's reading of Bhupat Vadodaria of 'Dikri Vhal No Dariyo' brought about a very unique combination of books and topics and authors, reading sessions together on 3rd May 2015.
Our Creative Writing session at Hall 3 by Bhakti Shah (yours truly) was a big hit with about 100 plus people expressed the flavours of creativity like a rainbow, opening up to a whole new world! Ilaxi Patel's session had over 300 kids where she spoke on Comics in today's and of the yester generation coupling it with activities and prizes had the kids asking for more!
We had the privilege of listening to Mr. Achal Rangswamy sharing his unique insights on life as a salesman and his book ' Joy of Selling' which has been published along with the Sri Aurobindo Society and Maitreya. The joy is absolutely unparalleled when you have three authors from the same family. Sapna Rangswamy, spoke on her book, The Dance Company while Ravikiran Rangswamy spoke on 'Camera and Conversations' a delightful book of unique experiences collected from his camera in Pondicherry and his mother's words penning down the thoughts, making them delightful stories to read. The mother son duo writing a book added an all together different flavour to the event at the author's corner! Dr. Rita Kothari spoke about her book ' Unbordered Memories' which provided the audience into understanding how so many boundaries of city, state, religion, country have divided us and reduced us to being devoid of humanity at times. Dhaivat Trivedi from Gujarat Samachar, lent in a completely different take on topics for novels and stories to appeal to the human mind. A far cry from the romance filled novel writing we often see. His combination of using a tale of excitement with a robbery, mystery, and the magic of weaving an engaging tale was praiseworthy!
Nimit Karia spun his magic with Abhivyakti, a photo poetry book with Milap Sinh through which he has collaborated the written word with an ease of engagement for the audience to sip in. Bakul Bakshi's ' Bhasha Angreji Shabd' was received warmly by the audience applauding his depth of knowledge. Tulika Saha's book ' Simply Said' was conducted beautifully with the help of her students and their constant support- a true sign of a teacher always ready to learn! Mr. Saholia's efforts and talk was also applauded well by the audience! Priya Narayan took the audience to a different land…of Children's Literature…with a reading by Mitra her daughter from her book 'The Moon wants to be a Spotless White' Her words that left a deep impact on all of us were about how there are so few of us who would actually come to a fair to buy Children's Literature by an Indian author…which got us all thinking! Veteran Wing Commander Mr. Arun Kaul, our last speaker for Day 7 at ABF, who was also awarded the Author's award selected by Divya Bhasker team spoke about how the conditioning of becoming dehumanized is fast catching on through our mass rampant advertisements ane and his view on corruption of the soul. He shared some of his stories of his book…Only One Life to Give which is a beautiful amalgamation of personal incidents and other perceptions of his journey of life, tracing delicately that giving is the highest honour.
Our Readers Forum saw a beautiful participation from Joisar, Priyanka Sharma, Jaimin Rathod, Dr. Shruti, Ranjani Shastry, Nikita and so many more taking us to lands of Harry Potter, Beedle and Bard, Fault in our stars, The Fakir, Yayati, The Fountainhead. Oh I can go on and on about the lands!
Our successful postcard distribution, might I add had added a new excitement at the Author'S Corner! More than 300 Postcards were distributed with Quotes and Book Recommendations, hand-written by Ahmedabad Book Club Members.
ABC hosted over 25 events in the 6 days of the ABF, organized by the AMC and it has been a long, patient yet fruitful journey which has been done with the vision and efforts of each one of you and our team!
Priyanshi Patel
Khurshid Ravji
Karan Khanna
Ilaxi Patel
Krunal Sangani
Zankhana Ruparelia
and so so many behind the scenes working tirelessly for this dream to come true! You as the members have all been the reason to inspire our team to keep bringing you better than the best each time! A BIG thank you to our moderators, Nikki and Nilambari Solanki for helping us out with our sessions and Prasun who helped out behind the scenes!
We wish to keep bringing you a new flavour every month through exciting events and activities. Feel free to write to us and pitch in with your suggestions! Its your space as much as ours!
In service of books, life and newer worlds!
May long live books !
Bhakti Shah
President, ABC
2015-16
(The report is published on Kidsfreesouls to give a glimpse into the sessions at the Author's Corner – a truly Literary event)
Site Links: www.amdavadbookfair.com
www.facebook.com/amdavadNationalbookFair
www.facebook.com/AhmedabadBookClub
{jathumbnail off}