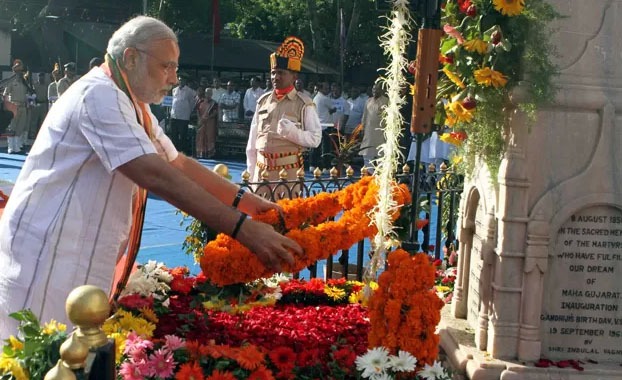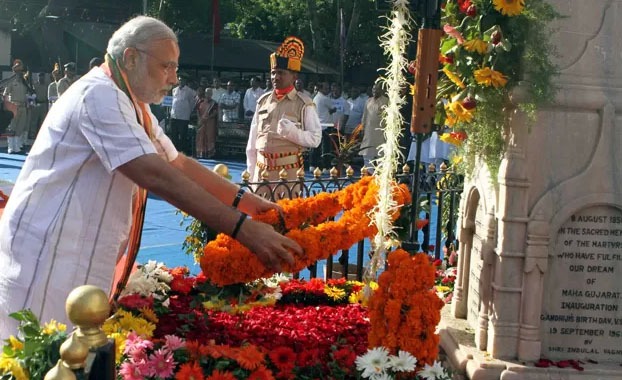 Chief Minister Narendra Modi today extended his hearty greetings to all the six-crore citizens of the state and to the people of Gujarat settled all over the globe on the eve of the 53rd Gujarat Gaurav Divas. (1st May).
"I have a dream to make Gujarat the best State with a view to building 'One India, Best India'. Gujarat has today reached the height of development, made possible due to the people's cooperation, marching shoulder-to-shoulder."
Addressing the people of Gujarat spread over the globe as my brothers and sisters, Mr. Modi said that Gujarat contribution to the freedom struggle of India would remain etched in the history in bold letters.When the people of Gujarat, including students and youth, led by Indulal Yagnik, fought for a separate state of Gujarat, he recalled, others posed questions as to what would Gujarat do having only vast stretches of Rann and barren seacoast, without any water, without any minerals, without any factories. However, he pointed out the people of the newly carved out state worked relentlessly, worked very hard, taking everybody along, to create a niche for themselves and showed to the world, what they could really do in different fields, in very little time.Paying his tribute to the martyrs of Mahagujarat Andolan and others led by Induchacha, Mr. Modi said the state's 1,600-km long coastline has today become the 'gateway' to not only Gujarat but Hindustan, adding to the beauty of India, inviting tourists from all over the world in a bid for a pie in the 3-trillion business.
The state's call to the tourists to 'Spend at least a few days in Gujarat' for the last 5-7 years has started paying its dividend. Its growth rate in tourism is double that of India's average, providing jobs to the last man in the last mile.
While the nation celebrated 150th birth anniversary of Swami Vivekanand, Mr. Modi said, Gujarat took lead in setting up Skill Development Centres at places far and wide, for which it was deservedly rewarded, too. Sixty percent of the beneficiaries are females.Although Nature has been kind to Gujarat in the form of monsoon during the last decade, which filled up numerous check dams and farm pons, but for scarcity condition this year, he said, the state had also witnessed cyclone, earthquake, bank scams and other calamites over these years. It has been decided to deepen the dams and ponds till June.While politicians are trying to make an issue blaming the government for drought, he said, even deities smiled on the parched land in the form of untimely rains in the month of April, apparently to rebut the canards being spread by the opposition parties.He regretted that hardly a handful of people seem to have taken contract to malign Gujarat come what may. "I have faith in God and the people have faith on me and we will overcome all obstacles and can no way stop the march to development. The forthcoming annual statewide month-long Krishi Mela would be an occasion to reach out to the farmers and cattle owners, guiding them in the best agricultural practices, healthcare of the livestock," he said. Even as the limited land resources is being divided due to expansion of family, the state would have to adopt technology to increase farm yield. Farmers deserve to earn more. The state government has taken upon the responsibility of arranging a first-ever world-class agricultural fair of its kind in India in Gujarat in 2014 with convergence of science, technology, farming and agricultural extension.
CM further stated that the state government has also time taken up social welfare projects like Chief Minister's Amritam Yojna and Ma-Yojna to provide medical care to the poor at their doorstep, to ensure no one dies due to lack of medicine.With the emergence of neo Middle Class, he said, the government ensured they could live with dignity. Referring to women feeling insecure, be it in any part of India, he said, all should pledge to protect the dignity of women, irrespective of their religious, cultural and caste background, without entering into debate of how far a government is responsible for the same.Quoting CAG report, Mr. Modi said that Gujarat has improved its position in fight against malnutrition by 33 per cent as compared to 12 to 17 per cent elsewhere. One should not be under the false impression that Gujarat belonged to the Government. Even as every commodity belonged to the people, he said, it is the responsibility of six-crore Gujaratis to develop and grow as well as protect its pride.
CM quoted, "Gujarat has given the 'development mantra' to India." The people of the state have been working for the development since Day One, taking every one along, to realize 'Sauno Saath; Sauno Vikas'. It is the result of people's hard work. Gujarat does not differentiate between people on the basis of their state of origin, their place of birth, dress or language. He asked who doesn't dream of a better and prosperous India, a better and prosperous Gujarat, which youth doesn't seek a job.
CM Narendra Modi round up his message to the people by extending again his greetings to the people on the auspicious occasion of Gujarat's Foundation Day, paying tributes to the fighters of Mahagujarat Andolan, and by exhorting all the karma yogis in the government to do something for the state, he himself expecting only love and blessings in return.
He concluded his message with: Jay Jay Garvi Gujarat! Bharat Mata ki Jay!
The 53rd Gujarat Gaurav Divas Celebrations is held in Navsari. In the morning Pushpanjali was held at Indu Chacha's statue, Nehru Bridge and at Shahid Smarak at Bhadra, in Ahmedabad. Later, CM addressed Vivekananda Yuva Sammelan at noon. Prior to this, after the prayer meeting at Dandi, Innovative Farmers meet and Exhibition was attended by him at Agriculture University, Navsari.
The evening program will be attending Police Parad and Gujarat Gaurav Yatra at Lunsikui Ground, Navsari followed by Book Launch at Naval Band, Swaminarayan Temple Garden. A cultural Program 'Nitya Nutan Navsari' is held to mark the celebrations.
– CM's website / Kidsfreesouls News Desk
Video Watch: