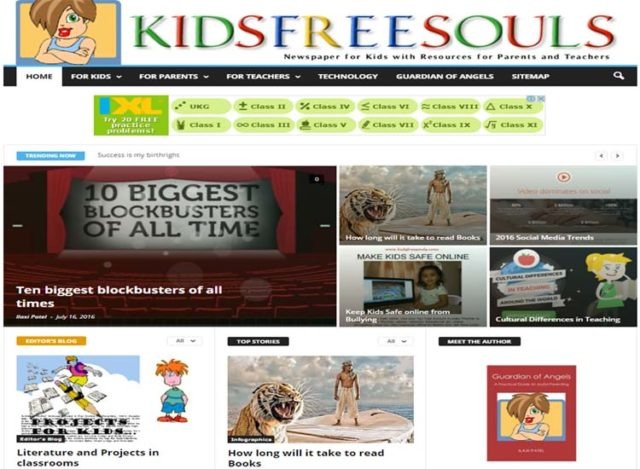 Ilaxi Patel is the Founder & Editor of Kidsfreesouls.com
I am grateful for the opportunity to Connect Today, Transform Tomorrow!
My Business Journey started in 1991 with addition of 'Multiple Professions' as years roll by.
Kids Freesouls is a Newspaper for Kids with Resources for Parents & Teachers. It Provides Information, Education, Entertainment Themes. Started in 1997 as a Homepage at Tripod, the website stood Independent in 2003 as Kidsfreesouls.com. The site covers all Supplement pages of the Print Media supplement 'Freesouls' of Sambhaav Newspapers (Editor, Ilaxi Patel, Freesouls and Ex Online Editor for Sambhaav.com)
Kidsfreesouls is also Kids NIE (Newspaper in Education) with Extensive Use of Contents in Classrooms Worldwide and the site is used for HOMESHOOLING. It promotes Literacy & Academic Achievement.
I believe "Knowledge without Experience & exposure is Incomplete" – I am an explorer on web and my ultimate goal is spreading Love, faith, peace & unity among human beings or people I rather meet on the web while I explore. Join my Mission here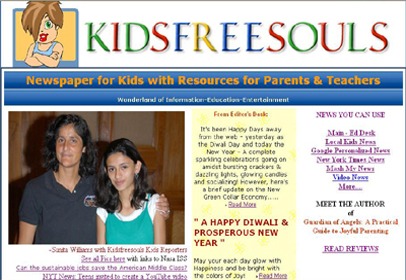 KIDSFREESOULS.COM – Editor , Net newspaper for kids with resources for parents and teachers, www.kidsfreesouls.com providing information, education, entertainment.
A portal written, designed, hosted, managed, maintained, marketed and promoted SOLO by ilaxi patel
Swagat Children Library
AUTHOR
Author of a book
"Guardian of Angels: A practical guide to joyful parenting"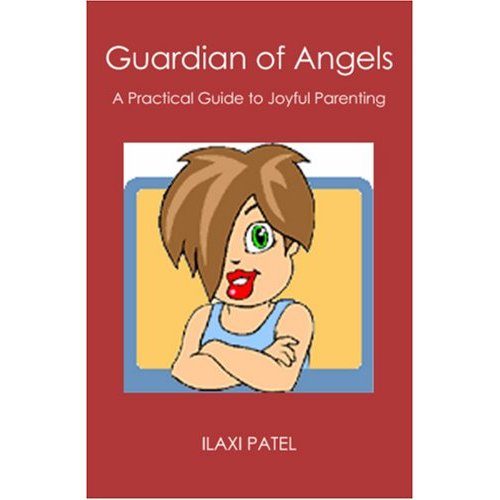 Book Available on Amazon.com
Also at Barnes and Nobles, Target, Google Books, Bookadda.com, Alibris.com, etc.
Swagat Group (April 1991 — Present. )
http://www.swagatgroup.net
1. Manage the Company Portal online as IT Head of Swagat Group – The Group deals in diversified Business as:
Swagat – Real Estate – Consultancy, Home Loans and services
Secure Insurance Solutions – Corporate Insurance Agent
Ensure Solutions – DSA for ICICI Bank and other multiple banks for Car loans, associated with all major Car Dealers and also top Seller in Presidential Cars, luxury cars like Volkswagon, Mercedes, BMWs, Audi, Volvo, etc.
Swagat Holidays – Holiday arrangements, hotel bookings, packages for Gujarat Heritage Tourism, etc.
2. An Active Partner to Secure Insurance Solutions. As a General Insurance Certified Agent with IRDA License, I offer in-depth knowledge on 'Securing You' and 'Ensuring Safety'
A protection against contingency, deal with all types of General Insurance as an Agent of following major Insurance Companies:
1. Tata AIG General Insurance Company
2. Bajaj Allianz General Insurance Co. Ltd.
3. Bharati Axa General Insurance co. Ltd.
4. The Oriental Insurance co. Ltd.
I am supported for Insurance calls by my staff and Insurance Company Executives to work on high Insurance enquiries for Package for Power Safety of Business and Corporate Living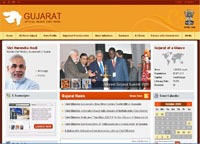 WEB CONTENT MANAGER 2009 – Project Based (currently, the site features my content in 2016)
(For Government of Gujarat State Portal)
Got opportunity to get engaged in the Official Gujarat State Portal team as Web Content Manager for www.gujaratindia.com
The site is managed by Silver Touch Technologies Ltd for Gujarat Government. The newly revamped Portal is launched in September 2009. (earlier post Web Content Analyst)
My Project duration : 2009 – March 2012
● Writing and Managing Contents for the Portal
● Managing additional contents as called for
● Co-ordinating with CM Office (CMO) & Web consultants Silver Touch Technologies Project Team.
● Procuring contents, researching from various sources, analyzing & writing Contents to provide Information as per Gujarat State egovernance – G2C Information and services. (G2C – Government to Citizen)
● Co-ordinating for Design Implementations, content placements and other features
● Identifying Projects and Initiatives in co-ordination with the Government Departments
● Inputs to various Partake with Government features like Poll, Contests, etc.
● Engaged in co-operative operations related to Gujarat State Portal and writing for CM's website.
Managing Social Networks
Restarted Gujarat State Portal Project from 11th August 2011 – March 2012 as WEB CONTENT ANALYST AND News Editor
● Managing Contents
● News Updates on site
● Managing Facebook Page and Twitter Accounts
● Writing Applications for Awards as asked for.
Written GOVERNANCE PAGES in 2011 on www.narendramodi.in – CM sir's Personal website, Currently Online.
(Upcoming on Kidsfreesouls.com –"PROJECT GUJARAT " – GUJARAT NEWS FOR KIDS for News in Classrooms creating Awareness and Worksheets with Gujarat Information highlights for Parents & Teachers as per Gujarat Education Books
(Interactive Project follow up with State Portal, CM's website and other Gujarat Information websites online)
CONTENT WRITER : A part of Content Writing Major pages like About, History, Business, Education, Health, Infrastructure, Resources, etc. for Madhya Pradesh Government Portal Project. A NIC initiative with Silver Touch Technologies Ltd.
Official Blogger & VA to M J Akbar, MoS External Affairs, Author and Veteran Journalist.
Since September 2004, Managing www.mjakbar.org as Official Blogger & VA to M J Akbar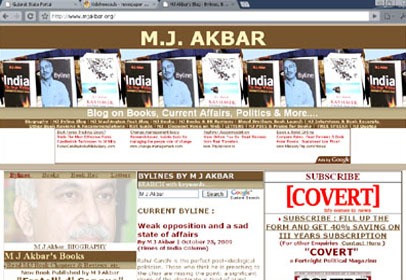 Old pic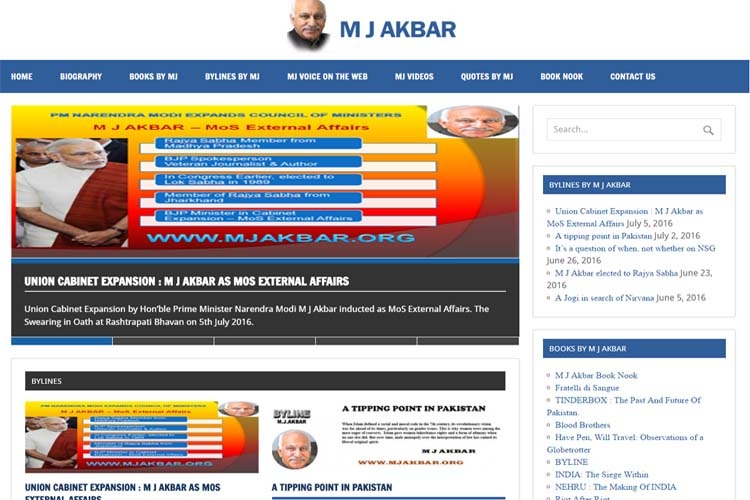 M J AKBAR'S BLOG : OFFICIAL WEBSITE OF M J AKBAR, MoS External Affairs, Author and Veteran Journalist (www.mjakbar.org)
● Managed Blog with inputs of the Byline column
● Managed additional contents
● Managed Web operations & presentation
● Optimized site (SEO)
● Identified new streams of revenue generation & brand visibility through syndication for blog and main newspaper sites
● Managed online reader's interaction & co-ordination to Ed
● Managed Archives of Bylines of M J Akbar since 2004
Managed THE SUNDAY GUARDIAN FACE BOOK GROUP AND TWITTER FOLLOWERS FOR THE SUNDAY GUARDIAN, Sunday Newspaper from Delhi and London
(Earlier, COVERT MAGAZINE, Political fortnightly)
Editor, Freesouls (supplement in Print media)and Ex Editor online for www.sambhaav.com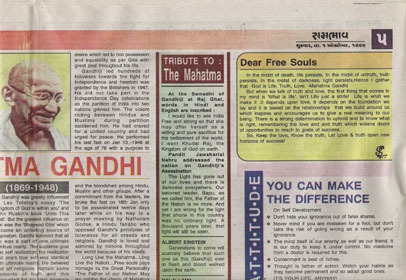 Copy of Freesouls – 1st October 1999
Sambhaav Newspapers (Media Production industry)
October 1997 — October 2001 (4 years 1 month)
Editor for Print media supplement and Op-ed page 'Freesouls' and Editor online for Sambhaav.com
Also wrote Management Mantra Articles on Sambhaav Business Page for some time.
Print media:
● Editing & writing full page (as supplement, 3rd,7th or Op-Ed page)
● Interacting with Educationists for content-promotions.
● Providing contents for Business column (management articles)
Online Editor & Marketing Web consultant ( online):
● Managing contents for online reads
● Managing website presentation with one person team.
● Optimizing site (SEO)
● Identifying new streams of revenue generation.
● Ensuring brand visibility through syndication.
● Initiating strategic alliances for global presence.
● Managing online reader's interaction

Asian Age – School Page Theme Contributor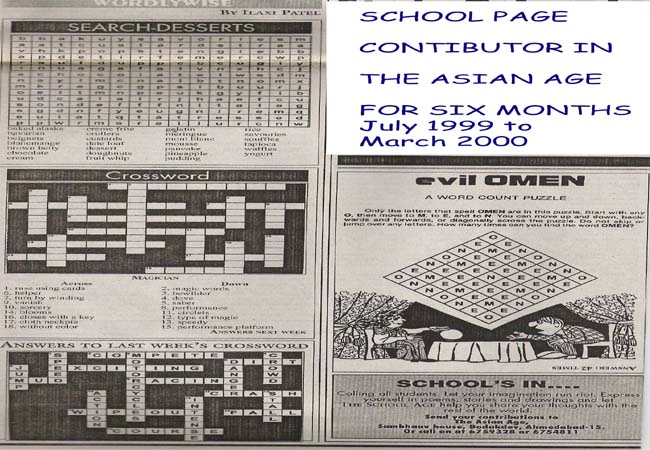 Kids Contributions appearing weekly in Asian Age, Print Media.

(1999 July-March 2000)


Covered regular Cross words, Word search, Riddle This,etc
Voluntary Freelancer (Voices column & other contribution) covering about 200 Interviews in a leading English Daily (Times of India)
Secretary to Mg.Partner
Shree Trading Corporation
(Chemicals industry)
August 1978 — August 1979 (1 year 1 month)
The company deal in chemicals (now Remik Trading & into Tech).
● Mainly correspondence, offering rates & supply of products procedures in association to marketing staff
Steno-Secretary to CMD
Shilpi Advertising Ltd. (Marketing and Advertising industry)
June 1974 — May 1978 (4 years)
Steno-Secretary to A.G.Krishnamurthy (Accounts) & later promoted to Secretary to CMD. (Mr. Srinivasan and Mr. Sharad Sachde)
● Interacting with Media Dept., public relations & communication
● correspondence
● Interacting with copywriting & studio dept.
Social Organization Associations
● Gujarat Chamber of Commerce (GCCI) Business Women's Wing Committee Member (Active member + Creator and Managing Facebook page)
● Gujarat Chamber of Commerce (GCCI) Education committee Member (Main wing – GCCI) (ex – committee dissolved)
● Library Committee Member of Sports Club
● Ex – Committee Member of Sports Club of Gujarat (women's wing)
MSN Talkcity: Homepage Team Crew Member – Talkcity (Ex) Keeping Web Streets Clean! (Refer Awards Page)
Health and Fitness Blogger
A tech person and Health & fitness Blogger with Statesman.com (Readers Blog) through its Pluck Blog services
http://blossomsmile.statesmanblogs.com – As the blogs are deactivated, please check on Kidsfreesouls for Health Blog pages.
Other Hobby Achievements:
I am a Keyboard Player and experiment with Music – Though Love a lot of Reggae, Pop, Trance and House Music, I set my hand on Keyboards Music is the Speech of the Angels, I believe. An ardent fan of George Michael and Trance Music, love all oldies to new – classic to new age music – Anything suits me as I listen 24×7 Music and just Music while I keep writing …writing websites, writing articles, writing for kids, writing for government…..I can write faster when I listen to Music! And, I can play better and write my own lyrics when I am in good mood!
My Music CD can be heard online at Soundcloud.com/Kidsfreesouls.com main page link.
Taught Kids to play Keyboards and performed Stage Shows at:
1.Sterling Club
2.Thumbelina School for Kids
3.GLS Kindergarten School for Kids
4.Siti Cable Live Show
5. School annual shows – Sahajanand and NR
SOCIAL NETWORKS:
Run couple of pages : Kidsfreesouls | Guardian of Angels Book Pagel | Business Swagatgroup Page | Bhupatdada's Page (Editor-Author – Sambhaav Group)
Run 'Author Group' at LINKEDIN – interacting and getting AUTHORS CONNECTED Worldwide – Join now.