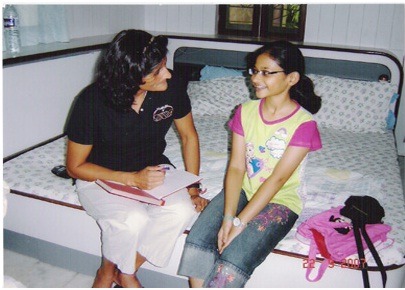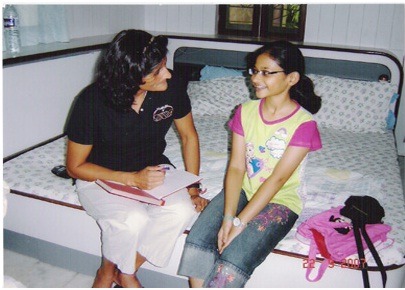 KIDSFREESOULS – KIDS BLOG
AISHANI SHAH
Click for Aishani's Page & Blog
Astronaut Sunita Williams : In Conversation with Kidsfreesouls KidsReporter, Aishani Shah
Interview BY AISHANI
Aishani: What preparations did you do from childhood? Ambitions?
Sunita: I wanted to become a school teacher but become a pilot. NASA found some qualities in me and I became an astronaut.
Aishani: What do we do if we want to become an astronaut?
Sunita: You will have to work very hard and it should be your determination.
Aishani: What did you do when you were about to go to space?
Sunita: I was well- prepared and I was very, very exited. I really could not believe that I was going to space. I was a bit afraid and nervous too. But I had many friends and so all was fine.
Aishani: How were you feeling?
Sunita: Same feelings. A bit nervous!
Aishani: What experiments you did in space?
Sunita: Not experiments, actually! But, I went for a space walk. It was too adventurous to go out of the Space Station and repair it.
Aishani: How did the Earth look?
Sunita: I saw the Earth as one Whole Planet. I did not see any boundaries between any countries. I wished that the earth always stay like this unitedly.
Aishani: How did the other Planets look?
Sunita: I did not see any Planet but I saw many stars in the huge space.
Aishani: How did you experience when you went for a Space Walk?
Sunita: I was very excited and it has been a Dream Come True!
KIDS SCOOP – INTERVIEWS
In this column, I shall be presenting kid's interviews regarding their favs. Ekta presents her views on books, cartoons and what she'd like to be.

Name- Ekta Suthar
Age- 10 years
Std- 4th
School- St. Kabir School
ON BOOKS- Ekta's favourite book is 'Fairy Tales' from Vikas stories for children from Naveet Publications. Recently she has read a story 'The Sad Mermaid'. The main character who is very beautiful. Ekta's also likes to read Bed-Time stories, Robin Hood, comics and many more.
ON COMPUTER- Ekta doesn't play computer games. She thinks, it is better to read Books. They are full of knowledge. We get more information and widen our vision.
On Knowledge – Encyclopedias' are Ekta's favourite picks. She also reads Novels. Her favourite Novel and classics are Newton's Adventures & Robin Hood.
Her Reading Hangover – Swagat Children Library and sometimes, at Crossword Book Store.
Her Favourite Character on TV – Ekta watches 'Winx Club' on Cartoon Network which is a favourite cartoon. It is very Adventurous, magical and full of fairies and witches. She also watch 'Power Puff Girls' and 'Garfield'.
Her Book Collection – Ekta has a lot of children books and keep adding to her list. She already has 100 books.
Book Reviews By Aishani
ROALD DAHL
Roald Dahl was born in the city of Wales, in 1916. He was a writer and he wrote children's stories, adult fiction and even film scripts. His stories contain fantastic elements, humour and surprising ends. His stories Charlie and the Chocolate Factory, Gremlins, James and the Giant Peach were very popular books for children.
The ROALD DAHL TREASURY
I came across this book in my local Bookstore. These books written by Roald Dahl show us the most dazzling moments in these stories about the writer. They reflect an essential part of our childhood. These books are in four editions:
Animals
Magic
Family Friends and Foes
The matters of Importance
These books take us to a journey of the extraordinary imagination of this wonderful writer. I like this book since I read other books and this is some parts of the stories. Not the entire stories to read.
Grab a copy of these books – I love them and you will like to read too.
– Aishani
Thank you for reading my Blog.