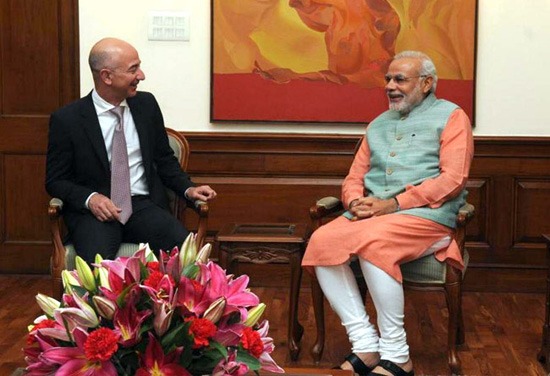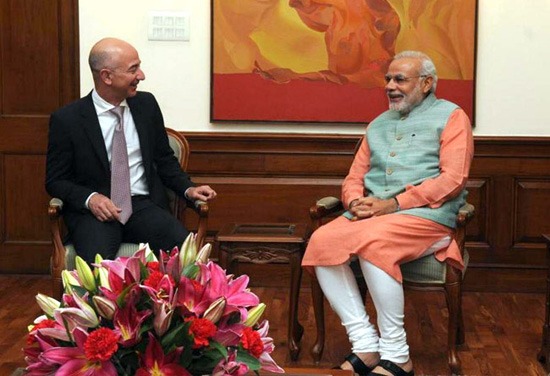 Amazon CEO Jeff Bezos on his first visit to India, met Prime Minister Narendra Modi yesterday at his official residence.
"I am completely at his disposal; he (Narendra Modi) has a fantastic international reputation. I am super excited to meet him," Jeff Bezos.
Amazon.com has recently committed $2 billion in India to boost logistics and back-office support and also plans to sell packaged food and beverages in India from mid-October.
Jeff discussed about company's future plans in India. Bezos said, "I find India super energising. I get here and people are very energetic and energising. They are inventive and entrepreneurial. It is fun and exciting."
Amazon, which has already started accepting bookings for Coco-Cola Zero – the beverage's low-calorie variant, will eventually start selling fresh food in India.
The online retailer plans to sell packaged food and beverages in India from mid-October.
Amazon is already in talks with brands like Kelloggs and Cornitos, a report said.
Amazon, which opened its Indian website last June, has drawn up the battle lines by slashing prices, launching same-day delivery, adding new product categories and embarking on a high-voltage advertisement campaign.
"People feel that we are in India for the last one year. We started a software development office in Bangalore 10 years ago. In the last one year the local team is doing shockingly, stunningly well. We are open for a year and we have very high expectations," he said in a conversation with former Nasscom president Kiran Karnik at an event organised by the Federation of Indian Chamber of Commerce and Industry.
He said, "What is stunning about India is the speed at which it is growing and that is one of the tailwinds for the growth of e-commerce," he said, adding that "India is unbelievably energising; the people are focused on learning and extremely inventive."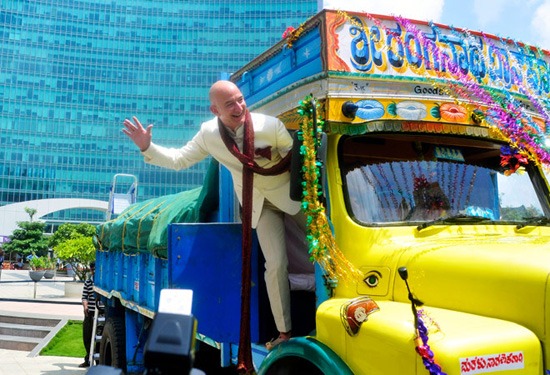 (a Reuters photo)
In July, Amazon said it will invest a further $2 billion in India after the country's largest e-tailer Flipkart attracted $1 billion of fresh funds, raising the stakes in a nascent but fast-growing e-commerce sector.
{jathumbnail off}