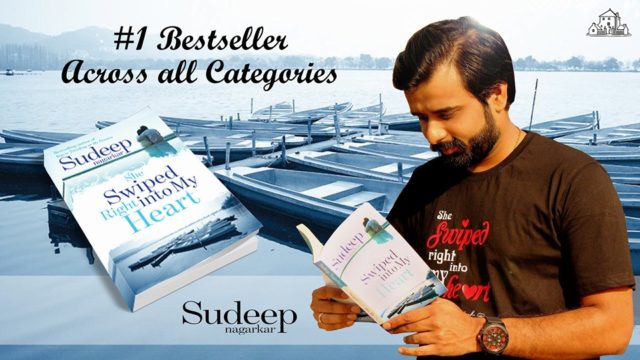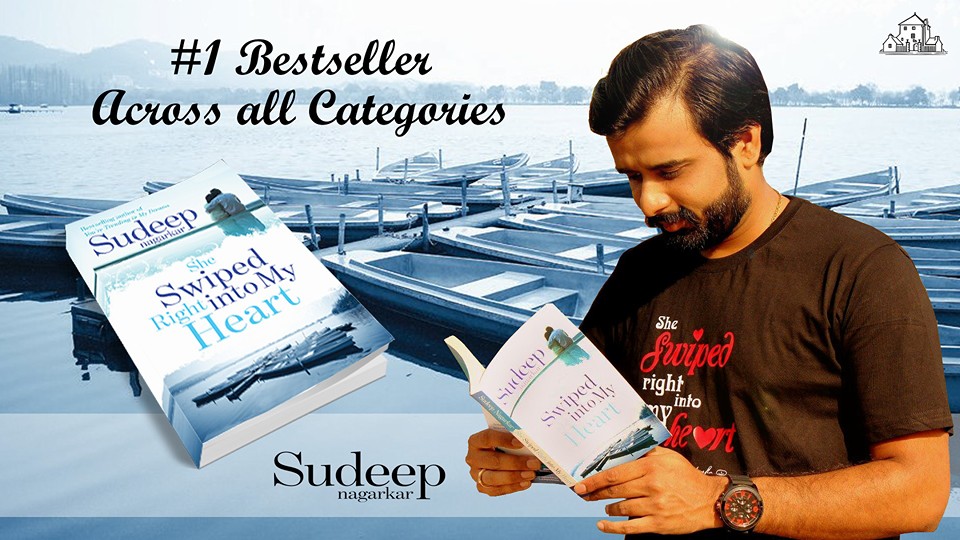 She Swiped Right into My Heart
Book Review by Ilaxi Patel
A perfect title, perfect characters and perfect plot ! That's Sudeep Nagarkar with yet another Romantic piece to swipe right into the hearts of his fans.
Sudeep puts his heart and soul into his writing based on real life incidents to touch the hearts with well portrayed characters and plots that gives a twist n turn to make it a master piece.
Like a picture reeling on the screen, unlike his other books, She Swiped Into My Heart is different – a dig into the lifestyle of today's generation, this apocalyptic teen drama's character interactions may draw readers in. Fuelled with a brilliant nebulous backdrop, this is a romance wonder with its vigorous story which will keep readers hooked from start to end. Friendship has ever been the essence with varied flavors in Sudeep Nagarkar's books and She Swiped Into My Heart offers readers sweet summer romance with intense emotions and heartwarming trio moments of love, angst and twists.
She Swiped …and indeed, it's full of heart, heat and smart, captivating romance – charming and intense. A modern day Romance, bittersweet and yet deeply heart-warming romance that takes a really unique look at the concept of true LOVE – Love that eventually wins. Though one could go to flashbacks with momentum showing how love can be a bitch, and one can lose everything to this feeling of coming age love story.
The characters revolve around a story of Geet, Tushita and Shibani. Geet, the most unpopular college girl who is the best friend of the most beautiful and popular girl Shibani. In features Rudra, Vivaan and Tushita, her sister. A spin off tale of angst, jealousy and misunderstandings that take on the fore, Sudeep explores love in all of its forms, effortlessly portraying not only familial and romantic love, but the kind of emotion that turns friends into family and lovers into soulmates. The true college romance with all-encompassing, soul-crushing, heart-shattering romance, it's Rudra who helps Geet and agrees to be her 'Boyfriend' yet takes a step closer to Shibani who harbours feelings for another. Rathar a racy read with sex and Romance, relationships and emotions, incredibly confusing feelings and characters undergoing huge transformations over the course of this novel. Geet and Rudra, Vivaan and Tushita – the unexpected characteristic traits making these characters so heartbreakingly genuine to make it a sensational piece of reading. Geet and Rudra are perfect match. Tushita meets her charming prince and is excited to live her life being accepted by Vivaan, the way she was. Shibani's unlikely truth unfolds situations wary – Positive, yet strong, bold and independent character. The Author reveals the truth of Hostel life and how the warden lets in boys in girls hostel. Physical abuse in relationship and bullying are the factors that conveys message on today's times which is bit disturbing yet convincing. A bold move for society, a thought provoking message to young readers.
Your heart is tugs on a lot through out this book. These characters are so strong and their unwillingness to let the other go meant they had to put many of their demons to rest and made for what reading romance books is all about.
The Author has created waves with the online Social media Marketing and eyes rolled over captivating the flavors of Romantic essence through its 'Send your Sketches' Pre launch marketing strategy and later, 'Selfie with signed book' with pre orders. Social Media marketing isn't a gimmick – a hard work extremely engaging to Fans and the Author has delightfully reached the masses to stay connected and market his books.
An engineer by education and a writer by profession, Sudeep Nagarkar has authored six bestselling novels and is the recipient of the 2013 Youth Achievers' Award. He has been featured on the Forbes India longlist of the most influential celebrities. He also writes for television and has given guest lectures in various renowned institutes and organizations. His books, that are inspired from real life incidents, have been translated into regional languages and have sold lakhs of copies until now. He continues to be a top charts of best selling Indian authors.
Recommended for souls who love Romance and its all about Coffee Time Read at ease and relax.
List of Books by the Author:
Few Things Left Unsaid
That's the Way We Met
It Started with a Friend Request
Sorry, You're Not My Type
You're The Password to My Life.
You're trending in my dreams.
Some Interesting Photo Albums at the Author's FB Page:
Fans who Swiped Right into ….HEARTS ! FB fans
Sketch to win 'She swiped right into my Heart' Book – FB Contest -@http://www.facebook.com/nagarkarsudeep