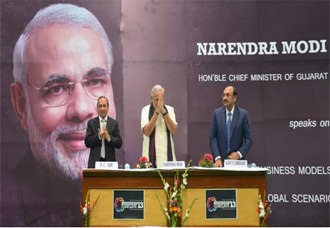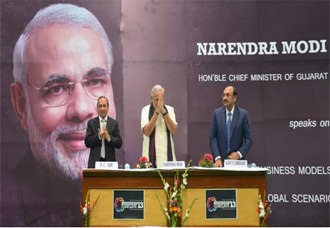 On the evening of Wednesday 6th February 2013 Shri Narendra Modi delivered the Shri Ram Keynote Oration at Delhi University's prestigious Shri Ram College of Commerce (SRCC). In an inspiring speech the Chief Minister affirmed that development alone is the solution to all the problems and expressed confidence that it is the youth of India that will fulfill Swami Vivekananda's dream of a Jagad Guru Bharat.
He talked at length about Gujarat's initiatives in agriculture, industry and the services sector. The lecture was attended by record number of youngsters. Shri Modi's speech was followed by a standing ovation by the audience.
We have got Swarajya but after 6 decades of freedom the nation wants Surajya
"I am coming here from the land of Mahatma Gandhi and Sardar Vallabhbhai Patel. Look towards the freedom struggle, both strands were led by people from Gujarat. There was Shyamji Krishnavarma who inspired the revolutionaries and there was Mahatma Gandhi who gave us freedom."
"Many people gave their lives so that nation gets Swarajya. We got Swarajya but its been more than six decades, the nation wants Surajya."
"If India has to make place for itself on world map, we need to think of giving importance to Surajya. Surajya is nothing but good governance."
With the same laws, same rules, regulations, same people, we can move ahead & do lots
"Our model is P2G2- Pro People, Good Governance. Rulers often follow path of firefighting. But they must visualize things, discover new things, and dream to bring about change. But, in last 6 decades we have not been able to do it. Due to this there is air of pessimism in the nation."
People think "Sab Chor Hai" or "I want to leave from here" but my thought is different. This is my 4th term as Chief Minister and from experience I can say that with the same laws, same rules, regulations, same people, we can move ahead & do lots"
"Optimists say the glass is half full, pessimists say the glass is half empty- I say, this glass full- filled half with air, half with water!"
We are blessed with youth and immense natural resources
"An Ambassador from a foreign country came to meet me. After formal discussions he tried to talk to me about politics. He asked what are two challenges for India? I said biggest challenge is how to use opportunities. He asked 'How?' I said we are the most youthful nation in the world. Europe is aging, so is China, while we are a youthful nation. Sadly we are not able to use this as an opportunity. This is big challenge."
"I also said our nation is not poor. We have so many natural resources. See our Eastern India, it is full of natural resources. But we are not able to channelize this opportunity and create wealth. This is a challenge we have to overcome."
We are not pitching our tent on a single pillar but on three aspects of agriculture, industry and services!
"We are not pitching our tent on a single pillar. Our development model is based on 3 aspects- development of agriculture, industry and services sector. We want all 3 sectors to grow where each supports the other so that state economy is never in trouble."
"Nation's agriculture growth is at 2.5%. Guj was never a state known for agriculture, it was known for desert on one side and Pakistan on the other. Despite that, a state known for its water scarcity is growing at 10% in agriculture and creating a new history."
"We worked very hard for it (success in agriculture). You read about the Vibrant Gujarat Summits but that is held two days once every two years. Every year we do Krishi Mahotsavs. Officials go to villages, to the farms and they devote time on how to take new innovations to the farms."
"People do not have health card in many places but in Gujarat farmers have soil health cards. We took great initiatives in irrigation. We built more than 6 lakh irrigation structures. Our water table is rising, we are the only state where the water table is rising."
"In 2001-02 when I became CM, 23 lakh bales of cotton was produced, today it stands at 1 crore 23 lakh bales. Our next step should be value addition. So we are working on that. We got a new Textile Policy. We have a 5F formula- from Farm to Fibre to Fabric to Fashion to Foreign. Till we do not take integrated approach then nothing will happen."
"With agriculture there is animal husbandry. The milk in your tea is from Gujarat. Have a ladyfinger in Europe or milk in Singapore, it will be from Gujarat and in Afghanistan tomatoes are from Gujarat. We do medical camps for cattle. 3000 camps are held. In last 6 months, 120 diseases have been eradicated totally. Gujarat has seen 80% rise in milk production."
"We are working towards increasing purchasing power & that cannot happen if our economic chart is not sustained"
Shri Modi shares invaluable development insights about Gujarat
"Gujarat was never ahead in services sector earlier. We were best tourists but Gujarat was never tourist destination. Today, our tourism growth is double of that of India. Mr. Amitabh Bachchan says 'Kuch Din Gujaro Gujarat Me' (Spend some days in Gujarat)."
"See the sphere of education. In 2001 we had 11 Universities today we have 42 Universities! And these are not ordinary Universities. We are 1st to have a forensic science university. We are first state to have Raksha Shakti University where whoever wants to join police, army can join & after regular course he can pursue dreams. We have most youthful police force in India. We have stressed on technology savvy police force."
"We did IITE for Teachers Education. Why cannot we create new teachers? We are first in India to start this University. It is my dream- world needs millions of teachers, we have youngsters, why can't we send teachers also? A businessman goes, he controls money but a teacher captures a generation!"
Let us make the world our market and send our goods to the world!
"In industrial development, we are lagging behind because we did not stress on technology upgradation."
"Ahmedabad was called the Manchester of the East but the mills closed down. Why? Because we did not upgrade our technology. Technology upgradation is must."
Let us make the world our market and send our goods to the world. Branding is needed. When we were small, we read 'Made in Japan' and we bought a product. No one asked what company did the product belong to. Why cannot we make 'Made in India' brand for India? However, we cannot do this only in one sphere.
"Till December 2012 we were busy with the elections then the swearing in ceremony but on 11th January 2013 we organized Vibrant Gujarat Summit. 121 nations were there. Under one roof, the who's who were there. When the world sees this, they say, 'yes there is strength here. We can join with them.' And once we start there is no looking back."
Our Mantra is- Gujarat's growth for India's growth
"Our Mantra is Gujarat's Growth for India's Growth. All this development is for India. There are few who would not have eaten Gujarat's salt. When Gujarat develops, the nation gains from this."
"We have to adopt 'Zero Defect Mantra' and other is packaging. We need to study consumer psyche and then work on manufacturing sector."
Swami Vivekananda dreamt of a Jagad Guru Bharat. It is for us to fulfill his dream
"This is 150th birth anniversary of Swami Vivekananda. We are commemorating it as the Yuva Varsh. We have to decide how we have to see youth of the nation. I am worried that many, especially for political people, youth is merely a New Age Voter. If this remains we cannot bring change. I want that this nation does not see youth as new age voter but they are the New Age Power"
"Swami Vivekananda dreamt of a Jagat Guru Bharat. Is it not for us to fulfill his dream? Need of the hour that with the youth power we move towards a Bhavya & Divya Bharat."
World says 21st century is India's century, some say it is China's century, some say it is Asia's century. Whenever we have entered Gyan Yug (era of knowledge), we have led the world! 21st century is century of knowledge and I am sure it can be India's century. We have such a talented pool of youth."
"Earlier the world saw us as land of snake charmers. Today our youth has gone to world and changed this. We are the land of mouse charmers now- with the click of a mouse our youth have drawn the world's attention to India."
"Our youth has the skill. Whatever is the colour of our skin, we are no less than the world."
Skill, Scale and Speed for a developed India
"To compete with China we need to stress on three things- Skill, Scale and Speed. Skill Development must be strengthened, Scale must be big, and Speed must be quick."
"We have done a movement towards Skill Development. This is not happening at such a scale nowhere in India."
"I feel Government has no business to be in business. I believe in minimum government, maximum Governance."
"Solution to all problems is development. Country has been ruined by votebank politics. It needs development politics."
Earlier, the Chairman of the SRCC Governing Body Shri Ajay Shriram spoke on the occasion. SRCC Principal welcomed the Chief Minister and presented the vote of thanks.
Sources: CM's website