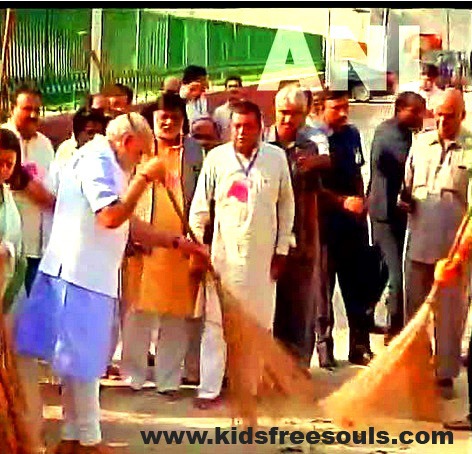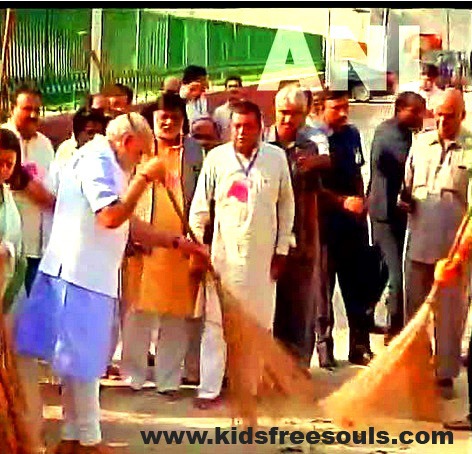 Swachh Bharat Mission is Prime Minister Narendra Modi's pet project that seeks to create a 'Clean India'. Mr. Modi had urged citizens, government institutions to dedicate 100 hours every year towards cleanliness.
Choosing the right date, 2nd October, Mahatma Gandhi's Birthday celebration, PM Narendra Modi hopes for a clean nation by 150th Birthday Celebration of Mahatma Gandhi in 2019.
PM flags off walkathon after administering pledge. He said, "The Swachta Abhiyaan' follows the slogan of Mahatma Gandhi, "Naa mai Gandki karunga, naa karne dunga" (I will not dirty the place nor will I allow to do so)
Actor Aamir Khan was spotted on the stage next to PM Narendra Modi who has also invited Goa Governor, Baba Ramdev, Sashi Tharoor, Kamal Haasan, Salman Khan, Priyanka Chopra, Tendulkar, Anil Ambani and Tarak Mehta, etc. This chain of 9 people will add on another nine and this should go on, said PM Modi. With 125 crore people participating in this mission, this is not a political move – the only motivation is patriotism, he said. He further added, "If you see dirt anywhere, take a picture and upload in social media. Then take a video of you cleaning it and then upload the photo of the clean spot.
PM Narendra Modi was dissapointed that Bapu's dreams were still not fulfilled. He had given us the slogan "Quit India. Clean India". But "Clean India" is still unfulfilled, he said.
Winners of the logo and slogo contest at mygov.nic.in received awards from the Prime Minister. Bhagyashree Seth is the winner of the slogan contest who got a cheque of Rs.25,000. The campaign has received over 1000 entries for logos and 5000 for slogans on the mygov.in portal. mygov.nic.in has now encouraged people participation with announcement of Department of Rural Development and MyGov which provide a platform to citizens to be a part of the momentous Saansad Adarsh Gram Yojana (SAGY), a scheme which aims to bring qualitative changes in our villages. Designing the Logo, adding a tagline and joining the group are the current highlights of the theme.
Cleanliness is not just the duty of the Government, it is also the moral obligation of all the citizens to keep their surroundings thoroughly clean. PM Modi launches Swachh Bharat Mission in Valmiki Basti, a sanitation workers' colony, in Delhi. He urged every one to devote at least hundred hours every year, that is two hours every week towards cleanliness. We can't let India remain unclean any longer, he said.
As per estimates prepared by the Ministries of Urban Development and Rural Development, Rs. 2 lakh crore will be spent on the Mission over the next five years.
The first phase of the campaign will run till October-end and the endeavour would be to turn it into a mass movement, requiring not just toilets but also a behavioural change. Of the Rs. 2 lakh crore, the bulk – Rs. 1.34 lakh crore – will be ploughed into rural areas, said Union Rural Development Minister Nitin Gadkari earlier on the movement. The urban component will cost Rs. 62,009 crore.
Earlier this day, PM pays tribute to Mahatma Gandhi ji and Lal Bahadur Shastri ji, on their birth anniversary.
" I bow to Mahatma Gandhi on his birth anniversary.
Gandhi ji's thoughts and beliefs remain a great inspiration for us. Let us dedicate ourselves to building the India of Gandhi ji's dreams, the Prime Minister said.
{jathumbnail off}