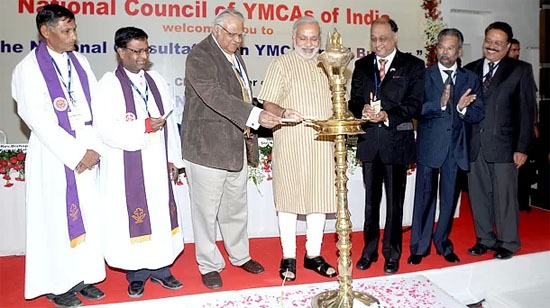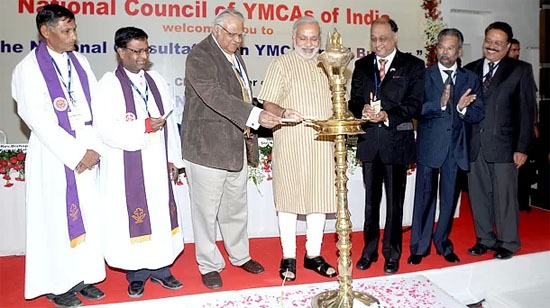 Chief Minister Narendra Modi inaugurated the National Consultation of the YMCA Brand Building on Friday, 24th May 2013 in Ahmedabad.
CM said that even though one could find Gujarat tourists in all parts of the world, there was a time when Gujarat was never a tourist destination. The scenario has changed due to the efforts of the GoG and Gujarat has thus scaled to top position in the tourism map. It is now regarded as a top tourist destination. CM also welcomed the concept of conference tourism. He stated that Gujarat is lucky to be hosting so many conferences as it gives a boost to tourism.
CM Narendra Modi was elated that the Prime Minister has taken note of his speech at SRCC during the Prime Minister's recent speech. However, wondered why he said that he inherit an empty glass. CM opined that the glass of the UPA government is completely full with corruption and that the people's trust has been completely eroded by the current government.
CM further stated that the mission of Youth Empowerment is very close to his heart and complimented the YMCA for its efforts in the same field. Shri Modi further stressed on the importance of harnessing the power of youth in a country like India where 65% of the people below 35 years of age. He felt that such a huge youth population is a blessing. He expressed his displeasure at the current scheme of things where youth is considered merely as a voter. He stated that we need to change such a mindset and according to him, youth is not merely a voter, but the power of the country. He said that the youth comes with fresh ideas and a fresh approach to things and it is essential to empower the youth.
Chief Minister talked about the steps taken in Gujarat to empower the youth and to harness their potential. CM informed how Khel Maha Kumbhs are held in Gujarat to promote sports and sportsmanship. Around 18 lakh people have taken part in the Khel Maha Kumbhs. Shri Modi stressed on the importance of sports in our lives. He said that sports are an essential part of our life because it helps cultivate a feeling of sportsmanship and promote healthy and amicable relations among people. He added that without such a spirit there can be no harmony in the society. He affirmed that Gujarat's initiatives have not stopped with Khel Maha Kumbhs. Sports events for the specially abled children have also been organized which have witnessed record participation. He expressed happiness at Gujarat being able to meet the 100% target for enrollment in schools.
In his speech, CM also stressed on the importance of Skill Development. He said that in today's times when comparisons are made between India and China, we must take a cue from China's skill development initiatives. In order to compete on a global level, we must equip our youth with skills. He said that all necessary endeavours must be undertaken to provide skill development to the youth. CM also rued out the lack of innovation in our country in present times. Enough importance is not being attached to research. He said that Gujarat has taken an initiative with iCreate, a centre to foster and promote entrepreneurs and innovators. He also talked about the Chief Minister's Fellowship Program where the youth can come and learn about governance and related issues . He informed that there were a lot of applicants who left plum jobs and came to work for humble amounts under the CM Fellowship Program.
CM Narendra Modi was all praise for how social media was emerging as a medium to connect people. He added that he would be happy to maintain contact with the members of YMCA on the social media.
– Gujarat Information Bureau/CM site/Kidsfreesouls News Desk