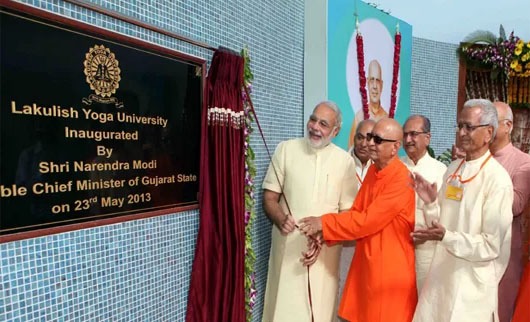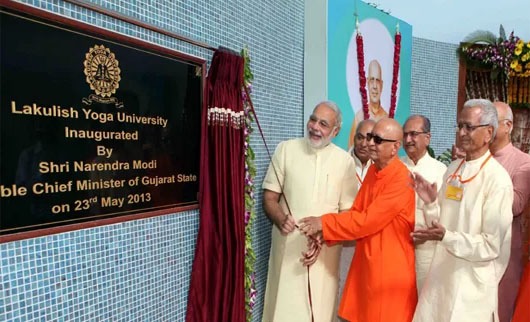 Chief Minister Narendra Modi inaugurated the Lakulish Yoga University in Ahmedabad on 23rd May 2013 .
CM recalled on his dream of setting up a Yoga University. He said, "The law may see this as a Yoga University. But, it is much more. It is a Yuga University. From here a new Yuga will be born that will work towards the benefit of mankind."
CM expressed his confidence that this Yoga University will benefit not only Gujarat and India but also the world. He talked at length about the importance of Yoga in our lives. He described it as the simplest way to work towards the good of the world. He said, "Many feel Yoga is a way towards Rog Mukti (eradication of diseases) but Yoga is not only about Rog Mukti, it is also about Bhog Mukti (desisting from worldly greed)."
CM further referred to the conventional belief of some people that only performing Asanas is Yoga. He stated, "Some think Asana is Yoga. Some say we cannot bend properly so we find Yoga tough. But ask yourselves- those who work in circuses are very flexible. But, is every one of them a Yogi? If only doing Asanas was Yoga then everyone working in a circus could be Yogi! But Yoga is much more. It is a blend of Gyan (knowledge), Karm (work) and Bhakti (devotion) together."
CM opined that another definition of Yoga is what integrates. He said that Yoga is far beyond and more important than converting dollars and pounds into rupees. Quoting a poem by former Prime Minister Shri Atal Bihari Vajpayee, Shri Modi affirmed that it is possible to experience Yoga even in political life.
The Chief Minister pointed out that Yoga gives the individual the strength to determine what the person wants to do in his or her life. He also added that in the history of our nation, there have been various types of Yoga that have been written about by great individuals and texts. He stated that time and again, our land has been home to saints and seers who have taken Yoga to the world in an extremely scientific manner. He also shared that some individuals have made the effort to make Yoga a collective exercise.
In his speech, he also linked Yoga with stress management. He said, "Stress management is a big thing. A day is not far when stress management professional experts will assume immense importance. Earlier we had joint families, which were natural ways of mitigating stress. Now we are in micro families are common, both parents are working and stress among children is increasing. That is why they are taking to guns."
CM further said, "Take children to a toy shop. Eight out of ten children will chose guns. If this goes on, how can we build a social fabric?" He also stressed on the need to create good Yoga teachers and said that this University is a wonderful step in this direction.
CM expressed joy that he has got the opportunity to share the platform with Rajarshi Muni ji, who he recalled meeting in 1979.
Rajarshi Muni ji spoke about the importance of Yoga in his speech. Minister Shri Bhupendrasinh Chudasama also spoke on the occasion. BJP leaders Shri IK Jadeja and Shri Narharibhai Amin were present on the occasion.
Sources: Gujarat Information Bureau / CM site
Watch Video: