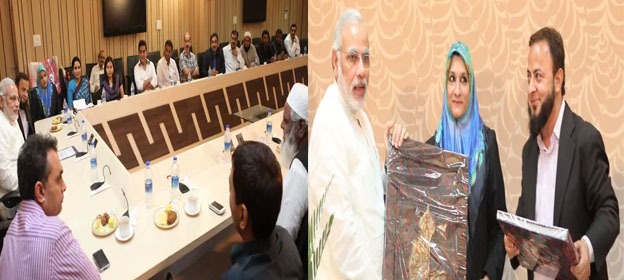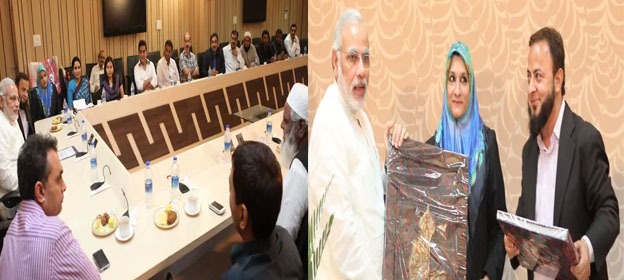 A team of Representatives led by Mr. Zafar Sareshwala, met Chief Minister Narendra Modi at Gandhinagar recently.
The representatives congratulated for the successive win of CM for the fourth term and applauded him for the leadership qualities and development of the state.
CM Narendra Modi discussed on the growth and unity of Gujarat. He took pride to mention that since last twelve years, Gujarat is free from vote bank politics that divide the nation. He informed that he has been uniting the population of the society around the process of development, irrespective of caste or creed and making them partner in progress of development.
CM informed of the state's initiatives for Educational hub needed for the human resource development. He mentioned, "Eleven out of 41 universities set up in the last decade offer specialized and novel courses as the state is starting the first-ever Skill University, The state has set up world-class incubation centre 'iCreate' to promote innovative talents, creating opportunity for talented youths. The state has also opened the doors of ITI-trained youth to higher education."
Furthermore, he informed that all efforts are taken so as to let students studying in the state getting degrees of foreign universities.
The group included active representatives of Parsis, Muslims and other minority communities from north, south, central Gujarat and Saurashtra-Kutch regions, from Ahmedabad, Surat, Mumbai and other cities. The group also showed their eagerness to contribute for the development of the state. They were impressed with CM Narendra Modi's political will, his good intentions and untiring efforts for 'sauno saath, sauna vikas', meaning inclusive growth through collective efforts.
Sources: Gujarat Information Bureau/Kidsfreesouls News Desk