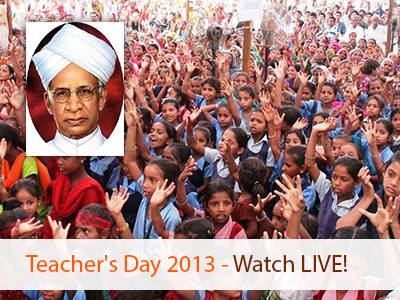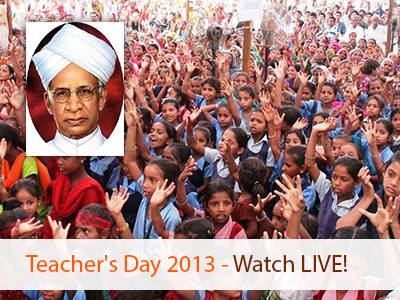 Hon'ble CM of Gujarat Shri Narendra Modi will present the Best Teachers Award to teachers of the State in a grand function to celebrate Teacher's Day 2013 at Town Hall, Gandhinagar. Hon'ble Governor, Dr. Kamlaji will remain present for the function which will be attended by many of State ministers and thousands of teachers and students from across Gujarat.
CM will address the gathering with his inspiring address on Teachers' Day which will be broadcasted LIVE. You can watch it LIVE on www.narendramodi.in from 10:30 am onwards.
In the 2nd phase of the programme, Shri Narendra Modi will interact with thousands of children from across Gujarat who will be present on the occasion. CM will answer questions on his ambition, his dreams, his life, his inspiration and to many other questions posed by the students on Teachers Day.
"Teachers have woken up to qualitative change in education in Gujarat through Gyan Shakti during the last decade", says CM. In 2012, CM interacted with 1.5 cr students of the state via satellite broadcast.
You can watch live on www.narendramodi.in and also find presentation here on paying tribute to all teachers: http://www.narendramodi.in/paying-tribute-to-one-of-the-noblest-professions/
– kidsfreesouls news desk
pic courtesy:
– Teacher Contributions on Kidsfreesouls
http://www.kidsfreesouls.com/index.php/teacher-contributions/620-teacher-contributions
{jathumbnail off}