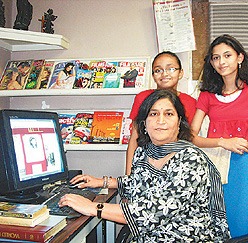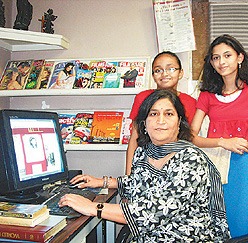 Kidsfreesouls.com now present Online Kids Reporters ( Journalists) & Jr. Editors. The idea is to promote children Talents and encourage them for creativity and Journalism with their Online reporting. This needs real time devotion, dedication and determination. Kids who have Joined the KIDSFREESOULS-SWAGAT BLOG CLASS+Creative Writing and those kids who areSwagat Yearly members can be Kids Reporters on Kidsfreesouls.com if their work contribution is to the mark. If there is no submission for more than one month, they get the Un-updated Label. If there is no submission for three months, they cease to be Reporters!
If you are a Global Reading Member of Kidsfreesouls and wish to contribute, you may send your jokes, riddles, book reviews, news pieces, etc to the Kids Reporters. They will report on Kidsfreesouls.com with your name.freesoul@kidsfreesouls.com"E-mail here. For submitting 25 Book reviews, you even get a Kidsfreesouls Certificate to print/posted.
Kidsfreesuls do not promote un-updated pages! Neither doesGoogle-Yahoo-MSN encourage un-updated pages. Hence, Those kids who have not submitted/reported for three months are removed from the List. We do not want our Online Kidsfreesouls Readers to get disappointed with Un-Updated Posts!
Readers may make comments to active blogger posts. Your suggestions and Feedback are welcome too. freesoul@kidsfreesouls.com">E-mail here.
Teachers,Parents and Kids willing to Join Swagat KidsfreesoulsCREATIVE WRITING & BLOG MAKING may enquire on E-mail here or ring up 079-26443932. (Only for Ahmedabad city). Click here for Info
Kidsfreesouls Reporters with ilaxi patel
Click for the Press coverage Here
Coverage of Blogging children in city
Newspaper 'Divya Bhaskar'
(The Link might not appear if the page is updated. Kindly look again for the scanned article- Press coverage Here)