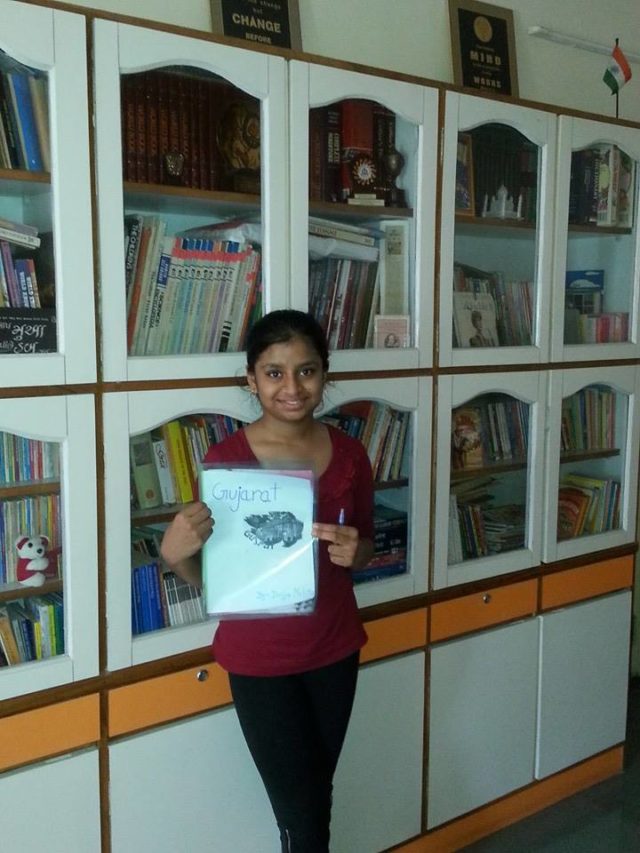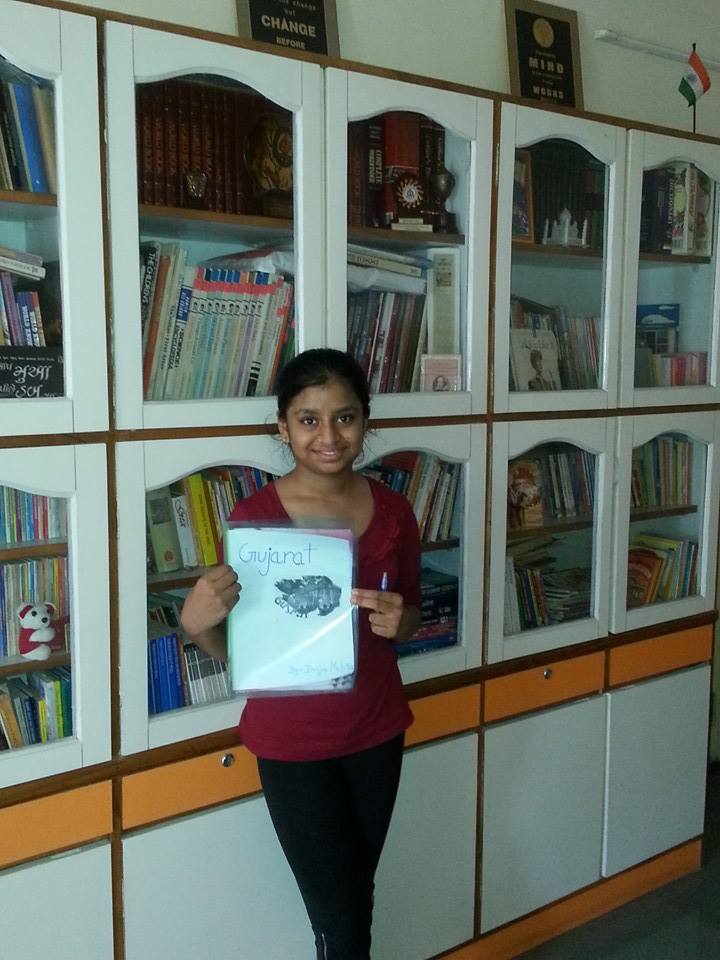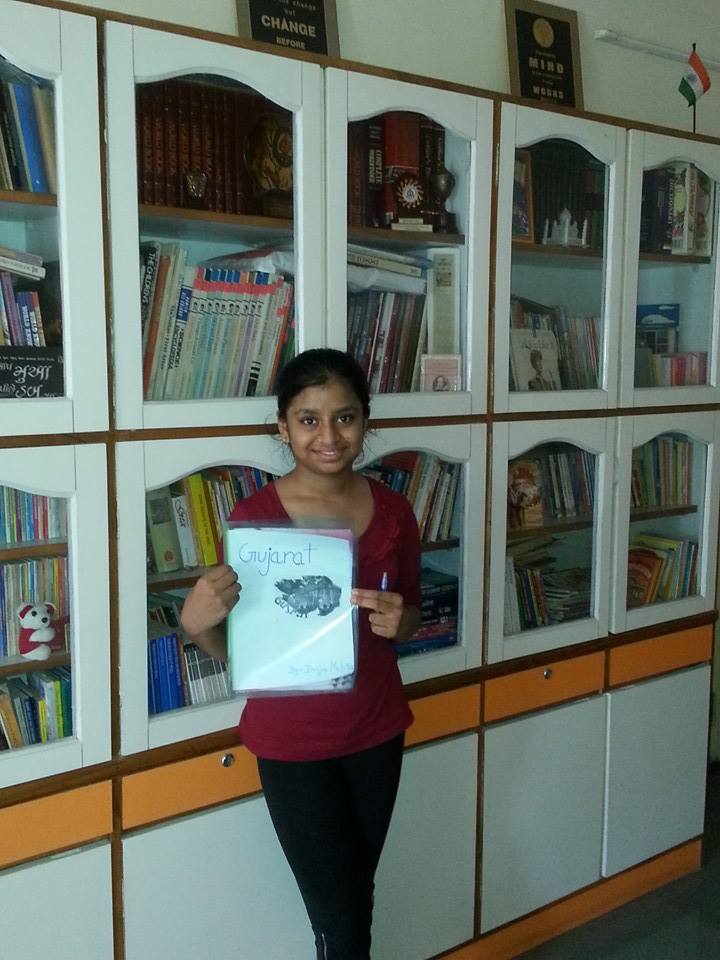 I am Dvija Mehta. I am a creative innovater – an artful soul and a reader from heart. I love to sing and dance. My friends label me a 'Genius Maths Whiz' and numbers mean not only figures for me but something more than that. My world revolves round my parents and my darling sister who are my biggest strength.
I use defense skills and learnt 'Karate' as I think girls should learn the skills needed for safety. My love for books and creativity made me join Swagat Children Library and I am happy to be there to explore.
My blogging theme is 'Expressions through Art.' I love drawing and painting; indulge in themes with different mediums and varied subjects. I have tried to express my feelings on paper and my emotions reveal my thoughts. I hope you will love to read my thoughts and see my art – my Expressions through Art.
Here are pictures with elaborated writing :
RAILWAY STATION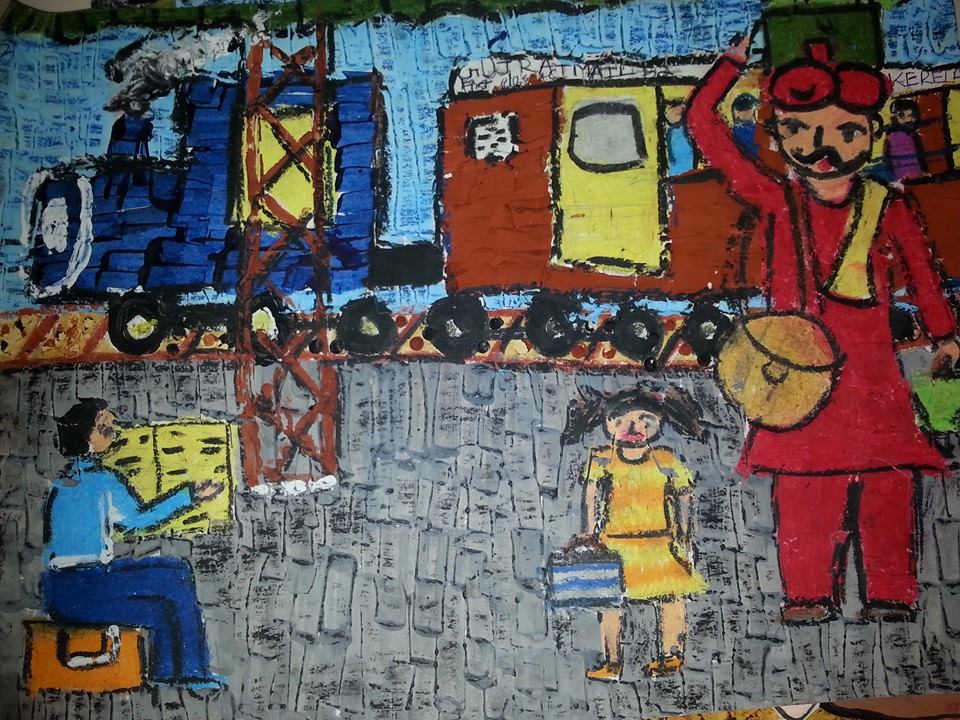 In earlier days, people travelled on Bullock carts. But now, there are many means of transport. I have chosen Railways.
This is a drawing of a Railway Station where people go and come from different places. I made this picture when I was going to Kerela during my Summer vacation. This drawing shows a coolie carrying luggage of various travelers and keeping it safely on board the train. A young girl is carrying her bag and a man is sitting on his back reading a newspaper. The train is scheduled for Kerela which is my destination. I am traveling with my family and friends.
I haven't made any magazine stalls or tea stalls in this drawing but only the coolie because he is the one who has the capacity of carrying many luggage for people. But, at the end of the day, he doesn't earn anything much worth from the people. He stays at the Railway station all night but earns hardly a dime. This makes you realize how difficult a life of a coolie is. People often misbehave with him who carry their luggage. Have you ever thought of how he earns his living?
A coolie do not have any other job than carrying luggage. And, in turn, if he do not earn, how can he survive all his life doing this job! Be considerate. Do not give all your luggage to him. Only give him heavy luggage and easy things like bags and basket can be managed by yourself. A coolie is only a human being. Never try to be dependent too much. I also think that people should be well educated so they don't have to do such jobs. Literacy is very important and without being literate, a person is going to face problems in life.
The Churning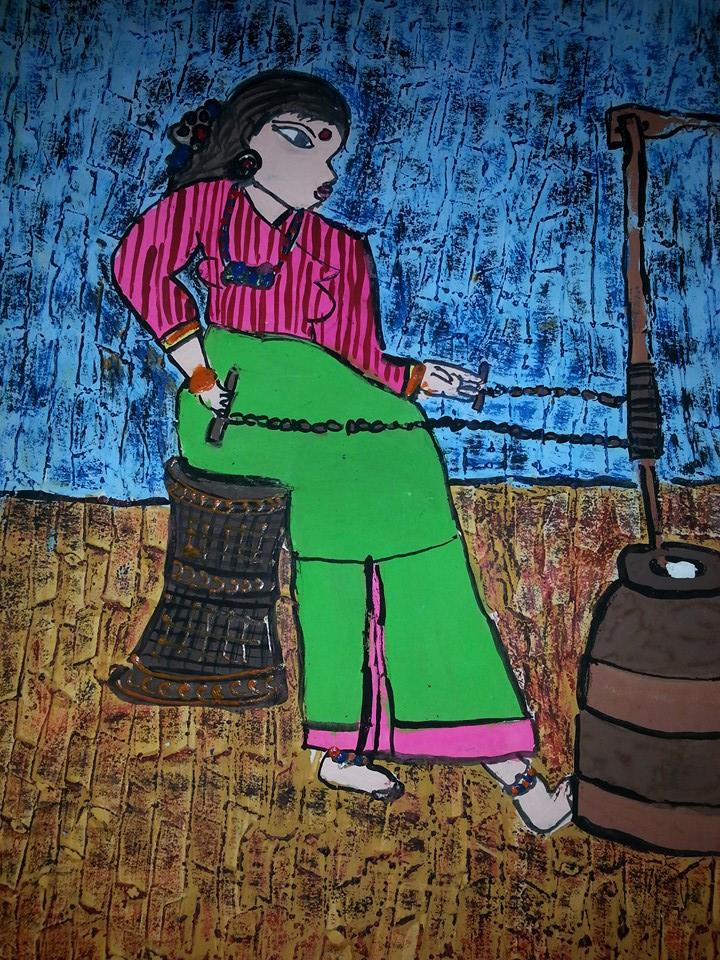 Remember the Krishna tale? How he ate the Butter milk made by his mom? He even broke the pots of the Gopis and played a lot of pranks.
Inspired from Krishna stories, I have made this drawing to remind you of the playful Krishna and his naughty pranks.
In my creation, a Gopi is seen churning milk to make butter milk. Krishna loved Makhan very much. So, she would keep the pot filled with butter milk on the top most shelf while Krishna will jump to grab the pot and eat the whole butter milk.
What does come to your mind when you hear the word Krishna? I think it must be 'Makhan chor.' This drawing will make you remember the tales of Krishna and his playfulness. It takes you back to the memory lane of Krishna.
I made this drawing when I was randomly thinking about how his mother would churn milk for him. To make this drawing, I have used:
Paints
Cutter texture
Tube colors
Crayons
I have tried to give perfect finishing to the texture by using crayons.
Hope you will love my drawing.
– Dvija Mehta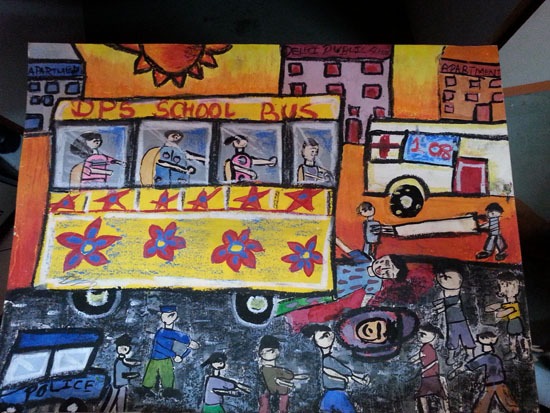 An Accident – Reckless driving or fate?
I made this drawing when I was reading a Newspaper report about an incident of a school boy who met with an accident. I visualised the situation and started an imaginery picture of the accident.
I feel, it must have been that the bus driver may be driving very speedy as he may get late and the boy must be carelessly walking on the road. This shows that the fault was of both of them. Some good things about this picture you can figure out is about the 108 Service which is very prompt. It reaches the accident spot in no time and medical assistance is given to the victim.
The boy and the bus driver should take care and we all take an example that we should be more careful on the road – whether driving or walking.
The material I used in this picture are – Knife, crayons, sponge, some water colors.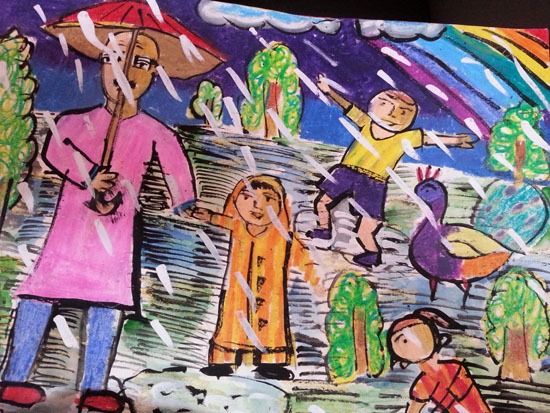 RAINS
I remember the Nursery rhyme and still love to sing along 'Rain Rain, Go away, Come again another day' – I wonder why we say this ! We love rains and in fact, tell the rains to come again and again.
I made this picture by imagining that how people enjoy rainy season. This drawing shows a boy playing in water, puddles, the peacok dancing, a girl walking with grandfather and a girl playing with paper boat. The rainbow gives a perfect finishing to the drawing.
I used wax crayons, water colors and chalks to make this drawing.
This drawing takes me back memory lane of my childhood. I still feel raindrops falling over my head and the cool breeze with the sweet smell of the rain.
– Dvija Mehta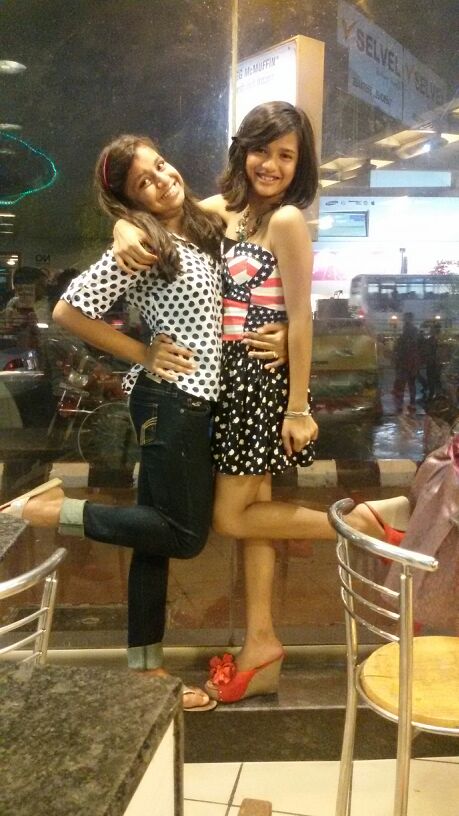 Pic: Me and my friend – Aja
{jathumbnail off}