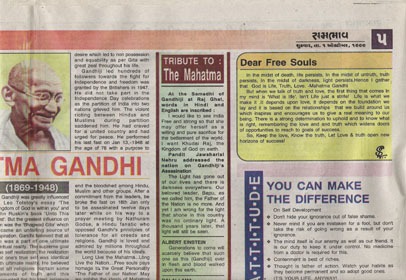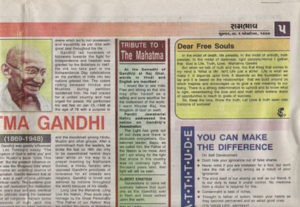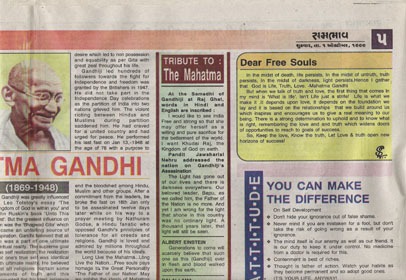 Happy Gandhi Jayanti
How many of you have read Navjivan Trust publication Mahatma Gandhi's My Experiments with the Truth? The Autobiography covers his life from early childhood through to 1921. It was written in weekly instalments and published in his journal Navjivan from 1925 to 1929 – Well, let's take a Test on how good you are a reader if you have read the Book. Here's a Quiz for you. You are free to refer the book for answers;-) And, if you don't find, click my Culture and Festivals pages on Gandhiji to find the answers. But remember, No cheating, first try to go through the book and find answers.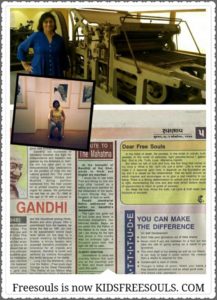 THE GANDHI QUIZ (As appeared in Freesouls Supplement, Sambhaav Newspapers earlier)
1. What was the educational qualification of Kasturba, Gandhiji's wife?
2. When young Gandhi was in high school, he mis-spelt a word during exams and his teacher prompted him to copy inspite of the presence of the Education Inspector. What was the word?
3. Gandhi believed that Friends react on one another and was of opinion that in friendship there is very little scope for reform and all exclusive intimacies are to be avoided. Be friend with god and make the whole world your friend, he said. Which place was it where he met this friend who made Gandhiji think like this and why?
4. Gandhi's uncle had a habit of smoking . Gandhi and his relative formed the habit of smoking stumps of cigarettes thrown away by his uncle and stole servant's coppers for smoking. What made them leave the habit of smoking?
5. Gandhiji stayed at an Anglo Indian widow's house in West Kensignton, London where he formed the habit of reading newspapers. Which were the newspapers he read there?
6. While searching for a vegetarian hotel , Gandhiji noticed a book under a glass window which he read and inspired and impressed him to make him decide his mission to spread vegetarianism. Name the book?
7. At 35, Gandhiji took charge of Indian Opinion, weekly Gujarati edition in South Africa. In India, after accepting Editorship of Young India, Gandhiji was keen on conducting a Gujarati paper. Which newspapers did he pull out, one in Hindi and another in gujarati?
8. Which year was 26th January declared as Republic Day of India?
9. Who was the secretary of Mahatma Gandhi?
10. Which year and on what date was Dandi March held by Mahatma Gandhi?
11. Gandhi started Quit India Movement. Which year and what was the call slogan?
12. On January 30, 1948, Nehruji made a tearful announcement on All India Radio. What were the words he used?
The highest pages surfed on Kidsfreesouls are Literature Pages and especially Page on Gandhiji Profile: http://www.kidsfreesouls.com/gandhiji-jayanti/
Gandhi's influence extended beyond the borders of India to the rest of the world where he inspired movements for civil rights, emancipation and freedom. Mahatma's legacy lives on. His spirit, courage and wisdom have a special resonance for heart-centered entrepreneurs today.
Here Seven Deadly sins by Mahatma on Gandhi Jayanti (2nd October):
Mahatma Gandhi said that seven things will destroy us.
Wealth Without Work
Pleasure Without Conscience
Knowledge Without Character
Commerce (Business) Without Morality (Ethics)
Science Without Humanity
Religion Without Sacrifice
Politics Without Principle