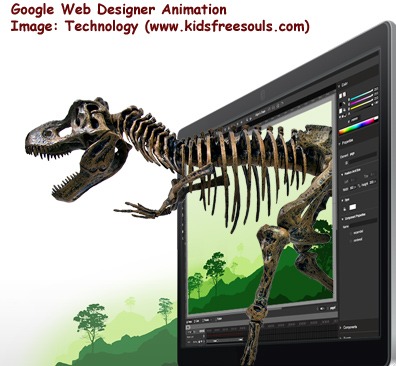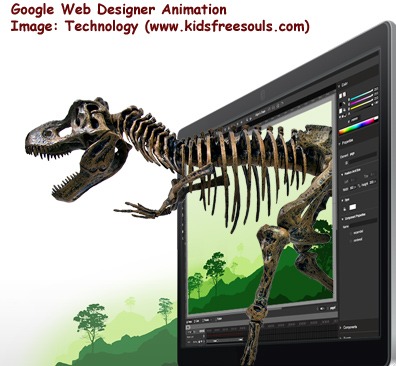 Google announced 'Google Web Designer' – a new professional-quality design tool that makes HTML5 creative accessible to everyone from the professional designer to the Photoshop dabbler.
People post valuable contents on social networks. But, what if your brilliant work is not seen or liked by people who missed it. Let this be Permanent work as now, you can Build beautiful HTML5 content with ease.
Create engaging, interactive HTML5-based designs and motion graphics that can run on any device. Everything you create can now be accessible – on desktop, tablet or mobile and that too, without compatibility issues.
Focus on design, Google will handle the HTML5 and CSS3 as you create a wonderful animated visual experience. Only hand editable codes to implement and modified so as to suit your vision of design. Animations can be made easily like the one you see in the picture.
The company boasts of full 3D authoring environment to create and manipulate 3 D contents utilizing an array of tools and power of CSS3.
Just like the MS Front Page, you can flip back and forth between Design View and Code View as you work, immediately seeing any changes made to code reflected back in your designs.
Also, Google Web Designer makes it simple to publish ads through any platform. Choose from DoubleClick Studio or AdMob, or go for the Generic option to push content through any other ad network. No coding required.
Here's the current feature list for Google Web Designer beta:
*Create animated HTML5 creative, with a robust, yet intuitive set of design tools.
* View and edit the code behind your designs and see your edits reflected back on the stage automatically.
* Build ad creatives seamlessly for DoubleClick and AdMob, or publish them to any generic environment you choose.
* Receive updates to the product automatically, without having to re-download the application.
* Access all of this entirely for free.
If this interests you, go to read the getting started guide. Google is also asking for feedback, which you can provide on its user forum and Google+ page. Just browse through the Help Pages and you find the Introduction, Getting Started guide with step to step help and even focusing on Troubleshoot and resolving common issues.
Though Google Web Designer tool is just a beta, the company says it is "working hard over the next couple quarters to add new features and improvements."
YouTube videos that show the tool :
Google Inc Gets a Hummingbird for Its 15th Birthday recently and with the Chrome App Launcher, the company is set to build new Google Play Books Partner Center, a new tool that's faster and easier to use which focus with top priority for Google Books to improve the publishing experience for Authors and Publishers and provide to make books accessible to all.
Download the Beta version Google Web Designer
For more on this, stay tuned to Kidsfreesouls
* All contents on www.kidsfreesouls.com are written by Ilaxi Patel, Editor – Ilaxi has been writing her Tech column previously on her blog : http://kidsfstech.blogspot.in/ and all her new posts can be read here now.
{jathumbnail off}