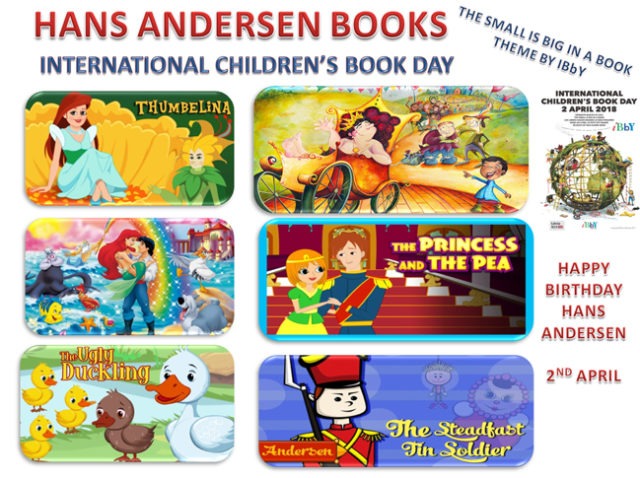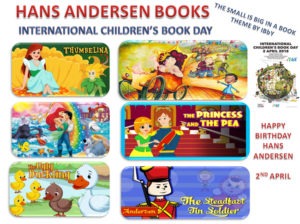 Hans Christian Andersen
(April 2, 1805 – August 4, 1875)
Hans Christian Andersen was born on April 2, 1805, a shoe-maker's son who became Denmark's famous author. Anderson wrote around 350 stories. Even after his death Hans Christian Andersen is still remembered today. Hans Anderson died on August 4, 1875. Denmark's people always celebrate his birthday with a party called "Odin Story Day". The Andersen home in Odense is now a museum, and thousand of people visit it every year. Anderson's stories are too popular and with a touch of humor as well as kind feeling for the poor, his own childhood experiences reflects in his tales.
Hans stories are 'Classic of the classics' coz the beautiful stories lets your imagination go surfing on 'cloud nine' and these tales conveys moralistic message. Totally, an amazing fairy tales of Hans Andersen that grips you delightfully reading even as an adult.

Hans Christian Andersen came from a Royal Danish family. However, there is speculation till date that he may have been illegitimate son of the Royal family. As he grew up, Hans Christian was forced to support himself. He worked as a weaver's apprentice and later, for as a tailor. At 14, he moved to Copenhagen to seek employment as an actor. Having an excellent soprano voice, he was accepted into the Royal Danish Theatre, but his voice soon changed. A colleague at the theatre told him that he considered Andersen a poet. Taking the suggestion seriously, he began to focus on writing. In the Copenhagen harbor there is a statue of The Little Mermaid, placed in honor of Hans Christian Andersen.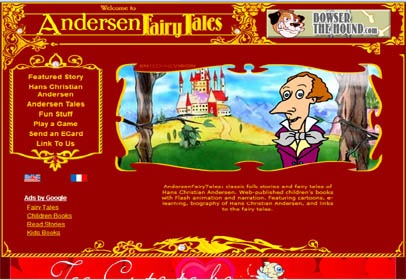 Andersen's first novel, The Improvisatore, was published at the beginning of 1835, which became an instant success. During 1835, Andersen published the first installment of his immortal Fairy Tales (Danish: Eventyr). More stories, completing the first volume, were published in 1836 and 1837. The quality of these stories was not immediately recognized, and they sold poorly. At the same time, Andersen enjoyed more success with two novels: O.T. (1836) and Only a Fiddler. His Specialty book that is still known today was the Ugly Duckling (1837).
ANDERSEN'S HOME – DENMARK'S ODENSE MUSEUM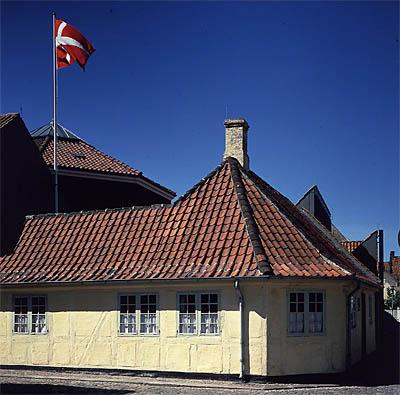 Founded in 1905, the place displays Andersen's photos, furniture and books. In it is a huge library featuring the Danish and foreign versions of the author's works and collection of illustrations.
The museum is situated in an 18th century house in which the author has been born and spent a small part of his childhood. It contains a smorgasbord of Andersen's memorabilia, pictures and photographs, samples of his writings and artwork as well as a library that contains works of Hans Christian Andersen that have been translated in over one hundred of the world's languages. The most impressive part of the museum for me was a large hall displaying wall-sized murals by Danish painter, Niels Larsen Stevns, which depicted major events of the author's life. From his childhood and a traumatic departure from home, to his accession as Odense's honorary citizen, the paintings give a visitor a quick and concise introduction to Andersen.
The museum is a necessary stop for anybody interested in the author's history.An incredible educational experience to enhance appreciation of Andersen: It gives insight of his writing (hundreds of works) and seeing examples of his sketches and paper cutouts. Not only an Author, a talented artist as well.
BOOK LIST OF HANS ANDERSEN
Hans Andersen's stories began to be translated into English as early as 1846.
Anthologies:
Imperial Messages (1976)
Black Water (1983)
Mythical Beasties (1986)
Christmas Story Book, the (1986)
Double/Double (1987)
Funny Stories (1988)
Spells of Enchantment (1991)
Mammoth Book of Fairy Tales, the (1997)
Fantastic Tales: Visionary and Everyday (1997)
Poems:
Woman with the Eggs, the (1836)
Comet, the (1869)
Short Stories:
Princess and the Pea, the (1835)
Thumbelina (1835)
Little Claus and Big Claus (1835)
Little Ida's Flowers (1835)
Tinderbox, the (1835)
Traveling Companion, the (1835)
Emperor's New Clothes, the (1837)
Little Mermaid, the (1837)
Steadfast Tin Soldier, the (1838)
Wild Swans, the (1838)
Flying Trunk, the (1839)
Wicked Prince, the (1840)
Swineherd, the (1841)
Ugly Duckling, the (1843)
Nightingale, the (1843)
Sweethearts, the; or, The Top and the Ball (1843)
Snow Queen, the (1844)
Fir Tree, the (1844)
Little Match-Girl, the (1845)
Red Shoes, the (1845)
Darning Needle, the (1845)
Shepherdess and the Chimney-Sweep, the (1845)
Shadow, the (1847)
Old House, the (1847)
Pea-Blossom, the (1852)
For Sure! For Sure! (1852)
Goblin and the Grocer, the (1852)
Clumsy Hans (1855)
Snow Man, the (1861)
What the Old Man Does Is Always Right (1861)
Cripple, the (1872)