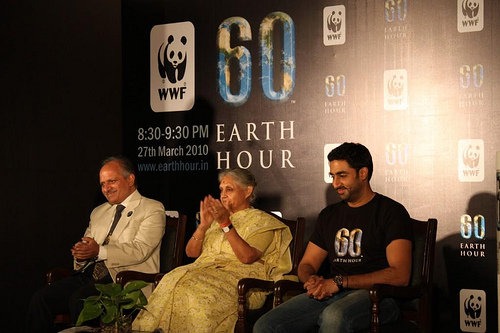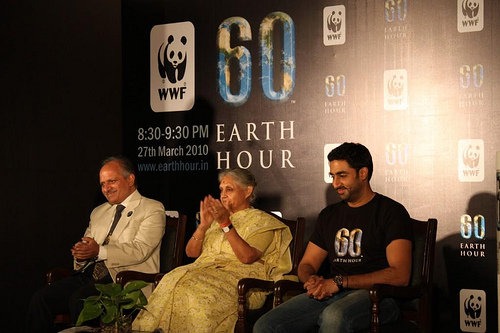 Abhishek Bachchan is the official ambassador for Earth Hour 2010, a WWF initiative where citizens around the globe show their support for action on climate change by turning off lights for one hour. This year the switch off is being observed on March 27, 2010, from 8.30 pm to 9.30 pm.

Earth Hour Lantern – Make your own
Gujarat on Kidsfreesouls
I've taken my pledge, You may take your Pledge too.
Awareness Programmes for World Heart Day
Month of September is being celebrated as the month for awareness on Cardiac diseases to mark the World Heart Day on September 26. Series of events are held like Cycling, 'Pedal for Heart', Green Walk – Plantation, etc. Wellness Check up camps and programmes, pledge campaign etc. have been organized focusing on heart related health issues. City Hospital cafes will serve health food to create awareness about the importance of eating low cholestrol, low calorie diet. A poster competition is held for the children too.
---
Science City Organize World Ozone Day Workshop
To mark the celebrations for World Ozone Day, Gujarat Science City (GSC) has organized a day long Workshop with the theme 'Protect the Ozone Layer : Save Life on Earth' with initiatives for Ozone Layer protection: Governance and compliances at their best with exhibition, slide and film show and popular science talk on the ozone theme. The aim is to spread awareness and sensitize the students and the general visitors about the ozone layer and its importance to save life on earth. Participants from over 150 schools are expected to join the workshop on Thursday, 16th September 2010 – World Ozone Day. A sit and draw and Ozone Quiz competitions are held at the Science City where children of class VI to X will participate.
---
E Library Digitization
Educational Institutes and Libraries in Ahmedabad are being Digitized. Gujarat Vidyapeeth has undertaken the mammoth task of digitizing 35 lakh pages in a period of three years. They have already digitized 12 lakh pages containing rare books, Gandhiji's literature and academic material. Gujarat University have already implemented digital catalogue of all 35,000 books available. They have 4,500 books available online. On academic front, projects like INFLIBNET, acronym for Information and Library Network Centre, hold great promise as it takes shape. Apart from providing over 70,000 books and 2,000 journals online, they have started a project called National Library and Information Services Infrastructure for scholarly content (N-LIST) from this year. It will not only encompass a wide range of subjects in published material, but will also have content like doctoral thesis and dissertation of member colleges. This year, the project has got national award for digital learning through ICT in higher education. The project is on at 780 colleges nationally including in Gujarat. This national project has got a building near Gandhinagar.
---
Tribal Museum at Gujarat Vidyapith
International Tribal Day was celebrated in Ahmedabad on 9th August 2010. On the occasion, Gujarat Vidyapith inaugurated the much awaited 'Tribal Museum' built with life size sculptures depicting members of 6 Tribes – Rajgond, Bancha, Pateliya, Pomla, Pardhi and Dhanka. It gives a glimpse into lifestyles and provide information on culture of communities and history. As mentioned by the Director, Mr. Chandrakant Upadhyay, the Tribal Museum will draw a lot of visitors. Clay work, painting and fibre modelling were indepth explored by the Sculptor Aakir Panj who studied over 20 tribes lifestyles and origin of these tribes in Gujarat.
---
Samvedna prepares to celebrate Independence Day
Samvedana along with Jagrut Jani plans to Celebrate 63rd India Independence Day in memory of the heroes who fought for the country and pay respects to the nation with flag hoisting. The event is held at 9.am onwards on 15th August at Damani Bunglows, Nr. Panch Bunglows, Gulbai Tekra and for further information you can join the Foundation's FB Group.
Samvedana which means 'Compassion', is a nonprofit organization striving for integrated development of slums with a focus on children's education and health. The foundation supports social growth of the underpriviledges in slums by providing education opportunities while supplementing their growth and development through various welfare programs, outdoor activities and workshops. It focus through the infrastructure of the Municipal schools in the city of Ahmedabad with a vision to change academic and overall performance of children. They even call for volunteers to join their mission and make a difference.
Earlier, Children at Samvedana took participation in t-shirt painting competition wherein kids with their creative ideas made wonderful designs for t-shirts. In association to Smile Foundation, Samvedna organized this competition encouraging children with cash prizes.
---
Rupee Font

Indian Rupee gets new Symbol ` – The creation of the rupee sign began with an Indian government announcement on March 5, 2009, that a contest would be held to choose a symbol for the rupee. About 3,000 designs were submitted and those were short listed to five selected ones. The cabinet picked the symbol you see above, designed by D. Udaya Kumar, a 32-year-old graphic design and typographer who had just completed his PhD on Tamil typography at the Indian Institute of Technology (IIT) in Mumbai and is now at IIT Guwahati. The symbol is an amalgam of the Devanagari "Ra" and the Roman capital "R" without the descending stem. The two cross strikes at the top of the symbol reference the Indian flag. The creator D. Udaya Kumar is rewarded ` 2.5 Lac. As the keyboards are yet to be equipped with the font, a substitute option is already created by Foradian, a Mangalore based Internet Engineering Company who offers Free Download of the Fonts with easy installation and ready for use on Computers. All you do is go here – Download the Rupee Symbol from Foradian here and follow the Presentation Help File. You can also Join the Foradian Group on FBand follow instructions here.
For Kidsfreesouls ready help, download the fonts from foradian. Save in your Windows>Fonts. Open and click. Go to your word doc. Choose 'Rupee_Foradian' from Fonts. Select the top left key with symbol ~ and ` – the sign appears. Simple, isn't it?
---
Essay Competition
Gujarat NRE Coke and AMA (Centre for National Integrity) Organizes Essay Competition for the age group 18 to 35 years. The Topics are 'Positive Role the Indian Youth can play in Politics, Building National Character, Democracy-Taking the Dream Beyond, Uniform Civil Code, Implementing the spirit of Indian Constitution, Improving Judicial System. Each of the first 3 best Essays carry a prize of ` 5000 and a certificate. Each of the second 3 best prizes will carry a prize of ` 2000 and a certificate. For submission entry, contact AMA 079-26308601 or AMA, Ahmedabad.
---
TOT – Training of Trainers at Gujarat Vidhyapith
A five day training of Trainers (TOT) is organized at Gujarat Vidhyapith starting from Monday 19th July 2010. The training sessions are on social harmony and national unity. The Program is organized jointly with GOI, Ministry of Youth affairs and sports, National Service Scheme, Ahmedabad in collaboration with Rajiv Gandhi National Institute of Youth Development, Sriperumbadur. More than 40 NSS functionaries and program officers from various Universities and schools of Gujarat will participate in the training Program.
---
Literature Club
City based, multilingual Literature Club 'Satori' celebrated its first anniversary Cultural Program at Gujarat Sahitya Parishad on 18th July 2010. The Club is run by Youths of Ahmedabad. A magazine 'Kavya Mudra was launched by the club members on the occasion for the budding writers. The club is run by Pooja, Ranjani and Mana. Satori which means 'flash of sudden awareness', the main theme of the group is focused on Literature. It is a place for budding poets, editors, writers, storytellers, all book readers and share their experience with books, their experiments with writing and the learning process they have gone through their life and beyond, says Ranjana Mistry, co founder of the Group.
---
GCERT aiming to change Primary school syllabus
For the parents and teachers of class I-V – good news is that GCERT (Gujarat Council of Education Research and Training) is going to review the text book syllabus of classroom teaching. Best of the teachers are selected. A new group is formed which includes 160 resource persons – primary teachers, cluster resource centre co-ordinators, Education inspectors, experts from Textbook Board, readers and lecturers from GCERT.
This group will discuss how children learn, their tastes of learning and classroom habits. They will take about a year and a half to submit their recommendation to a curriculum committee headed by well known academician Mr. Ravindra Dave who has earlier worked with UNESCO, who will verify to further make their recommendation to the Education Department for final decision. New text books will be prepared once the changes in syllabi have been finalised. The text books will be tested at various levels in hundreds of schools before being finalised, says the authorities.
---
Swarnim celebrations at Stadium
The Golden Jubilee Mega Festival made a historic mark in the history. Swarnim Gujarat Mahotsav was inaugurated by the Governor in the august presence of Chief Minister Shri Narendra Modi, Member of Lok Sabha Shri Lal Krishna Advani, Leader of Opposition in Lok Sabha Smt Sushma Swaraj, Leader of Opposition in Rajya Sabha Shri Arun Jaitley, Chief Ministers of various States, Deputy Chief Ministers and eminent leaders. Prominent among those participated at the mega festival included Opposition leader in Lok Sabha Smt Sushma Swaraj, Opposition leader in Rajya Sabha Shri Arun Jaitley, Chief Ministers and Deputy Chief Ministers from various states, former Central Ministers. Former Gujarat Chief Minister Shri Keshbhai Patel, present Ministers, MPs, MLAs, religious heads were also present.
Golden Jubilee Mega Festival opened to an overwhelming public response, Sardar Patel stadium was packed to its capacity. As such, the show was performed again next day. It was converted in to cauldron of cultural diversity. Original and congenial Gujarati music and songs pervaded the stadium mesmerized audience.
Ex. Deputy Prime Minister and M.P, Shri Lal Krishna Advani said, "It has been my proud privilege that I am representing Gandhinagar in Lok Sabha. Gujarat is fortunate to have visionary leader like Narendra Modi, who has burning desire to act upon his dreams. In a true sense, the celebrations have become people's festival .It is not just an official function. Shri Modiji devotes credit of Swarnim Gujarat to the people."
Fifty years since its inception, Gujarat stands out as one of the most progressive states, acclaimed nationally and internationally .On the occasion of Golden Jubilee, Chief Minister extended warm greetings to the people. He said, "I deeply value contribution from all. The 5.5-crore Gujaratis ought to take one pledge, it would take Gujarat forward by 5.5-crore steps during the golden jubilee mega festival."He expressed gratitude towards martyrs of Maha Gujarat Movement.He said, "We have to realize the dream cherished by Ravishankar Dada and Induchacha, the land belongs to Pujya Bapu." He added, "We have concentrated on 50 issues, in the next ten years. The state government is all set to mark 50 Golden-Landmarks in next 10 years. Common vision, common goal, common dreams, Gujarat has potential to fulfil golden goals. "
---
Swarnim Celebrations
1st May, Chief Minister will first go to Lal Darvaja –Ahmedabad for offering floral tributes to Shri Indulal Yagnik. At Shahid-Smarak, Chief Minister will pay homage to martyrs of Maha Gujarat Movement. He will honor all, who have given their valuable contribution in formation of Gujarat. On this occasion, CM will felicitate martyrs' families. From here, he will go to Hruday-Kunj-Sabarmati Ashram to pay tribute to Pujya Gandhiji. Here, H.E Governor of Gujarat, Dr.Smt. Kamla, Former Chief Ministers, and Members of Parliament, present and past MLAs with many other dignitaries are scheduled to take Swarnim-Sanklpa (Golden-Pledges).
From Hrudaya-Kunj, Chief Minister will directly go to Gh-5 -Circle Gandhinagar; he will offer floral tributes to Pujya Ravi Shankar Maharaj. Leaders, eminent citizens will offer floral tributes to great leaders all across the State.
Serendipitous moments, Classical music will explode live at Sardar Patel Stadium Ahmedabad, at 6.p.m .H.E. Governor of Gujarat Dr.Smt Kamla to preside over Mega Event-Vande Gujarat. Scrolling down the lanes of history, it enriches our understanding. Rich display of art and music, for the first time, using cutting edge techniques, the light and sound show is incorporated, which will captivate and mesmerize the audience. For thousands of viewers, it will be endearing to notice the lively presentations.
The cultural extravaganza is scheduled to begin with offering sincere salutations to Lord Ganapati, by tribal artists in Marathi and Gujarati language. Absorbing music being played on traditional instruments, artists are invited from different and far-flung places specially to present their skills.
Living only once, the event is entitled to find dignifies place in the memory-chips of viewers. It is going to open up bright avenues of development and progress, to mark commencement of Golden-Age.
Courtesy: www.gujaratindia.com (news)
– For Kidsfreesouls Gujarat Day Page & Swarnim Pledge – click here – Find Live view of celebrations online & event details.
---
Sarabhai Award at Science City
Dr. Vikram Sarabhai Sward for 2008-09 will be presented at Gujarat Science city on 29th April 2010. The awards are bestowed by Gujarat Council of Science and Technology to scientists or group of scientists who have developed new products, processes, technology or devices for practical use. These awards carry a cash prize of one lac rupees, a memento and a citation. Scientists are selected by expert committee consisting of members from various fields. Jaydeep P Sheth and Dr. Vagish Shrinet worked on the project 'New Polymeric material for wiring accessories.' They developed an alternative plymeric material which is a potential substitute for poly carbonate and costs less that half of it in making wiring accessories like plug and sockets. Mr. B M Nair and Mr. M K Shah worked on 'Development of direct current miniature circuit breakers for 5 kilo ampere, 130 vlt direct current' and Mr. Jayalekshmy Ayyer worked on project 'Development of liquid phase redox process for hydrogen sulphide removal and sulphur recovery from gas streams.' These awards will be an inspiration for Science Development in the state.
---
Yuva Unstoppable opens new office
"By 2018, We hope to create the top most people in every field. We also plan to help decrease the drop-out rate in primary schools." These are the words spoken by Amitabh Shah, founder of Yuva Unstoppable at the inauguration of Yuva Unstoppable's new office on CG Road on Saturday. Marmik Joshi, English Unstoppable's ambassador says, "India's 47 % population is below 20 years of age. We are focusing on primary education and have around 50,000 beneficiaries. By the end of this year, more than one lakh children will receive the resources." Yuva is a medium to contribute to society and their main goal is to make a small difference in this great country. As Yuva Unstoppable moves ahead to change lives, they are focused with the themes on Yuva English Unstoppable, Yuva School Unstoppable, Yuva College Unstoppable and Yuva Woman Unstoppable. They work to provide educated young manpower to NGOs ranging from orphanages, handicapped children homes, to municipality schools. Yuva-ites help with education, hygiene and extra-curricular activities. They also do acts to collect smiles such as Free Hugs campaign, buy ice-cream for policemen, help the servant with his dishes, etc. Yuva is a fully volunteer run movement in 30 cities with over 60,000 volunteers who are helping 80 NGOs. The youth are given an opportunity to volunteer for 2 hours/week and inspire them to do random acts of kindness. To read more on this,visit their site.
---
Heritage Conference
A three-day International Conference on Asian World Heritage Cities was held in the city with an inspired speech by Chief Minister Narendra Modi who also released a coffee-table book on Ahmedabad's heritage brought out by The Times of India on the occasion. Ahmedabad is aiming for first Indian city to get World Heritage City status from Unesco. Unesco Director and other eminent foreign delegates were all praise for the immense heritage value of the city and the need to plough in funds for conservation. Lauding TOI's heritage campaign, the CM offered a nation-wide tie-up with the newspaper to create awareness about heritage in historical cities across the country. The CM Narendra Modi spoke of 'Jal Mandir' project where he has exhorted the entire administrative machinery in Gujarat to identity stepwells which are in a state of neglect. He mentioned that in just a few months, 800 such stepwells have been cleaned up across Gujarat. He also sought Unesco's help to excavate the ancient city of Dwarka which is buried under the sea off Saurashtra.
The book by TOI, 'Ahmedabad Next-Towards A World Heritage City', sets off with the theme 'Connecting Ahmedabad To Its People'.
---
Vanche Gujarat' Project calls for participation for reading
CM Narendra Modi has initiated the 'Vanche Gujarat' Project with his motivational speech on 1st April 2010 (Live telecast on 1st April 2010, 11.00 am)on the occassion of Swarnim Gujarat and has called for 'pledge' to spread reading awareness among students and citizens. The Reading project is to encourage and motivate children for reading. It aims to teach lessons for life and gives training for self purification. The 'Read Gujarat Mission' is going to actively rope in private and government libraries, students of schools and colleges and many of the voluntary organisations who are engaged in social-service, besides citizens and senior citizens. Giving details about the programme, principal secretary, Shri Hasmukh Adhiya said that it would inspire the student to cultivate reading habits, other than curricular reading. Under the Read Gujarat Mission, around 15000 Granth-Yatras, 2500 Reading Workshops, 1000 interactive sessions- on the subject 'the book they liked most'- are on anvil, would also organize 25000 street seminars. It aims to felicitate, around 100000 students, 1400 schools and 11000 college students. A 'Samaydaan' – a program for youth to dedicate 100 hours of community service is also flagged off on the occassion. They can contribute the hours either in Health, education, Environment and forest and cleanliness. Online registration to participate is available onSamaydaan website.
– Encourage reading | Literature learning | Family reading report and kids reading | Reading problems-Troubleshoot areas |
– Join Swagat Children Library (since 1991) | Blog note
---
Enviable and Ahmedabad Central for Earth Hour Cause
Earth Hour is a WWF initiative where YOU can show your support for action on climate change by turning off your lights for one hour.Enviable & Ahmedabad Central jointly have organized "Earth Hour" event starting from 07:00 pm onwards at Ahmedabad Central on 27th March 2010. WWF's Earth Hour is an inspiring message of hope and action – a global demonstration about climate change. This event is for everyone who is willing to make a small contribution for the planet we live on, this campaign needs your commitment – so put the date in your diary and get ready for Earth Hour 2010, says the FB Group Event of Earth Hour Ahmedabad. The Group is even taking the initiative to spread the message across schools and colleges to volunteer for the cause. By switching off the lights for an hour, the message is to use energy only when it is absolutely essential and not be wasteful in its use. This message of Earth Hour, hopes to instill behavioral change in the energy consuming attitude of people by asking them to use their power efficiently and switch off the non essential lights and other energy consumer devices when not in use. Conserve power
At 8.30pm on 27 March 2010, over 4000 cities and towns across the world will turn off their lights for one hour, 20 crore homes across India – Earth Hour – sending a powerful message that it's possible to take action on global warming. Post the UN Climate Summit in Copenhagen in 2009, the citizens of the planet, demand commitment to actions that will reduce greenhouse gas emissions for the benefit of the planet.
Gujarat Government has taken the initiative to set up 'Climate Change Department' and Kidsfreesouls is a volunteer for Earth Hour and calls for your support too.

Light a candle on 27th March 2010 evening. Support the climate change cause
---
World Consumer Day
On observing World Consumer Day on 15th March, Consumer Protection and Action Committee (CPAC) hosted a demonstration and exhibition at Apna Bazar near Lal Darwaja promoting awareness and practice of consumer rights. The exhibit addressed the concern over the constant price rise of daily consumer products and goods, stocking of products, cheating in measurement and wrong practices. Literature about consumer rights and how can one appeal was distributed by CPAC.
Consumer Education and Research Centre (CERC), Ahmedabad also hosted a talk on the theme Our money, our rights', a guide to consumer interests in relation to financial services' at Ellisbridge Gymkhana Club.
---
Women Entrepreneur Awards & Fashion Show
Hon.Minister Anandiben Patel with GCCI BWW Chairperson Mrs. Neeta Shah
GCCI Business Women Wing celebrated its Silver Jubilee function and Annual Award function with Fashion show on 13th March, 2010 with the Swarnim Pledge. Women Entrepreneur presented their products through the Fashion show sequence and cultural program in-between entertained the audience at Dinesh Hall Lawns. The Show was held amidst the presence of Hon. Minister Anandiben Patel, (Women and Child Welfare Minister), Mr Rupesh Shah, President GCCI, Co-President Mr. Samir Shah, Chairperson Neeta Shah, Co-Chairperson Deepa Shah and other active committee members who are involved in various activities of BWW. Mayor Shri Kanaji Thakore also marked his presence on the occasion. The Entrepreneur Awards were given in three categories to outstanding Women Entrepreneur. The categories were Manufacturing, Trading and performance based. Chairperson Neetaben Shah and the Committee even launched its Website which will provide information, women entrepreneur Directory, export business information, etc. The site has been sponsored by one of the Committee member Ms. Ruzan Khambhatta. The Past Chairpersons were also felicitated with Momento and shawls. A special presentation focused on GCCI Activities since years and also on Eco friendly use of cloth bags tagged 'I Love being a woman' instead of Polythene bags was given which highlighted hazards to environment. This green initiative was presented by "Enviable" who focuses on two issues namely Environment campaigns and Sustainable development. Parthiv Gohil entertained the audience and sang his best numbers and rocked the show. The Show was held by expert Event Show Organizers of Grishma Trivedi (GA41 Entertainment) and event compered by Makrant Shukla and Minoti.
Hon. Minister Anandiben Patel informed the audience of the Government's forthcoming Initiative of 'Read Gujarat – Chalo Vanchiye' – The brain idea of Hon CM Narendra Modi will encourage Reading Habits among people of Gujarat. The project will be initiated in a two month's time schedule and reading will be encouraged among children and even parents too. Reading is the need of the hour and initiatives like this is necessary for literacy and well being. (click Swagat Children Library Initiative since 1991 which encourage and promotes reading)
---
Global warming – Global action
A three day global warming Conference was held at Gujarat Vidhyapith on 11th March, 2010. Titled 'Agriculture, Sustainable Development and Public Leadership', the event saw environmentalists, scientists and academicians. They presented papers and case studies on lurking dangers of Climate Change and also on their alternative ways to curb the impact. Increasing emissions of several gases such as carbon dioxide, chlorofluoro carbons (CFCs) etc. has negative impacts on humans. One of the profound effects of global warming was the melting of Glaciers, mentioned a senior ISRO Scientist at the Conference. Use of energy efficient pumps and gadgets, conservative lamps and renewable source of energy can save upto 30 per cent power, which would make substantial difference, he further added. The Conference had been organised by International school for Public Leadership, Indian Society for Community Education and Manthan educational Programme Society in association with Department of Forest and Environment and Gujarat Vidhyapith.
---
600 Years of Ahmedabad
To mark the celebration of completion of 600 years of Ahmedabad in Gujarat on 26th February, various programs are conducted in the city. AMC has planned for Old Amdavad theme and have arranged for replicas of historical landmarks of the city to relive the magnificance of the bygone era. The Sabarmati River front will be the venue with models of Teen Darwaja and Astodia Gate placed at the entrance. Bird feeders, city gates and photographs of the old city are center of attraction in the three day programme which will begin from 26th February to mark the celebrations. A quiz with 600 questions pertaining to the city's history is prepared for Quiz Contest for students to create awareness about Ahmedabad's history which covers 600 years of the city.
Apart from this, individuals and institutions are celebrating in unique ways. A 850 kg cake will be cut at midnight by 'Vaarso' and the event is jointly organised by Patel and Mihir Desai of Sambhav Infrastructure. The cake is 230 foot long, 14 inch wide and 13.5 inch tall which will place it in the Limca Book of Records. The topping is about 200 artworks and the preparations took a month and a half ago with a team of ten – five artists and five icing experts. After cutting the cake, it will be sent to old age homes, orphanages and other places. All who wish to celebrate have open invitations. The Group plans to attract the youth and take them back to the roots of the city.
The youth wing of 'Brahmakumaris, Navrangpura has organised a 'Paint your Peace Vision Contest for all. 600 people will paint a 600 metre long Canvas inside the Navrangpura Municipal Market with peace messages on Friday, 26th Feb. Each person will be alloted one metre canvas to express his vision of peace.
A carnival "Find the hidden Treasures of the Walled City" is held by AhmedabadforWHC on Friday, February 26 at 12:00am. This is a contest to find the most precious of the hidden treasures of The Walled City of Ahmedabad. They could be architectural marvels, shops, rituals, or anything that is unique to the Walled city and represents the living tradition of Ahmedabad. Entries with photos and descriptions should be mailed to AhmedabadforWHC. They will be shortlisted by an expert panel and posted on the group by March 20, 2010. Members of the group will be invited to vote for the three best entries. Winners will get attractive prizes.
---
Five day Science Fair in city
National Science Day falls on 28th February every year. To mark the celebration, a five day science carnival is organised at Gujarat Council of Science City from 24th Feb. Over 2000 students from across the state attended on day one. The carnival is an exposition for Science, technology and society interface and aims high school and college level students and the general public to promote Science Awareness to the masses. The theme for this year is 2010 International year of Biodiversity. Elocution, essay writing, poster painting, puzzles, scientific demonstrations, workshops on climate change and global warming, etc activities are held at the fair. Students learnt how adopting energy conservation practices in daily life will reduce dependence on natural resources and save the diverse eco systems. Practical demonstration was given on the renewable and non renewable sources of energy. Bus facilities are arranged from Gandhinagar and Ahmedabad to Science City to facilitate students participation.
---
Jivabapa spreads the 'Go Green' Message
Jivabapa, a mascot is designed by MICA students to draw attention of Gujaratis to Climate Change. Jivabapa will flight Global Warming and spread the message of 'Go Green' to save earth from evil effects of Climate change. During the State wide campaign the mascot Jivabapa will create awareness on climate change which will cover 600 villages in Gujarat. Hailing from a remote Kutcch village, Jesang Rabari who attended climate meet in Copenhagen inspired the students. The campaign is launched on 23rd February and Gujarat Ecology Commission under the State Department of Forests and Environment has been made the modal agency for the campaign. It will educate the masses and create awareness on what people can do as individuals to reduce the impact of climate change. BISAG, the state run Institute is conducting a comprehensive study to assess the impact of rise in sea levels on the coastal eco system of Gujarat.
---
Garib Kalyan Mela
Garib Kalyan Mela Abhiyan by Narendra Modi Government has disbursed Rs.2700 Cr for the benefits of needy people in the state. This mela spread awareness among poor about their rights. The whole exercise is aimed to bring positive changes in the lives of poor people and the government is determined to eliminate the mediators, said CM Narendra Modi. A series of 50 Garib Kalyan Mela is ended. However, the fight against poverty continues, he said. By 2014, Rs.5000 crore to 1,25000 Sakhi Mandals to rural women will be provided.
---
Child Rights
In 1992, after signing UNCRC, Indian government is bound to submit a report every five years to the UN. And to make this national report, state governments of India are required to submit a report on the status of child rights in their particular state to Central government every three years.
NGOs from 21 different states unified to give a voice to children's rights via the alternative report and arranged a three-day conference in Hyderabad. This alternative report focused on four predominant children's rights: right to survival; right to develop; right to protection against exploitation and right to participation. 27 children from Gujarat surveyed more than 700 children in six different districts of Gujarat to prepare an alternative report to United Nations Convention on the Rights Of A Child (UNCRC).
---
Gandhi's work to be digitized
21 volumes of 'The Collected Works of Mahatma Gandhi' will now be digitised by three veteran Gandhians. Navjivan Press printed a 100 volumes of CWMG. 79 volumes were reprinted and sold in the market whereas the rest were never reprinted and not available in the market. Six volumes were printed with initiative of Central Government and Vidhyapith. These 21 volumes will carry 50000 pages and expected to be completed in three years time. Original works of Mahatma Gandhi will be preserved which cannot be edited. The work will be carried by Gandhian author Tridip Suhrud and Dina Patel, daughter of Professor C N Patel, who was deputy chief editor of CWMG compiled by K Swaminathan.
---
400 Doctors for Save Girl Child
4,000 radiologists from across the country will rally for the girl child in Ahmedabad on Republic Day. The walk would be held as part of the national conference of Indian Radiological and Imaging Association from January 23 to 26. The doctors have organised a special walk for Save the girl child movement reiterating their commitment not to perform sex determination tests so as to improve the sex ratio of girl child in the country. The conference aims to provide a common platform for radiologists and students from sub-specialities to come together and share their knowledge and views. over 188 research papers would be presented in the conference where advances of radiology in diagnosing diseases of almost all parts of the body would be discussed in detail .
---
World Conference by VGS
Over 1,000 nonresident Gujarati (NRG) delegates from 20 countries are participating in three-day World Gujarati Conference and Exhibition at Ahmedabad Education Society Ground. Beginning Friday, the event is being hosted by Vishwa Gujarati Samaj (VGS) and intends to enable better networking for business. The conference scheduled for 22nd January will celebrate the golden jubilee of Gujarat , which was carved out from Bombay state on May 1, 1960. A B2B meet is also focused during the event. The three-day event is meant to bring non-resident Gujaratis living across the globe on a common platform to discuss various aspects of Gujarat and its culture. The Samaj is also recognising the success and contribution of the NRGs and as such, four NRGs will be awarded during the ceremony. It is expected, in May, Gujaratis across the world will celebrate by hosting programmes in their respective cities, with a grand finale to be hosted by Gujarati Samaj in New Jersey and New York. Participants at the exhibition vary from Gujarat Tourism booth to gems and jewellery, clothes, Khadi, Travel companies, Banks and a special cell jointly set up with Business Women's wing of GCCI with over 40 women entrepreneur participating at the event.
---
GIFT city
Gujarat International Finance Tech (GIFT) City project spread over more than 500 acres has kicked off in the Koba-Raisan stretch of Gandhinagar. A 250-ft wide road connecting GIFT with the Ahmedabad-Gandhinagar highway would be constructed in the next 18 months. The entry to GIFT City would be punctuated by 300-ft wide circles. 4000 residential units are being constructed in the area. However, due to melt down, GIFT project was standstill for some time which is hoping now for global and domestic financial giants to set up their back-offices here, giving the immense pool of manpower available for the financial sector in Gujarat.
---
NDEC 2010 Elocution Competition
Reliance World presents its annual National Digital Elocution Competition 2010 for students in the age group of 10-15 years (Junior Category V-VII class and Senior Category VIII-X class). Launched on 20th January 2009, the competition is in association with Godrej Sara Lee's "Good Knight Naturals" Cream. Topics for the Junior Category will be 'The Best Day of my Life/Prevention is better than cure' and for the Seniors, 'What's the future, Naturals or chemicals?'/What makes a better student, Cramming or understanding?' With a nominal fee, NDEC 2010 registrations will be carried out across all 221 RW's nationally across 100 plus Cities. The idea is to provide a platform to children where they can voice their opinion and showcase their elocution talent besides winning prizes and scholarships. Students are given the opportunity to match their elocution skills on a platform that integrates cutting edge technology and interactivity.
RW's will drive registration of school children for NDEC through local store marketing activities and existing children's database. The school children record a 2 minute speech on a selected topic. The video recording will be judged and evaluated by a panel of judges on the basis of defined criteria. Access for Video recording on the NDEC Portal is through the user id & password that is allocated to each participant at the time of Online registration. The verified videos will be online for voting from 25 Jan to 17th February and parents, teachers, relatives, friends or surfers can vote for their favorite video. 26 Semi finalists will be selected, out of which 3 will be eligible winners after evaluation by Judges. Check Reliance World 2009 Winners and watch for student entries for voting.
---
International Kite Festival in Gujarat
International Kite Festival 2010 (20th festival) takes off Sabarmati River Front in Ahmedabad. Organized by Gujarat government and Tourism Corporation of Gujarat, the event had participants over 7500 students from 100 municipal schools of Ahmedabad who performed Yoga and Surya Vandana at the inaugural on 11th January. The CM conveyed the message of love for environment and told people to celebrate the festival safely and take care to prevent injury to humans and birds. Over a 100 foreign kite flyers marked their presence who flew colorful, innovative kites. Theme pavilions, Handicrafts and Swarnim Gujarat pavilions are interesting places for visitors. Some of the main attractions of the festival are flying of colourful kites from different countries, Water sports, parasailing, para-jumping, handicraft market, food court, adventure sports, and kite painting. The festival will culminate Jan 14.
---
Smart Students with Open Book System
Mount Carmel School which received Best School Award in 2008, takes the initiative to start Open Book system to produce smarter students. Students no more need to mug up lessons but have an option to refer the book in subjects like social studies, science and English while answering examination questions. As per a newspaper report, the school authorities refrain to opine their voice for this initiative.
---
Schools to make Traffic Rules part of Curriculum from June 2010
Traffic will be a part of school curriculum from next year beginning from class IV as per the Government decision. The City Traffic Police celebrated Traffic week in January. At a traffic Interactive session organized by GCCI and Ahmedabad Traffic Consultative Committee, policy makers, Industrialists and Ahmedabad Traffic officials discussed traffic issues in the city, earlier on Tuesday, 5th Jan. Mr. J P Gupta, Transport Commissioner (person behind City Disaster management), Mr. Mohan Jha, Police Commissioner, Mr. Anarwala, Dy. Commissioner of Police answered the queries and discussed on issues related to Traffic. Innovative Education vans will be introduced in 10 districts in Gujarat on a pilot project basis and the van will have audio visual facility, printed material and traffic awareness displays. It will conduct half day sessions in schools for creating awareness. The curriculum in schools will inculcate the understanding of traffic rules and regulations. The back pages of text book will be used for putting mandatory and precautionary traffic signs and signages. The Department is also focusing on drivers, road traffic and education. Plans for automated test for drivers of heavy vehicles will be done periodically as well as streamlining the RTO facilities.
---
Multimedia, Animations for classrooms
It has been announced that from the next academic year, students will be taught animation story format to make easier and happier classroom learning. Gujarat State is geared to upgrade the system to ensure that academic learning is interesting and beneficial to students. Primary school teachers are trained in the use of multimedia and students of classes V, VI and VII will be in first phase projects to learn multimedia in academics. Implemented in Government schools, the project will be further focused for private schools as well. The state government will provide technical support and other electronic gadgets will be part of school development. Subjects like English, Maths, Science and Social studies will have prime teaching through multimedia animation.
---
Jain Convention
Annual Digambar Jain Samaj Convention is held on January 9 at Gandhinagar. More than 3000 delegates from different parts of the world and abroad are expected to attend the convention on 'Role of Jain community in nation building.' Gujarat CM Narendra Modi and other Ministers will be attending the event like every year.
---
Braille reading competition
City celebrated Louis Braille's 202nd Birth anniversary. A Braille reading competition was held by National Association for Blind, Gujarat Chapter to mark Braille's birth anniversary. Three students of Blind People's Association won the competition. Also one student of Andh Kanya Prakash Gruh won at the event.
---
Saptak Festival – celebration to meditate
Saptak Music festival is being celebrated in town from 1st January to 13th January. Held every year to welcome the new year, this event is hosted by a Public Charitable Trust which runs the Saptak School of Music. The show presents the best talents in classical music and keeps alive the bygone music with presentations by music maestro specialized in the field. These artists are world class masters in music who perform on Saptak stage every year. Instruments like Sarangi and Pakhawaj are played and various Ragas and folk music is presented by artists. Having won a landmark in cultural events, the festival draws huge crowds as it issues no tickets but is sponsored by membership of well wishers and business houses. This year, the festival is in fond memory of Tabla Triumvirat Pt. Samta Prasad, Ustad Alla Rakha and Pt. Kishan Maharaj. The festival is in two breaks this year with 1st part 1-13 January at Kashiram Hall near University area and the 2nd part will be 19-21 January at AES Post Graduate Institute of Business Management near IIM.
---
NID to create awareness
NID (National Institute of Design has anounced a series of one day program on 'Industrial Design Registration and Protection to be held at five places in the city starting from January 16. In Pune on January 23, Bangalore on February 13, Delhi on March 13 and Kolkata on March 20. The sessions are open for creative design professionals and innovators. These programmes are being jointly offered with office of Controller general patents, designs and trademarks, GOI. Participants can register at Institute's website.
---
Roller Skating Champions
Ahmedabad roller skaters shine at National Championships and brought back laurels to the city. The 55th National Roller Skating Championships were held in Delhi from December 24 to 29. Three city school girls who were coached by Ms Jyotika Desai won the medals. Aashna Shah (St Xavier's Loyola Hall; two gold medals in Under-19 category); Devanshi Dalal (Zydus School for Excellence; two goldmedals in U-17); Mishri Parikh (AIS; two golds in U-11); Sohani Shah (Mount Carmel; one silver, one bronze)and Ruhi Shethwala (St Kabir; one silver).
---
Swarnim celebrations ticks to unity
On New Year, Swarnim Gujarat celebrations began with all party politicians in Gujarat, taking a vow to celebrate golden jubilee of Gujarat's foundation on May 1 this year. Nearly 550 past and present MLAs and MPs out of 750 living in different corners of the state were welcomed with flowers in the Assembly. In the event organized jointly by the ruling BJP and the opposition Congress,it has been an "event to be remembered". A specially installed swarnim clock began ticking in the assembly podium, and CM Narendra Modi, accompanied by Madhavsinh Solanki and Keshubhai Patel, unveiled portraits of eight CMs and five late speakers. Chief Minister Narendra Modi appealed to all political sections in the state to "rise above party politics" for the state's development. Modi urged them to take a united stand on the issue of state's development in the same spirit as was done on the issue of constructing the Narmada dam decades ago. He said, "We can take the state on the march towards development only by following the Narmada spirit." Supporting the resolution, Opposition leader Shaktisinh Gohil, however, said the credit for development of Gujarat could not go to any individual. He added, all Gujaratis, including those living abroad, had a role in the development.
---
Peace with Pakistan – Give a Chance
The two leading media houses of India and Pakistan – The Times of India and the Jang Group – have come together to develop a stronger Track 2 in the diplomatic and cultural relations between India and Pakistan. "Aman ki Asha: Destination Peace" looks beyond the confines of a 62-year-old political boundary to the primal bonds that tie together the two peoples[ Read more ]
---
Kankaria Carnival Successful
A week long Kankaria Carnival has turned to be a grand success to farewell 2009 and welcome 2010. More than 15 lakh persons have participated in the carnival that started on December 25. Sponsorship of Rs 50 lakh were received for events and activities organised at carnival. More than 165 organisations and 15,000 children participated in the mega event.
---
BRTS – Ahmedabad Janmarg at its best performanc
The BRTS of Ahmedabad has been nominated for the 2010 Sustainable Transport Award to be conferred on January 12 in Washington DC. Ahmedabad will compete with BRTS systems in Cali city of Columbia, Curitiba city of Brazil, Guadalajara city in Mexico and Johannesburg in South Africa. The BRTS systems were chosen by a select group of independent institutions like ITDP, EMBARQ, gtz, ICLEI, UITP and UNDP. Municipal Authorities will be participating in this four day long 89th annual meeting of TRB (Transport Research Board) where the conference attracts more than 10,000 transportation professionals from around the world. A session on 'Arrangements for managing and operating Bus Rapid Transit System' will be attended by AMC Mun. commissioner IP Gautam and standing committee chairman, Asit Vora.