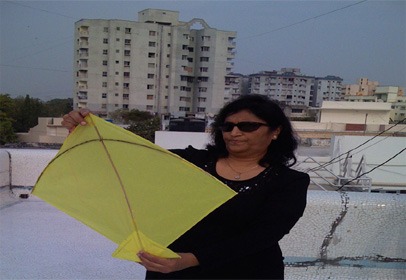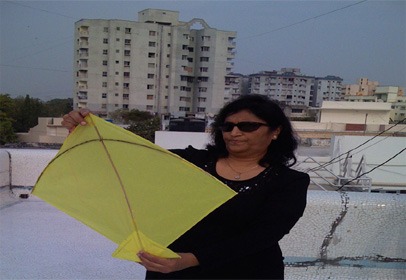 If wishes were horses, beggars would ride
If dreams had wings, we can be Pegasus and fly…….
Life is a bundle of joys and sorrows. We have to cross the stormy seas, climb the rugged mountains and walk through the thickest shrubs. Sometimes what we say is that we don't do and what we dream is that we never get, what we think, we can never say and our wishes, hopes and concerns remain buried in our hearts. Let Uttarayan mark the day for writing messages on the kites.
May our united wishes, hopes, concerns and super scoops of quotes be the menu for life, meaningful to all readers and touch the hearts somewhere. Let it stir the feelings within of cherished memories, faith and freedom for all Kids Free souls.
"Happy Uttarayan"
Makar Sankranti (Kite Flying Day) marks the end of a long winter with the return of the sun to the Northern Hemisphere. According to the Hindu astronomy the sun enters the zodiac of Makara (Capricorn). Hence, it is called Uttarayan or Makar Sankranti. The special significance attached to the celebration of Makar sankranti, is Kite Flying. The gods who are believed to have slumbered for six long months are now awake and the portals of heaven are thrown open! The serene blue sky with colorful kites look splendid and since morning to evening remains dotted with vivid splashes of color with kites in a variety of hues, shapes and sizes. The excitement continues with the onset of night. As the sun sets and darkness hovers over, youngsters continue competing each other in supremacy in the sky, now with the paper lanterns tied to their kite-strings. These lanterns known as tukkal swaying at the mild stroke of wind presents a lovely image while some try to cut off these tukkals and enjoy the fun.
Uttarayan is celebrated all over Gujarat but the excitement is high at Ahmedabad, Surat, Nadiad and Vadodara. Surat, especially is known particularly for the strong string which is made by applying glass powder on the row thread to provide it a cutting edge. To be in any one of these places during this festival is to feel the heart and pulse of Gujarat and its people. On a night prior to the festival special markets are held and you need a gujju skill for bargaining and clinch a right deal in the crushing crowd of kite enthusiasts.
Gujarat Tourism also hosts the International Kite Festival drawing crowds to witness the show of eminent kitists from many states and countries. This International Kite Festival is always held at Ahmedabad from 10-11th to January 14, to coincide with the festival of Uttarayan or Makar Sankranti. People from all over the world display their exotic kites of various designs. It is a splendid spectacular show to see the sky with colourful kites, huge size and varied designs and shapes This gives the people of Ahmedabad the change to see the unusual kites brought by the visitors some of which are truly works of art. Cuisine and Crafts display are also enjoyed by the participants and spectators.
It is said that in 200 B.C. Huan Thang of China flew a kite at night to overawe the army of the Han dynasty. From 100 B.C. to A.D. 500 kites were used for sending signals and to measure the distance of enemy camps. By A.D. 930, the Japanese mention "Shiroshi", meaning paper bird, for the first time.
Between A.D. 960 and 1126, kite flying becomes a popular sport in China. The 9th day of the 9th month was a day when kites were flown to banish evil. In Indian literature, kites were mentioned for the first time in " Madhumati" by Manzan, and were called "patang", which is the word still used today
FLY SAFE!
Launching a kite in the skies is Fun. The breeze carries away and let float the Kite in the cool air, giving sheer joy. Crowded Rooftops, fun-loving rivalry to outdo each other cutting kites and delicious gujarati feast esp. Undhiyu & jalebi are the hallmarks of the day. But FLY SAFE! Playing Safe Rules adds to fun. If not, sure there is trouble – one may land up falling from the terrace, cutting a part of body with sharp strings and so on.
Fly Safe!
Fly kites on walled Terrace & take care not to bend to catch strings
Preferably, fly kites in wide, open areas, away from the power lines or phone lines on top.
Use Cotton, linen or nylon strings,mix of glue and ground glass, dried and rolled onto reels known as 'firkees'. Do not sort for metallic threads, wire etc.
If a kite gets caught on electrical lines, is cut and is floating through the roads or pass by terrace, refrain from catching it.
Apply cream on hands and face not to get too much sun-burn and cover eyes with glasses so as not to take direct sun rays.
Do not eat and stuff too much food and bitings through the day while flying the kite whole day long. Eating too much undhiya, til laddo, chikkis, etc may only upset system and make 'tummy tremble'
Do not use abusive words if while rivalry fun, your kite is cut by another. Especially be good to neighbors so as not to invite fights.Be a Sport – Kite Flying is Fun and spirit of rejoicing.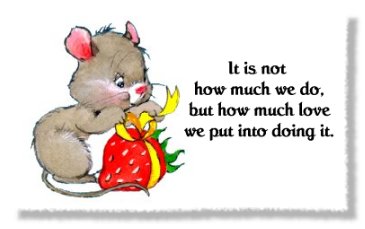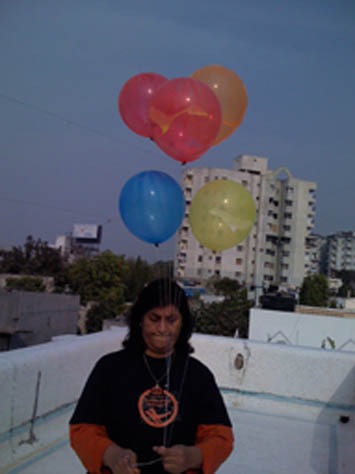 ---
UTTARAYAN – MAKAR SANKRANTI – KITE FLYING DAY
International Kite Festival
2011
Kite Festival
Three-day Vibrant Gujarat international kite festival saw colorful beginning on 9th January 2011. Kite-flying enthusiasts from 36 countries are participating in the event – As many as 93 people from foreign countries such as the US, UK and Spain, among others, and 150 kite-flyers from 10 Indian states, including Karnataka, Rajasthan and Maharashtra, are participating in the event. This year's festival is the 21st in a row to be organised jointly by the state tourism corporation.Five different kinds of competition had been introduced this year and on Tuesday, chief minister Narendra Modi will announce the winners. According to officials, the kite festival will also be held in Kutch and Mandvi on January 12 and 13. Invitees and kite-lovers will fly kites in the heritage pols of Ahmedabad on January 14 during 9:30 morning to 3:00 afternoon. Theme pavilion based on adventure sports, food-court, craft-bazaar and kite workshop – all on the show to entertain kite-lovers.
International Kite Festival
2010
International Kite Festival 2010 (20th festival) takes off Sabarmati River Front in Ahmedabad. Organized by Gujarat government and Tourism Corporation of Gujarat, the event had participants over 7500 students from 100 municipal schools of Ahmedabad who performed Yoga and Surya Vandana at the inaugural on 11th January. The CM conveyed the message of love for environment and told people to celebrate the festival safely and take care to prevent injury to humans and birds. Over a 100 foreign kite flyers marked their presence who flew colorful, innovative kites. Theme pavilions, Handicrafts and Swarnim Gujarat pavilions are interesting places for visitors. Some of the main attractions of the festival are flying of colourful kites from different countries, Water sports, parasailing, para-jumping, handicraft market, food court, adventure sports, and kite painting. The festival will culminate Jan 14.
International Kite Festival
2009
Tourism Corporation of Gujarat has organised Inernational Kite Festival from January 10-14. The festival which has become an affair every year with around 82 International kite flyers from 30 countries to compete at kite festival. 117 Indian kite flying enthusiasts will exhibit their skill in flying kites of varied sizes and colors. Kite flyers from Japan, Australia, Malaysia, USA, Brazil, France, Canada and other countries will attend the event.
Vibrant Gujarat Global Investors Summit 2011
WATCH Live events
VISIT VIBRANT GUJARAT WEBSITE
Vibrant Gujarat Global Investors Summit 2009
– Kidsfreesouls
As Mega Projects and core infrastructure has the focus of new Industrial policy announced a couple of days ago, Vibrant Gujarat Global business meet at Science city on January 12 and 13, is all set to give priority attention to Gujarat's small and medium enterprises (SMEs) and Tourism. The Summit will begin with an Inaugural function and inauguration of mega exhibition. There will be sector based sessions/seminars, Business promotion presentation by foreign delegation and companies, one to one business meetings, cultural evenings and exhibitions which will showcase strengths, potential and innovations. Vibrant Gujarat is popular for business networking, showcasing brand Gujarat, Special tours and business visits, Exploring Glorious Gujarat and International Kite festival – the colors of Gujarat. Science city will have models of the BRTS, the Sabarmati Riverfront Development and the new Kankaria Lake front. Delegates and guests who wish to visit these sites will be given an exclusive chance to tour. The heritage walk will take visitors through parts of the old city, revealing historical past. Brochures and leaflets have been printed especially for the summit to provide information with maps and booklets. Gujarat Government will be signing MoU with Italy, Kenya and Japanese Govt. will be a partner in the event with delegations including Jetro (Japanese External Trade Organisation) personnels consisting of top Japanese players in engineering and Automobile sector including giants like Honda, Mitsubishi, Nissan and Toyota.
Rs.74,80,00,00,00,000
US $150 Billion Worth of MoUs inked on Day 1 of Vibrant Gujarat Global Investor's Summit 2009.
More on Vibrant Gujarat
Kite Festival-2008 opens on 11th January with Chief Minister Narendra Modi, inaugurating the "Gujarat in Africa" theme pavilion at the Police Stadium, Shahibuag. The theme pavilion is dedicated to the strong bond than exists between Africa and Gujarat and it showcases the milestones of the Gujarat story in Africa.
The theme pavilion will have pictures, cut-outs and even artefacts that will highlight the role played by people from Gujarat in the socio, economic and political progress of Africa. East African currency with Gujarati letters, the iconic picture of Gujarati workers building the railroad in Uganda and Mahatma Gandhi's life and work in Africa will occupy center stage at the theme pavilion.
On Saturday, the police stadium will host the international kite competition that will have participants from 17 countries including USA, France, Morocco and Italy. The competition is also open for public participation. The event will see kite fliers testing their skills in foreign painted type kites, foreign painted collage kites, miniature kites and Indian fighter kites.
World's top Kite flyers in town
– Kidsfreesouls
Kite festival begins in town from 11th Jan as International competitors participate in International Kite festival competition where contestants can match their skills with the best in the world. The tourism and culture department has introduced five competition categories such as miniature kites, painted kites, Indian fight kites, collage kites and the like. A panel of four judges, one each from Netherlands and France and two from India will judge the participants. The even is held on 12th January with winners to be awarded on 13th January. 140 kite lovers from various countries are expected for the International Kite festival. Kite and cultural festival programs will begin from 11-15 in cities like Ahmedabad, Surat, Rajkot and children to perform in cities like Jaipur, Jamshedpur, Kolkata, Secunderabad, Pune and Indore. The workers of Kite making are busy making Kites and manja for Uttarayan.
Physicians to Join Vets to Save Birds During Kite Festival
As more than a 300 birds and more are getting injured every year due to Kites, the animal lovers, gynocologists, physicians, dentists and veterinary Doctors are joining for Bird saving Campaign this year 2008. They have suspended their own practise and will devote 3-4 days to treat the birds caught in kite strings and injured.
More in News here
Vibrant Gujarat 2007 Festival
Vibrant Gujarat Kite Festival Celebrations
– Kidsfreesouls
Gujarat's International Kite Festival celebrations 'Vibrant Gujarat' has kicked off at the Sabarmati riverfront on 11th January. Kite flying day falls on 14th January as Uttaryan festival followed by Vasi Uttarayan on 15th Jan. There were patriotic Bollywood numbers sung with more than 10,000 school students performed surya namaskar, colorful banners and drumbeats at the venue. The festival posters were sent up in the air with the help of helium balloons, the CM Narendra Modi & Guj Governor Nawal Kishore Sharma took the centerstage. Kite enthusiastics from countries like Cambodia, Italy, France, Netherlands, Belgium, Germany etc. participated in the kite flying festival.
Global Investors' Summit 2007 – Vibrant Gujarat
Gujarat Government has organised the Gujarat Global Investors' Summit 2007 on the occassion 'Vibrant Gujarat' like every year and expects to notch up record breaking MoUs of around 2 lac crore over the two days of summit. Among the many, some of Foreign Investors in Gujarat Projects are GE, Exxon Mobil, Heubach, Shell, British Gas, Hitachi, McCain and Dupont. Mergers, Aquisitions and Alliances are stealing the show at the Exhibit venue of Vibrant Gujarat at Science City with Business barons and corporate biz rubbing shoulders with foreign delegates and politicians. The many upcoming SEZ (Special Economic Zones) projects are on way with big companies like Reliance Industries Ltd, Jamnagar and Adani Group at Mundra along with a couple of others. The first Global Summit was held in 2003.
Multimedia Gandhi Exhibition
– Kidsfreesouls
India's first worldclass Multimedia 'The Eternal Gandhi Multimedia Exhibition' is held at Science City in Ahmedabad on 10th January 2007. This exhibition will show cast the life and teachings of Mahatma Gandhi, the Father of the nation. In the multimedia exhibition, technology fuses with art to make the life and teachings of Gandhi transparent and easily understood to all ages and backgrounds. Using language and imagery that crosses boundaries with the wonder of new discovery, this comprehensive exhibition stretches beyond cognitive frontiers. The Aditya Birla Group has supported the cause in joint initiative with the Government of Gujarat. The exhibition is expected to continue for two months with public opening from 16th January 2007.
For the year 2006 details, please visit the website of CM, Narendrabhai Modi
A spectacular Kite Festival in Ahmedabad at the River Front Project.
GUJARAT – KITE FLYING FESTIVAL
12th & 14th January 2004.
Gujarat Government planned to build up this Kite Festival during Uttarayan as an international event. They will use the occasion of Pravasi Bharatiya Divas organized by Government of India and FICCI to invite the Non Resident Indians and more specifically the Non Resident Gujaratis to Gujarat. They're planning a 3 day programme between 12th & 14th January 2004. On 12th January, there will be a Convention of NRIs/NRGs for sharing of views and exchange of ideas and technologies. On 13th January, they are planning various Tourist circuits so that the visitors could be taken to various tourist places and development projects of the State for a first hand exposure. On 14th January, the guests will get a feel of the Uttaryan and Kite festival when the blue sky is full of kites of different colors and sizes.The Chief Minister Mr. Narendra Modi has invited all NRIs and is ready for the show once again like earlier event – Navratri festival "Vibrant Gujarat: Global Investors' Summit," which was a grand success.
– For further details – Read More….
http://www.gujaratindia.com
http://www.narendramodi.in
{jathumbnail off}