The evening before his Crucifixion, Jesus shared his final meal with his disciples in the upper room of a house in Jerusalem. Troubled in spirit, he told them:
"One of you shall betray me" He asked them to remember his coming sacrifice through the act of eating the bread with which he said "This is my body" and drinking the wine with which he said "This is my blood"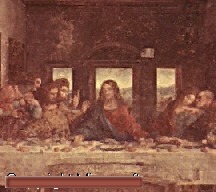 The painting of Leonardo da Vinci (1497) shows Jesus sitting with his 12 Apostles, one of them the betrayer Judas Iscariot sitting alongside Jesus.
The Christian ceremony of Communion is based on the Last Supper.
{jathumbnail off}
{loadposition christmasmenu}