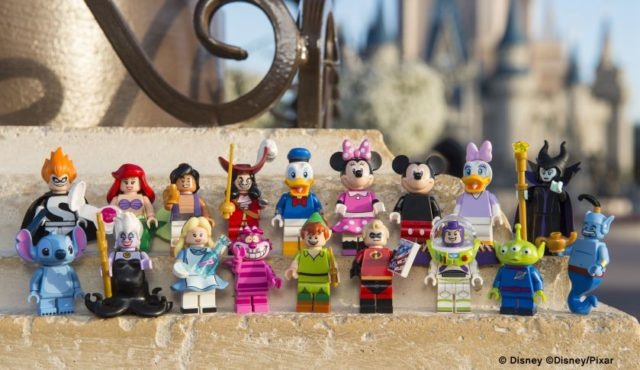 Lego is launching a new line of collectible Minifigures based on Walt Disney's vast vault of animated characters. Beginning 1st May, this new line LEGO Disney characters will be lined up in stores and available for $3.99 each.
Many of the 18 "Minifigures" are familiar faces, such as Mickey Mouse, Minnie Mouse, Donald Duck and Daisy Duck. Fairy tale fans will recognize Alice and the Cheshire Cat from Alice in Wonderland series and Peter Pan and Captain Hook from the Peter Pan franchise. Also represented are characters from hit films, such as The Little Mermaid's Ariel and Ursula, Aladdin's the Genie and Aladdin himself, and Stitch, the blue, mischievous pet dog in Lilo & Stitch.
The line also features two Disney characters "never-before-seen in the LEGO world": Mr. Incredible from The Incredibles and Syndrome, the movie's villain.
According to Fortune Magazine, Lego's Minifigures line are secretly packaged, which means that shoppers can't be sure what they are getting when they pick one up at a retail store.
The LEGO Group is a privately-owned Danish multinational company that manufactures and licenses LEGO brand toys, video games, and theme parks. Though technically a competitor in the theme park industry, LEGO has produced toy lines based on Disney intellectual properties since 1999 and has operated retail stores at Disney theme park resorts since 1997.
There has been astounding growth for Lego lately as #2 Toymaker. Lego Says 2015 Was Its 'Best Year Ever,' With Huge Sales Jump. Parents are putting greater emphasis on toys that inspire learning, especially under the umbrella of STEM (Science, Technology, Engineering, and Mathematics). Lego has also benefited from blockbuster films like the latest Star Wars, as well as a greater push to address the girls' market. Also in January at the Nurumberg Toy Fair, Lego has unveiled its first wheelchair-using mini-figure – a young man who uses a wheelchair and is accompanied by an assistance dog. Under the campaign slogan #ToyLikeMe, the petition, which has attracted 20,000 supporters, urged Lego to "put some wheelchair vroom vroom into the toy box and help generations of kids, (both with and without disabilities), grow up with a more positive attitude to human difference!
– Kidsfreesouls News Desk