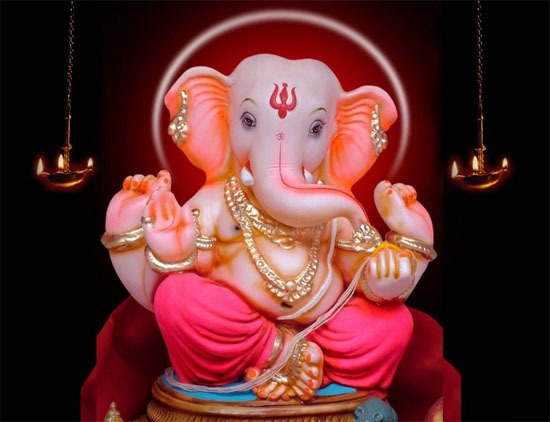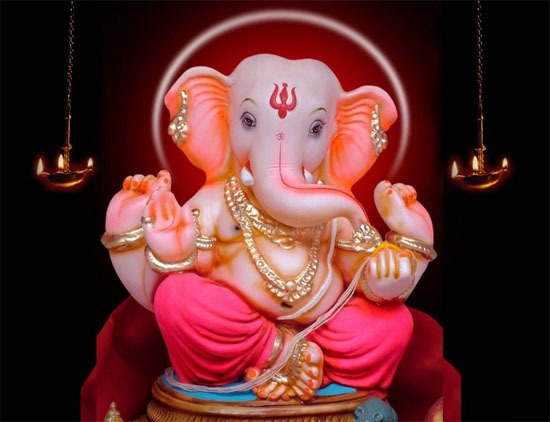 Inspirations from Lord Ganeshjee

Lord Ganesh's BIG HEAD inspires us to 'Think Big' & 'Profitably'
Lord Ganesh's BIG EARS prompt us to listen patiently to new ideas & suggestion
Lord Ganesh's NARROW EYES point to deep concentration needed to finish tasks in hand well and quickly
Lord Ganesh's LONG NOSE tells us to poke around inquisitely to learn more
Lord Ganesh's SMALL MOUTH reminds us to speak less and listen more.
Ganesha, also called Ganapati, is the god of wisdom, prudence, and salvation. Ga means "knowledge", na means "salvation", and isa and pati means "lord". Ganesha is also said to mean 'lord of the ganas', Shiva's multitude of attendants. In south India, Ganesha is worshipped as Pillaiyar. Ganesha is represented as a short, pot-bellied man with an elephant's head with one tusk, four arms, and yellow skin. In mythology, the elephant symbolises devotion, patience and truth. His corpulent figure conveys prosperity as represented by the laddoos he is always shown with. In his hands, he holds a conch shell, a discus, a club, and a lotus. Ganesha rides on a mouse, signifying the unity of the small with the big. He is also the most widely worshipped deity. All ceremonies, religious or secular, begin with an invocation to Ganesha. His image is printed on cards sent out for any happy occasion. Usually before beginning any religious writing, he is invoked with words 'Aum Shri Ganeshaya Namaha', literally meaning "Ganesha, I pray to you". Most people, from student to shopkeeper, movie producer to nuclear scientist, begin work by invoking Ganesha, however briefly. The Puranas differ considerably in their account of Ganesha's origin.
He is not mentioned before 500 AD and was quite insignificant until the mid-15th century. According to the Padma Purana, he is the younger son of Shiva and Parvati. According to the Shiva Purana, Ganesha was born of the scurf from Parvati's body. Once, when Shiva was away, Parvati wanted someone to guard the door while she bathed. Ganesha from the scurf of her body, she moulded a boy and gave him life. She told him to attend the door and not allow anyone to enter. Shiva returned, and when he tried to enter, was stopped by Ganesha. An argument arose, and enraged, Shiva cut off Ganesha's head and entered. When Parvati discovered that Shiva had entered by beheading her son, she was inconsolable. Repentant, Shiva ordered that the head of the first living being that was found should be brought to him. This happened to be the head of an elephant calf. He placed this on Ganesha's body and restored him to life. A legend explains why Ganesha is worshipped before any other deity or prior to any important event. It happened that Shiva asked Kartikeya and Ganesha to circle the world and return. Kartikeya hurried off on his peacock, but Ganesha walked around Shiva and Parvati. He explained that for him, his parents constituted the world. Pleased, Shiva granted him a boon, saying that before undertaking any important task, people would pray to Ganesha. According to the Narasimha Purana, if he is not worshipped at the beginning of a ceremony, he creates obstacles for the performers. Therefore, no matter what the occasion or ceremony be, Ganesha is worshipped before all other deities. For this reason, he is called Vighneshwara, the remover of all obstacles. Ganesha's mouse, by gnawing its way through everything, is said to symbolise the god's ability to destroy all obstacles. Ganesha is believed to have written the Mahabharata to Veda Vyasa's dictation. When the sage asked Ganesha to write down the epic, the learned god agreed on condition that his pen should not stop moving until the story was completed. Vyasa agreed but said that Ganesha should write only if he completely understood what was dictated. So whenever Ganesha stopped to consider Vyasa's complicated compositions, the sage would use the time to compose more verses. Ganesha is also known as Ekdanta, or the one with one tooth, because one of his tusks is broken. The reason for this, according to the Padma Purana, is that one day when Shiva was sleeping, Parashurama came to visit him. However, Ganesha would not allow Parashurama in, for his father's sleep would be disturbed. When Parashurama insisted he be permitted entry, a fight broke out. In the course of their struggle, Parashurama threw his axe at Ganesha. This axe had been given to him by Shiva. Recognising the axe and out of reverence for his father, Ganesha refused to intercept the weapon. He bowed and took its impact on one of his tusks, which broke. The Puranas say that the fourth day of the month, known as Chaturthi, is specially auspicious for Ganesha worship. It is believed that Ganesha was born on the Chaturthi of bright night of Bhadra (August-september). It is however, considered unlucky to look at moon this night. It is said, once Ganesha was fell off its rat and moon laughed at him. This annoyed Ganesh and he cursed the moon saying that ill luck would befall on anyone who looked at the moon on that night. Lokmanya Tilak revived the observance of Ganesh Chaturthi in Maharashtra where it is worshipped more, for 10 days and on the 10th day procession carrying Ganesh idol accompanied by singing and dancing is immersed in water, this known as Visarjana.
Reincarnated in different yugas in different forms to right wrongs, it is believed that Ganesha will be born again as 'Dhoomaketu' in Kali Yuga, to exterminate the evil and restore peace and harmony.
Ganesha Namah
Ganesha has many names. The main ones are Ganapati, Vigneshwara, and Vinayaka. (Lord of the tribe, Controller of all obstacles and Prominent leader).
Om Vigneshvaraye Namaha
May all tasks be completed without any unwarranted delays or obstacles
Om Samukhaye Namaha
May it be full of beauty and grace, or visual appeal
Om Ekdantaye Namah
May the task and its purpose be our priority list till goal is accomplished
Om Rajanathaye Namah
May we become large heartened and attain power to see difference between positive and negative
Om Rajkaranaye Namah
May we be blessed with the powers of self actualisation
Om Lambodaraye Namah
May we be blessed to possess powers to keep to ourself and keep focused till the task is competed
Om Dhumraketuvaye Namah
May we attain fame by possessing clarity of thought
Om Bhalchandraye Namah
May we possess good thoughts and ideals, maintain our humility and hold head high with respect
Om Vikataye Namaha
May we be blessed with energies to overcome negatives and win over enemies
Om Vinakaye Namaha
Bless us with qualities of Leadership
Om Ganakshaye Namaha
May we lead the Leaders
Ganesha is popularly depicted with his right hand in abhaya mudra, conveying his protectiveness towards mankind. In his other hands, he carries an ankush to goad us towards the path of forthrightness, a noose as a constant reminder that material life and earthly bonds are no more constrictions that inhibit piety, and modak to denote the sweetness of inner spirituality. Ganesha reminds us to be 'Disciplined' and excercise to live life as per the Shahstras as good human beings.
Ganesh Chaturthi is a festival celebrated with great devotion and reverence. The birth of Lord Ganesha, on the fourth day of Bhadrapada Shukla, is an important day for devotees.This festival is celebrated for 10 days from Ganesh Chaturthi (birth date) to Anant Chaturdashi (the tenth day of His immersion). It is believed that worshipping Lord Ganesha during this festival bring good luck and prosperity to one's household.
Lord Ganesha, who is considered to be the God of wisdom, prudence and prosperity, has been worshipped right from the Vedic times.Every ceremony, be it religious or personal, is started by invoking Lord Ganesha's blessings by the solemn recitation of Om Ganeshaya Namaha (I bow to Thee Lord Ganesha).
Ganesh Chaturthi was made popular by Lokmanya Bal Gangadhar Tilak. His motive was to unite people and strengthen the patriotic fervour among Indians. Hindus came together for the festival, which became a source of political awakening against the British regime. People forgot their caste and creed to celebrate Ganesh Chaturthi.
On the first day of the festival, the idol of Lord Ganesha is installed in homes, temples, podiums, etc. The Lord is placed on raised platforms for people to pray and pay their respect. A priest, usually clad in red silk dhoti and shawl, invokes life into the idol amidst the chanting of mantras. This ritual is called pranapratishhtha.After this, the shhodashopachara (16 ways of paying tribute) follows.Coconut, jaggery, 21 modaks (rice flour preparation), 21 durva (trefoil) blades and red flowers are offered. The idol is anointed with sandal paste (rak ta chandan). Through out the ceremony, Vedic hymns from the Rig Veda and Gana pati Atharva Shirsha Up anishad, and Ganesha Stotra from the Narada Purana are chanted.
For 10 days, from bhadrapad shudh chaturthi to ananta chaturdashi, Ganesha is worshipped.
On the 11th ar day, the idol is hrough the streets taken through the streets in a procession accompanied with dancing, singing, to be immersed in a river or the sea symbolising a ritual see-off of the Lord in his journey towards his abode to Mount Kailasha. It is said that Lord Ganesha takes away with him the misfortune of all mankind. After the final offering of coconuts, flowers and camphor, people carry the idol to the river to immerse it. It is said that the universe is in a constant state of change and that form eventually gives way to formlessness. However, the energy still remains. The immersion of the statues in water and subsequent destruction of them serves as a reminder of this belief. On the 11th day, people bid adieu to their favourite and most beloved God; this marks the end of the 10-day festival. Overall, anesh Chaturthi brings with it a lot of excitement and happiness.
{jathumbnail off}