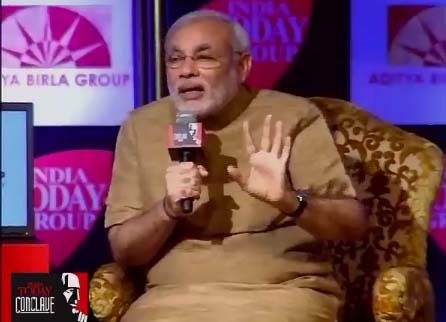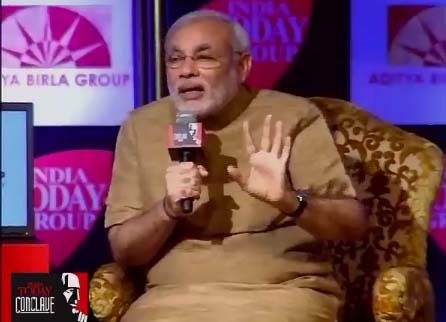 Chief Minister of Gujarat Narendra Modi addressed India Today Conclave 2013 on 16th March 2013 amidst fan flow and social media applause. The Theme of the Conclave this year is 'Reinventing Democracy.'
The Gujarat Chief Minister parried questions on whether he wanted to become the Prime Minister, saying he had never even dreamt of becoming the Chief Minister.
On his topic 'NaMo Mantras', CM opined that there is no ' NAMO mantra'. But, India has some intrinsic qualities — evolved thinking and ancient wisdom combined — which are behind the success of Gujarat.
His "NaMo Mantras reflected on Secularism, Railways, Corruption, Defence, Foreign Affairs and more.CM Narendra Modi says he has the ideas to bring about change and believes that Government, cannot change the nation. It is people who must bring about real change. He said, "Democracy is a collaboration between the people and the Government. In Gujarat, development is a combined effort."
CM thinks, "India does not need an Act (Legislation) – It needs Action"
Chief Minister Narendra Modi's NaMo Mantras from India Today Conclave 2013
Secularism
Every citizen of this country requires protection. This is secularism.
On action
I was sitting with a PM. He wouldn't talk so I started. I explained the revamp of JNNURM to the prime minister. He was interested, he asked me for a report. Sam Pitroda was very enthusiastic after i gave him the report. But it has been three years since that and not one word: Narendra Modi
Railways
We need to think out-of-the-box. We are the first state in the country which has private railways.
Why can't our rail infrastructure be manufactured privately? There is a lack of thinking in an atmosphere of gloom.
Corruption
Asking for donations is not a problem. This give-and-take with contractors and businessmen is the problem. But for me fund-raising from the streets got me funds and votes
Defence
I dream that we should become an arms supplier to the world. We conducted a conclave of defence equipment manufacturing industries recently. Even in universities we have started defence engineering courses since the last three years.
Foreign Affairs
The era of military power and economic power is over. We are now in the century of knowledge and technology. And historically India has always led when knowledge is at the forefront.
Not just Pakistan, we should have good relations with all our neighbours. But national interest is paramount.
Development
People ask how to achieve 9% growth. I say give businesses in the hands of women and you'll achieve 9% growth target.
Demographic dividend and democracy dividend. These are the two factors which will ensure that this is the century of India and not China.
Government should prioritise the developmental needs of a nation. It should build hospitals instead of hotels.
Pakistan
Good relations with all neighbouring countries are important. Diplomacy and trade relations are what can smooth things out between India and Pakistan as well.
A short film on Development of Gujarat was presented for attendees at the Conclave 2013 before the start of CM's Speech. The film featured development journey in different sectors of the State like Agriculture, Water Resources, Power and Power Supply, Education, Public Delivery System, Human Development and on Business – SME and MSME sector and more. You can view the Video here:
<object width="560″ height="315″><param name="movie" value="http://www.youtube.com/v/VjrqXJmZeJY?version=3&amp;hl=en_GB&amp;rel=0″></param><param name="allowFullScreen" value="true"></param><param name="allowscriptaccess" value="always"></param><embed src="http://www.youtube.com/v/VjrqXJmZeJY?version=3&amp;hl=en_GB&amp;rel=0″ type="application/x-shockwave-flash" width="560″ height="315″ allowscriptaccess="always" allowfullscreen="true"></embed></object>
For more on the Conclave 2013, you can find here on India Today website. Also find news at CM's website
– Kidsfreesouls News Desk