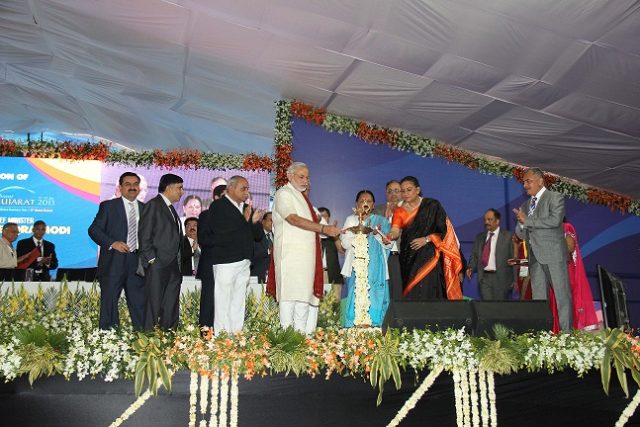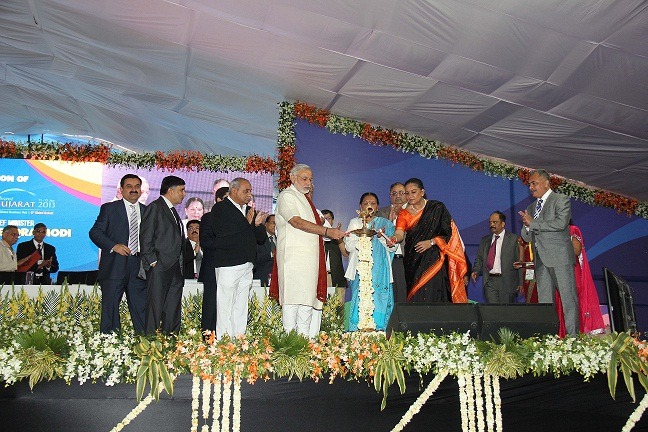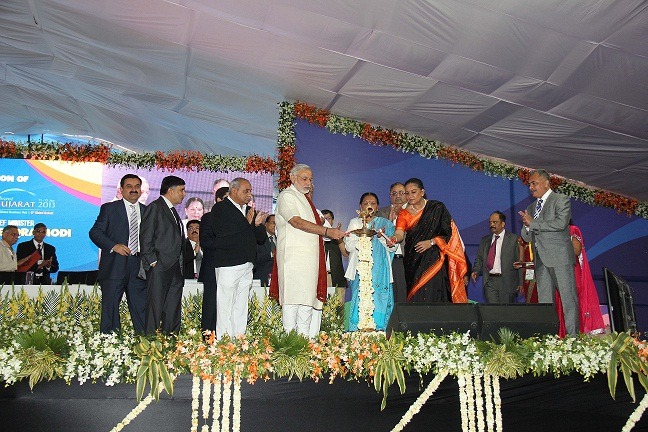 – More than 1,00,000 square meters of area
– Exhibitors from more than 16 countries
– 1.5 million footfalls expected
– Longest ever façade of 3000 sq. mtrs.
Gandhinagar, January 8, 2013: As part of 6th Vibrant Gujarat Summit, the Chief Minister of
Gujarat, Narendra Modi, today inaugurated the Vibrant Gujarat Global Trade Show at Helipad
Ground, Gandhinagar. The six-day Global Trade Show, spread across an area of more than 1,
00,000 square meters has participation from more than 1000 companies from 16 countries and
various Governments. More than 1.5 million people are expected to visit the Global Trade
Show, double than the 2011 exhibition. With 13 domes, 14 exclusive pavilions, over 1000 stalls
and more than 25,000 products on display, this Global Trade Show will be one of the largest of
its kind in the country.
Speaking while inaugurating the Vibrant Gujarat Global Trade Show, Chief Minister Narendra
Modi said, "The Global Trade Show is an integral component of Vibrant Gujarat Summit. This
platform offers a unique opportunity to corporate houses, institutions and industrial giants not
only to showcase their innovations, products and services to a large gathering of Indian and
global summit delegates but also allows to have meaningful business-to-business interactions
resulting in serious business and trade opportunities. It is an excellent platform for Youth &
Student to acquire knowledge."
The exhibitors will be showcasing their products and service innovations from key sectors such
as Engineering and Automobiles, Oil & Gas, Energy & Power, Chemicals and Petrochemicals,
Financial Services, IT & ITeS, Mining & Minerals, Automobiles, Plastics, Textiles and Tourism.
Many players from emerging sectors such as Environmental Technology, Green & Renewable
Energy and SME sectors are also showcasing their strength at the Global Trade Show.
Unique and interesting displays from various companies are a must see at the Global Trade
Show: a unique Solar Aircraft model from Solvay Group, Craft Village by Industrial Extension
Cottage, Solar Village by Gujarat Energy Development Agency and Gujarat Power Corporation
Ltd.
Apart from Partner Countries Japan and Canada, various other countries like USA, UK,
Australia, Netherlands, Rwanda, Israel and Mozambique etc., have marked their presence at
the event.
The Vibrant Gujarat Global Trade Show is being organized by Industrial Extension Bureau and
K&D Communications. The sponsors include Sai Info systems, Alpari, GEPIL, Green Gene,
Mamta Machinery, State Bank of India, Cairn India & Peugeot Motors.
The Supporting Associations are, Federation of Industries and Associations (FIA), Gujarat State
Plastic Manufacturers Association (GSPMA), Electronics and Weighing Scale Associations,
Gujarat Electronics and Software Industries Association (GESIA), GCCI Business Women
Wing, India ITME Society and Indian Technical Textile Association.
For more information, please visit http://www.vggts.com and www.vibrantgujarat.com
Sources: Gujarat Information Bureau