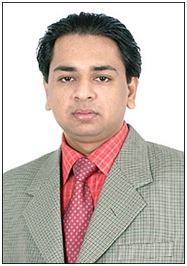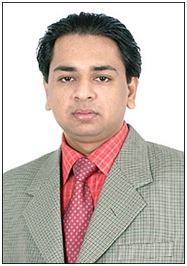 Poetic Laurels on the Web
2006
Merriam-Webster's Dictionary awarded Blog, the word of the year" in 2004. In that particular year, the percentage of Internet users who had read blogs spiked sharply from 17% to 27%. It's 2006 and the Blogging is become a 'Revolution'. About one in five Internet users visit blogs.
Estimated at more than 700,000 worldwide, the topics range from News & current affairs, Literature & Poems, Books & music reviews, arts & photography, Religion & spirituality, Food & Drink or recipes, Tech briefs or Games, to Personal Diaries, Hobbies – blogging has as many applications and varieties you can imagine or say, you can cope to write. Why, even 'Corporate Blogging' is on a rise and the major revolutionary 'Promotional Campaign in the Business world.
Nikhil Parekh, an Ahmedabad based Poet is blogging his way to fame with the most largest, longest and most prolific Poetry Blog on the web. His blog http://www.nikhilparekh.blogspot.com already has 550 posts in just 7 days of blogging. At the rate of 60 posts a day, he would be rolling 2060 posts within the end of the month with a word count of over 13.6 lac words and 8000 pages. This would be theLargest/Longest/Most prolific blog on the Internet .
A born genius and a Poet, Nikhil Parekh is the recipient of several international awards and has been published in the World's leading magazines and websites. A complete listing of his poems, awards, media coverage can be viewed at his websitehttp://www.nikhilparekh.com. He is a 24 X 7 fantasy man, immersed into winds of poetry and admiring God's infinite natural creations. Nikhil has to his credits 2000 plus poetry written in categories likeAnti Terror, World Peace, Environment & Wildlife Conservation, HIV & Aids Awareness, Immortal Love, Friendship, Humanity, Unity, Adopting the Girl Child and many other countless global topics. A recipient ofLimca Book of World Records India in December 2005 for 'Most number of letters written to and received from World Leaders and World Organizations', this category of record was created for the first time in 17 year old history of the Limca book. The Limca Book of world records 2006 will include the information. Nikhil is set to win with his accomplishments and his records will also appear in 2006 in the EPPIE award 2006 for best poetry e-book entering the EPPIE award winning lists as the first Indian in the history of the award . This record entry of the poet would be published in the 2007 edition of the Limca Book of Records. International EPPIE Awards are the highest honor given in the world to e-books in every genre of writing. They are awarded annually by EPIC-Electronically published Internet Connection,www.epicauthors.org in the USA. With many more feathers in the cap, Nikhil 's poem has been selected in an anthology 'Spirit of Humanity' which will be released at the AFABW 6th Annual Arts Festival in Hollywood in October 2006.
Nikhil Parekh has published more than 54 different Poetry Book titles which is available for sale in print and Electronic format on websites like www.cafepress.com , www.lulu.com , www.authorsden.com ,www.ebookomatic.com etc. His poems on globally compelling issues have also been adapted into Flash Poetry Movies which are a rare and unique blend of Poetry- heart rendering music and vibrant images, by www.flashpoetry.net.
A classic and Contemporary Poet, Nikhil Parekh emerged to shine with modern poetry, as varied and as flexible as the world we live in. A new and unique form of poetry, that relates to language and expression. His war poems are filled with the bizarre and terrible pain with expressions of psychological and moral realities. His love poemsemerge with musical pauses. He writes with a passion and impulsively with lyricism and romanticism. Some of his poems has the foot-verse metre involving both the number of syllables and the position of the stressed syllables. He has scaled to Imagery levels in his some poetical forms with language that creates sensations in mind. These sensations, or images are often thought of as being like pictures and we sense the meaning of his words. He is found to depict reality and concerns in form of poetry with expertise. Some of his poetry are free verse whereas some reflect the feel of sonnets. Some poems have adoped the style of alliteration, consonance and assonance. His words spell magic with openness and honesty and influences his role as 'Inspirational Role Model' to the younger generation with the rhythm and rhyme.
As Nikhil Parekh enjoys the joy of achievement, his accomplishments are featured on his website athttp://www.nikhilparekh.com/asp/accomplish.asp to sight links and information pertaining to Parekh's unique records, achievements, publications and awards. You can also download his World Record Electronic Poetry Book in pdf format published by Universal Journal, US – The association of Young Journalists & Writers. This e-book measures over 7030 pages, over 2000 poems by Nikhil Parekh and 12.4 lac words.
Indeed, Nikhil has achieved greatness by making spaces on web with his website and blogs. Space to be creative, space to reflect, space to pursue dreams. He has put his best resources on the web with bigger opportunities to scale higher to newer heights. Every dream that started off small grows step by step. It's the attitude that makes a difference . Dream Big and you can do it – Nikhil Parekh shines on the web – You can do it too!

KAVYA BY NIKHIL PAREKH
Search for keywords in 'Kids newspaper' 'Fort Convent' 'poetry written by kids' 'Schools for kids' 'newspaper for children' 'child poets on the web' 'kids poetry' 'young poets' 'funny poetry' 'nikhil parekh' ' josie whitehead' 'ilaxi' – In kidsfreesouls Search here
{jathumbnail off}