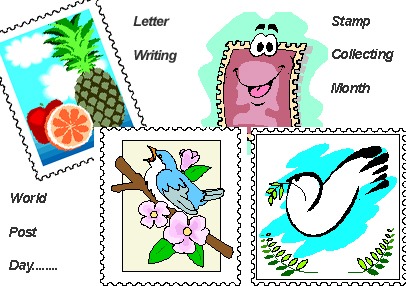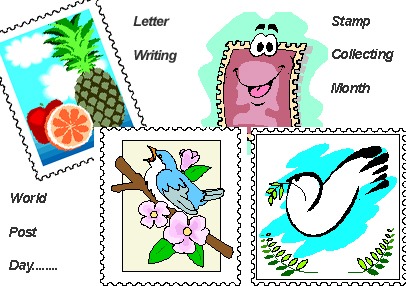 Colorful world of Stamps and a hobby collecting them is great fun and exchanging with friends. October is the month for the World Post Day. Celebrated on 9th October, the anniversary of the establishment of the Universal Postal Union in 1874 in the Swiss Capital, Bern, it was declared World Post Day by the UPU Congress held in Tokyo, Japan in 1969. Since then, countries across the world participate annually in the celebrations. The Posts in many countries use the event to introduce or promote new postalproducts and services.
---
Stamp Collecting is a great hobby – it combines learning of geography, travel, history and even admiring people and fond cartoon characters. Philately is an all time favorite hobby also one of the channels for education – The World Post Day can revive the fading Letter writing to epals.
.
Most of us have stopped using a writing instrument with the new tech gadgets. Let kids write Letters to friends – Collect and exchange Stamps.
Send Letters to Kidsfreesouls
too and exchange stamps also – Children can explore Creativity – Creative people generally show a spirit of Intellectual entertainment, make efforts to document ideas, day dream them and feel happy – spread happiness around. Find some stamps/stickers for your Project.

October is a month set aside to focus on the importance of the newer technology and understand the importance of the role it plays in our lives. Every day is a new learning experience and as we drift on the web, learning is more gaining Computer literacy.Computer Learning month has more spreading awareness and teaching technology, communication, building a world of freedom, understanding, knowing the current events, showing talents and above all, get to be tech savvy with the computer literacy. You can find the Computing section on Kidsfreesouls.com – For the Computer Literacy, the NIE Tips can be helpful for learning Computers in the classroom. A host of activities for the whole month and sure, you have easy setting up the Blog, Google Pages, using G Docs, writing jokes, poems, and many more tips mentioned therein.