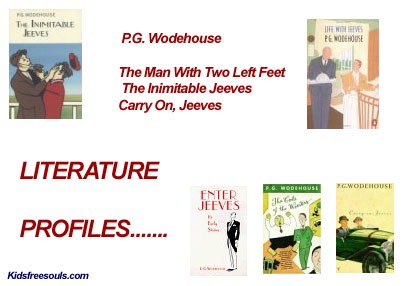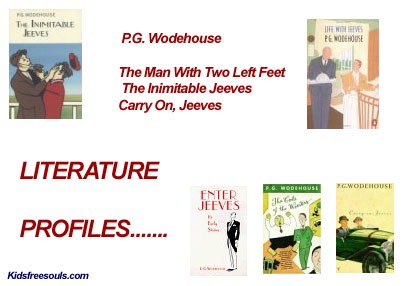 P.G. Wodehouse (1881-1975) was born in Surrey, educated in London, and spent much of his life in Southampton, Long Island, becoming an American citizen in 1955. In a literary career spanning more than seventy years, he published more than ninety books, twenty film scripts, and collaborated on more than thirty plays and musical comedies.
Born on October 15th 1881 in Guildford, Surrey – best known as P G Wodehouse, he was the son of a civil servant who left to become a judge in Hong Kong while P G was still a boy. P G was also known by the nick name 'Plum' due to his punch writing and letters. Young Wodehouse spent much of his childhood in the care of aunts and his fiction too, mentions of this quite preoccupied with all his relatives. Wodehouse received his education at Dulwich College, where he was a member of the school cricket team and practiced Boxing. His famous Psmith character represents his boarding school years.
P G Wodehouse is best known for his Jeeves and Wooster stories, although he wrote novels and stories about a great many other hilarious characters. He got his first job through his father's friend, in a Hong Kong and Shanghai bank as a Banker. However, he took up freelance writing just two years later. He began by writing for boys' magazines and moved on to the Strand Magazine, where a great many of his books were published. He started in the 'By the Way' column in the old Globe at the age of 21. At 28, he went to America. Wodehouse met people close to musicals circles, and wrote lyrics and took part in the creation of musical shows. At the same time he did not abandon writing and wrote Psmith, Journalist (1912), Piccadilly Jim (1918). At the age of 33, (1914), he married. His first novel was published in 1902 and the dialogue and stories led to many successful musical comedies. He became a leading humorist with the characters of Bertie Wooster and his manservant Jeeves in the volume :
The Man With Two Left Feet (1917)
The Inimitable Jeeves (1923)
Carry On, Jeeves (1925)
This came to satisfy popular demand for the amusing chump Wooster, the sage Jeeves and their numerous absurdly named acquaintances.
A brilliantly funny writer–perhaps the most consistently funny the English language has yet produced.- The Times, London
In 1939 for services to the English language he received a doctor's degree from Oxford University. In 1940, Wodehouse was captured by the Germans but he subsequently managed to obtain a release when the Nazis realised who he was. However, he agreed to make a radio broadcast to America. This caused controversy in England that has unfairly dented his reputation. Wodehouse was certainly not a traitor even if his decision to accept the invitation to speak was unwise. His later years were spent in America where he took citizenship in 1955, and he continued to write until the very end, dying on Valentine's Day 1975.
His comic genius is indisputable and his books are still widely read today, aided by Stephen Fry and Hugh Laurie's exceptionally played roles as Jeeves and Wooster respectively in the early 1990s. The BBC TV series adapting the Wooster and Jeeves stories is highly entertaining and the adaptations brought the characters to life for many viewers who love to see the show.
{loadposition wodehouse}