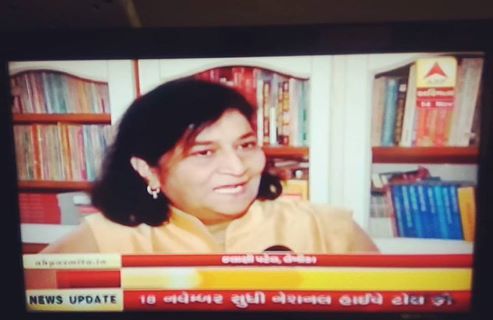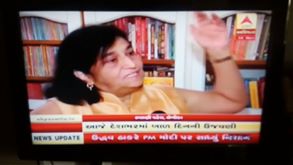 My Books and my world of rare and unique collection of Books with my interview was recently featured on ABPNews Asmita Channel to mark the celebration of Children's Day.
Being the celebration of Children's Day on the birthday of Pandit Jawaharlal Nehru, here's a quote I would like to refer :
"Children are like buds in a garden and should be carefully and lovingly nurtured, as they are the future of the nation and the citizens of tomorrow ~ Jawaharlal Nehru"
Children are like wet cement; anything that falls upon them, makes an impression. And I feel, cultivating Reading Habits and love for Library is an impression and influence that builds characters.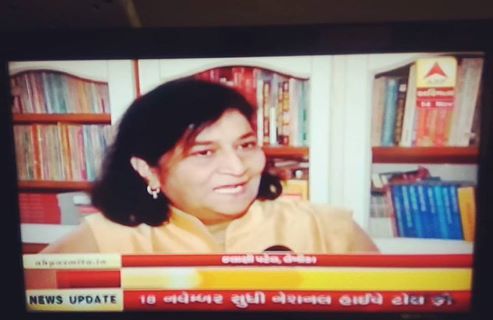 My interview with ABPNews Asmita's Chaitali Bhagat was about Books for Children and all about 'Just Books'. I Love to spend hours Reading and writing – a collection ranging from Children Books, Fiction, Classics, Encyclopedias, Reference Books, Management, Religion, Poetry, Books on Quotes, Non fiction etc – my Library is equipped fully with all interesting, rare and unique Books with even mags like Photo Romance, Kiss and Darling Magazines. Russian Magazine for Children 'Misha', Target, Teens Today, Teenagers, Champak, Chandamama, Tinkle and over 3000 Archies that adorn the shelf. There are series of Noddy, Raold Dahl, Enid Blyton, Hardy Boys, Nancy Drew, children stories and sets, Over 15 Children Encylopedias, Classics, sets of Amar Chitrakatha … Endless count of Genre ranging from Business Books, Religion, Fiction and Mags like Auto Drive, Reader's Digest, Osho Times, Femina, Filmfare etc.
The repeat telecast featured my interview and this also took me down memory lane of my childhood – the first 2 Books (Cinderella and Snow White) – Rs. 10/- each was a gift so cherished. I remember, I had to go for a Birthday Party and my brother took me to a shop to buy a beautiful Taj Mahal which costed just Rs.25/- when I was a child. He got me these two lovely books which I still have in my Library even in a worn out condition. Another memory I relate is that the Taj Mahal was beautiful but when I went to that party, all children had lovely big gifts, well packed and I felt embarassed that I hid the Taj Mahal piece behind my back and quietly placed on the Gift Table. Happens, isn't it 🙂
At my Library, I have a Saturday session for Children and they have round the year 52 saturdays for reading, writing, narrating and sharpening their Speech skills and creativity. They engage in various activities related to literature and learning. Here's the Swagat Children Library Page you may love to visit.
http://www.kidsfreesouls.com/category/swagat-children-library/