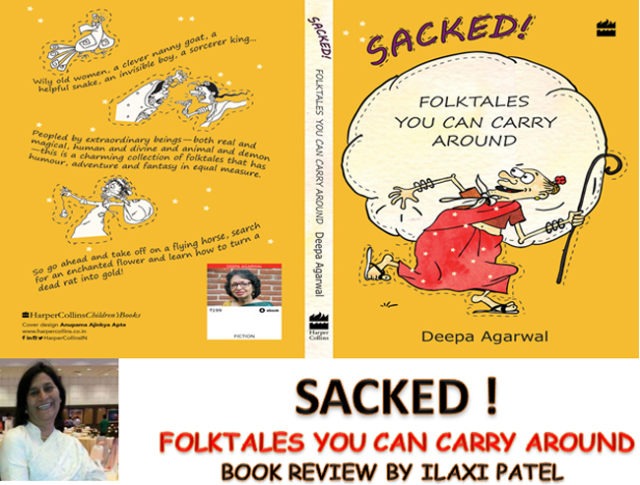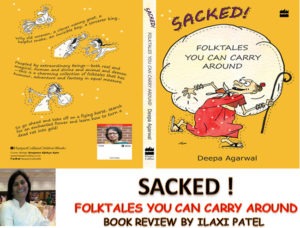 Dive into Imagination World with Folktales
Sacked ! The Folktales you can carry Around.
Book Review by Ilaxi Patel
Sacked – The Folktales you can carry Around is an amazing set of 15 stories by Deepa Agarwal which makes the characters come alive. One who says, Folktales are boring got to read these stories with its aesthetic appeal and cultural ethics that throw light to yester years with the long fading away of folktales told by Grandmoms.
Deepa Agarwal's stories have vivid imaginative characters, focused on action with simple sense of justice and with happy endings – a Once upon a time to Happily lived ever after. They live up to convey wisdom, educate, entertain, discipline the children to grow up gracefully. These are the simple fairy tales, tall tales, trickster tales and the stories that revolve around the Animals – The Talking Parrot and the Flying Horse, The Golden Rat, How Manjari Fooled the Jackal, Roll my Pumpkin, promptly to mention few. The Author's story collection create sparks of interest to children with the narration and fuel their curiosity to dive into imagination world. Some of the stories in the book have elements of humour and wits which bring gleam into the curious eyes and fills their heart with sheer joy. Roll my Pumpkin is one example of how an old woman fooled the animals and ran away – a folktale that is passed on from Grandmoms to Moms and is still fondly retold to
children.
Deepa Agrawal's folktales revolve around usually at places like woods, magical kingdom, demons – fantasy that would roll over with thrilling excitement. The Music loving Demon, King Vikramaditya and the Princess of China have fantasy element of magic and fun that children would love to explore. Tall tales where finally the Good wins over the evil.
The characterization, setting, plot, theme and style of Deepa Agrawal's stories are well chosen stories to tell tales which even adults would love to read and tell their children/Grandchildren. Quick reads, descriptive and to the point, the Author in a simple manner pens down the stories for children who grow with easy understanding and insight.
The Author is a Poet, writer and a Translator which makes her uniquely pen this Book for children after having written about fifty books in English and Hindi for both children and adults. She received the N.C.E.R.T. National Award for Children's Literature in 1993 for her picture book Ashok's New Friends. Her historical fiction Caravan to Tibet was on the
IBBY (International Board on Books for Young People) Honour List 2008.
Sacked – The Folktales you can carry Around is published by Harper Collins. It is a collection of stories made to feel lively, written in contemporary style with added humour, adventure and amazing flights of fantasy. Brought alive with illustrations by Anupama Ajinkya Apte makes it an interesting visual. Neatly crafted illustrations, the Book is a catchy pick.
All 4 Stars – If you have children and wondering what Folk stories to tell, here's a sure pick. Place it on a child's book shelf and he'll love to read too.