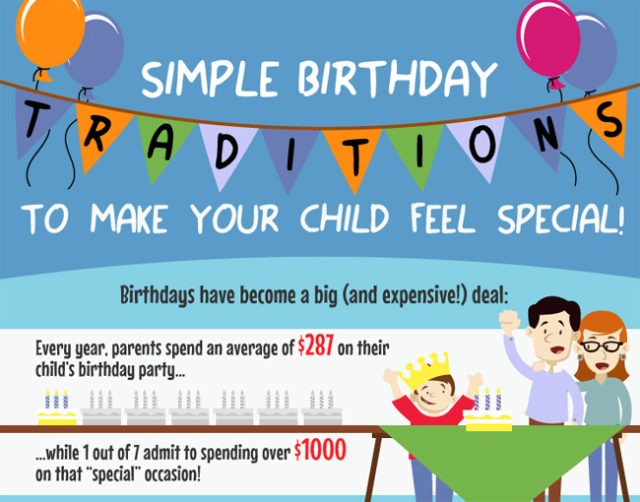 Simple & Unique Birthday Traditions To Make Your Child Feel Special
Whether you have an only child or a whole brood of youngsters under your wings, as parents we always want them to feel special and unique in their own way. Especially on the big day when it comes celebrating their birth. As it happened when I was a kid, we had a family tradition that we still carry on when it comes to highlighting the day of the birth of one of our own.
Our particular family's birthday tradition was simply this … it was our choice of a favorite evening meal, specifically prepared for us on this special day. When it came to the kids in my family, it was whatever our ideal dish was that was lovingly prepared by our beloved Mom. It could be something as simple as spaghetti or as ornate as a full-blown holiday favorite, like a complete turkey dinner with all the fixings. It was our choice … and it was always fabulous.
A Long Lasting Invitation
When my siblings and I got older, this tradition evolved to include an alternative choice of a favorite restaurant (within reason) and this usually meant a trip to the local pizzeria, a fast-food joint or an all-you-can eat buffet. This was a birthday blast all in itself along with other guests invited that included outside family members and our childhood friends. I still look forward to meeting up with this beloved fellowship when my birthday rolls around each and every year. After all, that's why they call it a tradition!
But today, some children's themed birthday parties, when you consider all the bells and whistles, purchasing party favors and all the accoutrements can run into the hundreds or even thousands of dollars for some parents dependent upon their income, what they're willing to spend and their child's age. But you don't have to break the bank, bust your budget or put your family into debt to create memories that will last a lifetime, especially for younger children.
Unique, Personalized Gifts
Given all of today's technology, there's other options available to us when it comes to giving some unique and personalized gifts. For example, for young, school-aged children who are learning to read and appreciate books, they can be the star of their very own story in pages or even videos where they are main character of an enthralling adventure.
A personalized gift in the form of a book or video presentation, along with some other options are outlined in this infographic, "Simple Birthday Traditions To Make Your Child Feel Special." Check out ways to put a smile on your kid's face without putting a strain on your wallet.

Amy Williams is a former social worker, specializing in teen behavioral health. As a parent now, with two teenagers, she is focused on spreading the word on positive parenting techniques and new technologies, particularly the combination of both topics.