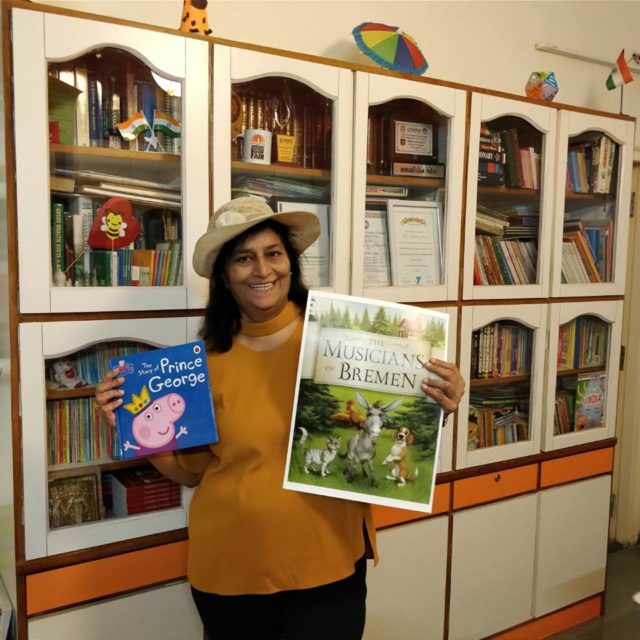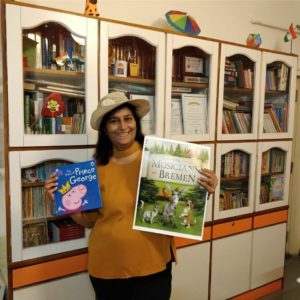 The Story Telling Session on 1st May 2018 took us all to wonderland fun with stories of Peppa Princess and Prince George facing bravely the Dragon who became a friend and all enjoyed the party of cup cakes, biscuits and sweets.
It's been a celebration of Gujarat Day, 1st May. Last year my Story Telling session was held at Rang Rang Vadaliya, Ahmedabad National Book Fair 2017 and previous year 2016 also at the same Event.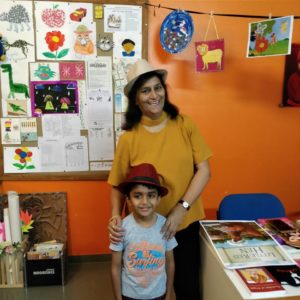 The story of three butterflies trying to take shelter in flowers to save themselves from rain and how the sun helps them and celebrate their friendship was loved by children and this means, making of the props of flowers and butterflies too.
Henny wears a Hat is all time favorite of Kids since last time I narrated at YMCA Story Telling session on 2nd April 2018. Wearing different Hats and finally, choosing a hat which kids love and even learning of the days of the week as well as the significance of choosing a color as to what to wear which day.
A beautiful story of The Pickety peckety Hen, the Henny Penny's Hat and the tale of a Fish which was caught and let it go back in deep deep blue sea.
Children got to have fun with crafts and coloring environment picture – story character props of Peppa.
Next session of Story Telling is scheduled for 17th May. So, get set Register, Call and enrol for this or Story Hour Grammar or Book Nook round the year.
-ilaxi patel
Editor, www.kidsfreesouls.com
Author of Guardian of Angels : A practical guide to Joyful Parenting