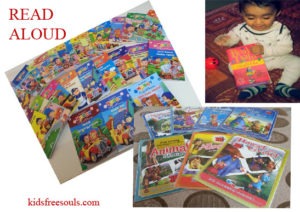 Papa, you've always been a pal – you bought me my pram, my tricycle, my scooter, my car, my ipad…now I want you to buy me my executive jet aircraft Yes, some parenting flaws are that they've given all, scarcely bring up kids and not motivated them for Reading – not explored the world of books together except the academics – the only way to start is to start – go read and encourage reading skills
Reading aloud helps to develop oral language. It teaches children how to listen and how narrative is structured. They also learn vocabulary and how print works and is read from left to right. Well, reading should always be made 'Fun Learning' and not let the child have a boring session. I read aloud stories to children as we often have a Loud Reading class following by Story reading session from 5 Minute Fairy Tales or other Fairy tales book. Children sometimes opt to read online stories and I hook them to Kidsfreesouls Fairyland section as they Read aloud the Artie Knapp stories and other tales…..
Reading aloud to children helps them develop oral language. It teaches them how to listen and how narrative is structured.
March has always been a Read Aloud Month Swagat Children Library
Why Read Aloud?
Reading aloud is more than fun – it's an effective teaching strategy.
Provides an opportunity to share your favorite stories, novels, and poems with the whole class
Provides a chance to address important themes like friendship, courage, prejudice, bullying, etc.
During Reading Workshop, allows to teach strategy mini lessons to the whole class (or stories) since everyone is listening to the same selection (having read the same book in library)
Models fluent reading for students
Introduces students to vivid and specific vocabulary
Offers a chance to use questioning strategies to explore concepts in the selection
Swagat Children Library (http://www.kidsfreesouls.com/index…/Swagat-Children-Library/) conducted 'Read Aloud' Sessions. The results are not only amazing, children wanted to read more and even narrated the stories with expressions. Enhanced vocabulary and fluency in reading was found. Also provided stage platform to break stage fear and face the audience. Voice modulation is evaluated. Short stories/lessons to be taken for loud reading. Kids friendly books, magazine articles will spark interest and discussion to add dimension to reading. Reading dramatically will draw interest to kids keeping in mind the phonics and style of reading. To add creativity, add the word cloud theme online. Just go for Creativity online for Projects – A word Art 'Words as image' and choose words from read aloud. Word clouds, shapes and different text, colors etc is just fun esp. when images are needed for Projects. I have used this in my Swagat Children Library classroom assignments and kids love to explore online smile emoticon Tagxedo, wordle.net, typoeffects.com and many more….#Parents and #Teachers only need to explore with the children and have fun.
Find more on:
+Kidsfreesouls #reading #Author #children #preschool Guardian of Angels by Ilaxi Patel