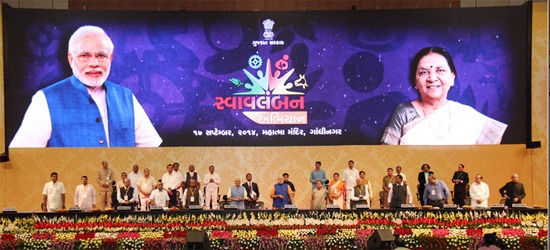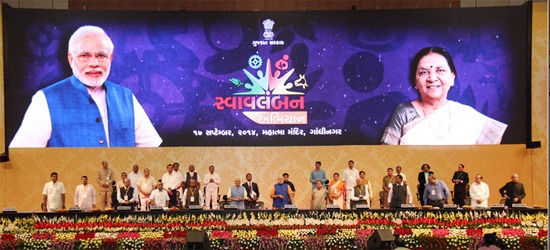 Hon'ble Prime Minister Shri Narendra Modi launched 11 welfare schemes of Gujarat Government today under 'Swavalamban Abhiyaan' on 18th September 2014.
These 11 schemes focus on empowering women, labourers, cattle-rearers, youth and farmers through various initiatives, assistance, relief, benefits and opportunities.
PM Shri Modi marked the e-launch of 'Swavalamban Abhiyaan' through laser torch, in the presence of State Governor O P Kohli and Chief Minister of Gujarat Smt Anandiben Patel at Mahatma Mandir, Gandhinagar.
Speaking at the event, PM Shri Modi said that the commencement of 'Swavalamban Abhiyaan' on the day of Vishwakarma Puja is symbolic of the various welfare schemes launched for the needy and the deprived. Appreciating the nature of 'Swavalamban Abhiyaan', he said that qualities of swashraya (self-help), swavalamban (self-reliance) and swabhimaan (self-respect) are deeply instilled in the people of Gujarat. PM Shri Modi said that once the people of India will live a life of self-respect, only then they will become self-reliant, which in turn, will make the country self-reliant.
Government should continue to empower every section of the society and help them become self-reliant in every walk of life, he added. PM Shri Modi also congratulated the Government of Gujarat for persistent efforts and hard work under the initiative of Gatisheel Gujarat.
PM Shri Modi added that, initiatives like tablets and benefits in interest on self-employment loan to ITI graduates and Pandit Deendayal Upadhyay young entrepreneurs scheme under 'Swavalamban Abhiyaan' are significant in empowering the youth and shaping their dreams. Talking about the entrepreneurial qualities and abilities of women, PM Shri Modi lauded the efforts of women of Gujarat engaged in dairy sector and cattle-rearing.
CM Smt Anandiben Patel said that Government of Gujarat is committed to endlessly work towards PM Shri Modi's vision of Gujarat. The motto of 'Swavalamban Abhiyaan' is to ensure that the poor and needy people are not deprived of any opportunities and that they should also be a part of the progress of Gujarat, she added. Talking about the difficulties of BPL and neo-middle class families, CM Smt Patel said that no one should be deprived of basic necessities of life like employment, good health and one's own home. Everyone has a right to live a better and dignified life, she added. CM Smt Patel also expressed her joy saying that Gujarat is fortunate to have the esteemed presence of Hon'ble PM Shri Modi in the state on his birthday.
During this event, PM Shri Modi distributed tablets and cheques to the select beneficiaries of various schemes under 'Swavalamban Abhiyaan'.
{jathumbnail off}