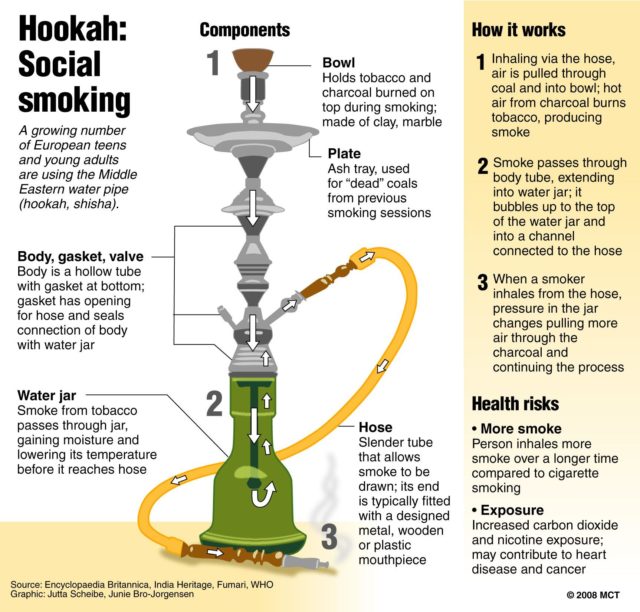 An alternative to cigarette smoking, the traditional Hookah has raged a storm among teenagers and adults, especially with the upcoming Hookah Bars and cafes that has popped up across the United States and entering into Indian cities too.
There is a a myth that hookah smoking is safer than smoking cigarettes because the hookah smoke is filtered through water before it is inhaled. But recent studies have found that hookah smokers actually inhale more nicotine than do cigarette smokers because of the massive volume of smoke they inhale. Hookah is also known as narghile, shisha, goza, water pipe and a device that has been used for centuries in the Middle East and Asia to smoke Tobacco.
According to a recent World Health Organization (WHO) advisory, a typical one-hour session of hookah smoking exposes the user to 100 to 200 times the volume of smoke inhaled from a single cigarette. Even after passing through the water, the tobacco smoke produced still contains high levels of toxic compounds, including carbon monoxide, heavy metals and cancer-causing chemicals.
As ban of smoking in public places is being implemented, here is the Hookah that sets pace into restaurants and Hookah bars are on a rise and hot favorite spots of teenagers. Though most jurisdictions, through the purchase of a special permit, allow hookah businesses to remain open to the public, others do not. With the tobacco free, herbal alternatives, flavored hookahs have remained popular among health conscious individuals.
I feel Hookah smoking is a social activity in the past and even today, it is the traditional socializing sitting across a table inhaling the Hookah for 45 to 50 minutes whereas smoking a cigarette is a process completed in just 5 minutes. Generally, there are a group of friends who stick to the Hookah pipe and this is dangerous coz multiple people share the same hookah and often, share the same mouthpiece. Thus, there is potential for the spread of infectious diseases, including tuberculosis, hepatitis C, herpes simplex, and a variety of respiratory viruses. Hookah smokers experience elevations in heart rate and blood pressure, which puts them at an increased risk of atherosclerosis and coronary heart disease. Also they get the gum diseases, cancers of the lip, tongue, and bladder.
Flavored Hookahs are temptation as well as getting into addiction and anything that drags to addiction is a 'Caution – Stop' Check those grey areas and think before you get into a habit.
The claim 'Hookah is an healthy alternative to smoking' seems to be untrue.
Some urls on Hookah Myth:
World Health Organization. (2005). Waterpipe tobacco smoking: Health effects, research needs, and recommended actions by regulators.
http://www.who.int/tobacco/global_interaction/tobreg/Waterpipe%20recommendation_Final.pdf
http://rdoc.org.uk/smoking_hookah_risks.html
http://www.bbc.co.uk/dna/h2g2/A987825
http://www.mayoclinic.com/health/hookah/AN01265
Pic courtesy : Nineronline
(All Posts by ilaxi patel: This Health & Fitness Blog is based on personal thoughts and research work. Readers may please Consult your Doctor for your Health Problems)