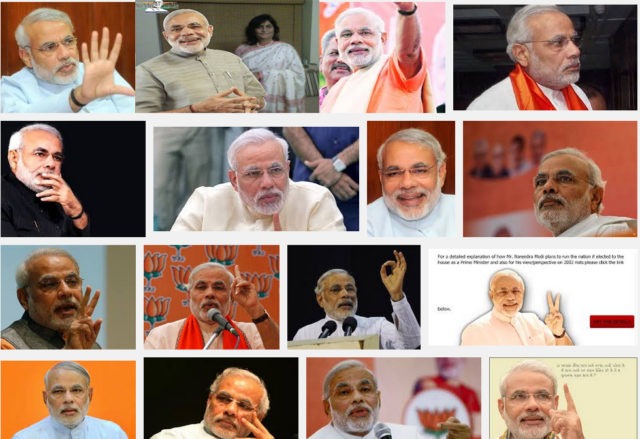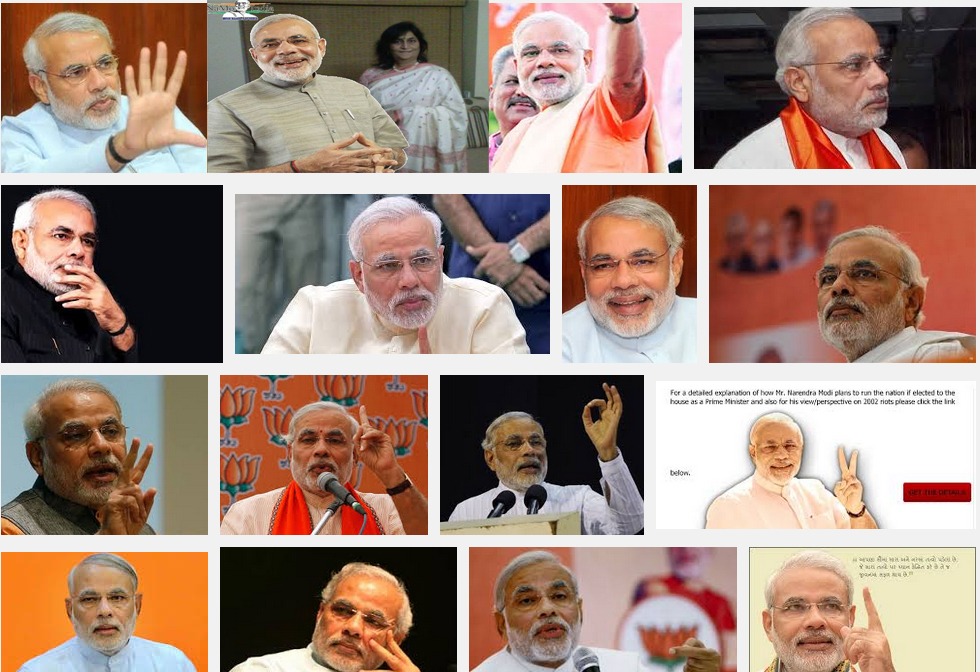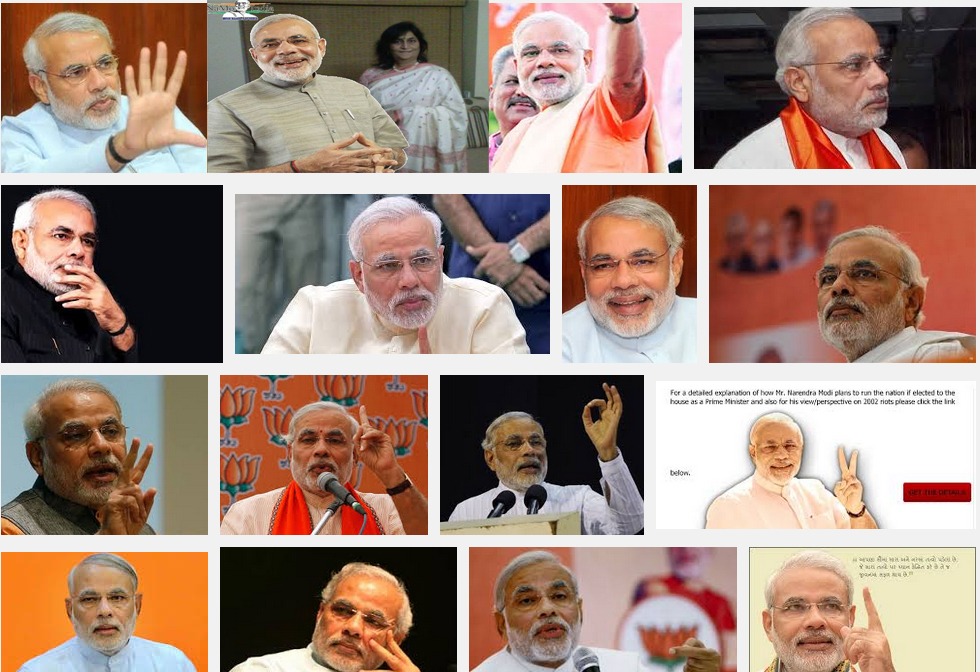 Prime Minister Narendra Modi being sworn-in by President Pranab Mukherjee at Rashtrapathi Bhavan, in New Delhi on May 26, 2014.
India looks to its 15th Prime Minister to deliver on campaign promises to boost jobs, women empowerment and curb poverty.
The celebrations of Victory began on 16th May 2014 and seeking Mother's blessings before leaving for Delhi on 22nd May 2014. On 26th May 2014, PM paid tributes to Mahatma Gandhi on the morning. In the evening, PM Narendra Modi was sworn in on as India's 15th Prime Minister, ringing in a new era of governance for the world's largest democracy. Chief among the guests at the swearing-in ceremony in New Delhi was Pakistan's Prime Minister Nawaz Sharif, among other South Asian leaders.
Modi led his Bharatiya Janata Party to a decisive victory in India's national elections this month, winning 282 of 543 seats in the Lok Sabha, the lower house of Parliament. Fueled by a strong anti-incumbency sentiment across the country, it was the biggest victory for a single party in decades, and has given Modi and his administration a clear mandate to move forward with the reforms he promised voters throughout the five weeks of polling.
PM Narendra Modi laid out a comprehensive, development oriented, inclusive and futuristic vision for India. He affirmed that his idea of India was a nation where truth and non-violence reigned supreme, where there is a free flow of thoughts and where all faiths are treated equally.
PM Narendra Modi always say that his idea of India is a nation where everyone lives peacefully and harmoniously as one family, where there is prosperity and happiness, where service of the poor is nothing less than service of God, where the Matru Shakti of the nation is honoured and where the Motherland is superior to heaven.
Prime Minister said, "We do not need committees but we need commitment. The nation is already reeling under the burden of several committees formed in the last decade."
PM Narendra Modi speaks about the vitality of creating a globally recognized and respected 'Brand India' that is built of 5 Ts- talent, tradition, tourism, trade and technology.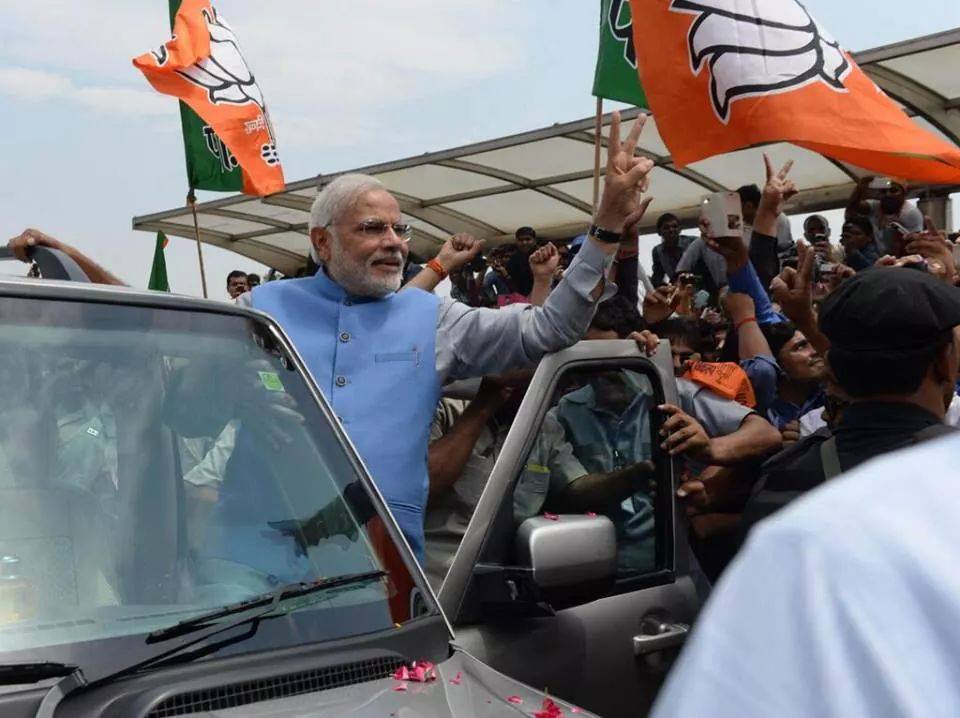 PM Narendra Modi said, In this election, we stressed on two things — sabka saath, sabka vikas. We want everyone's progress and development but it is as important that we take everybody along with us. This election symbolised new hope, I have such able colleagues with me and with guidance from my senior leaders, I have full faith that the responsibility which was given to me on September 13, 2013 and which was completed on May 16, 2014 and with the new responsibility given to me today, I assure you that when we meet in 2019, I will place before you my report card. I will try and achieve the pinnacle of perseverance and hard work.
The coming year 2015-16 is important to us all, it will be Pandit Deendayal Updhyaya's centenary year, chairaveti, chairevetimantra was given by him and this led to establishing a system of sacrifice and hard work.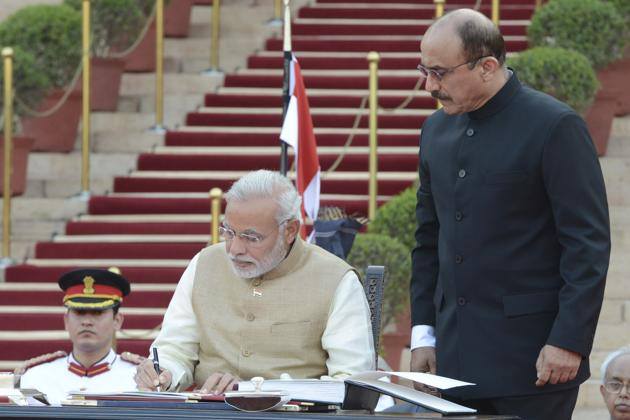 13 years of Narendra Modi Government in Gujarat – Peace, Prosperity and Progress.Read the Digital Book
http://www.narendramodi.in/ebooks/cm_record/
Also find his new website.
http://pmindia.gov.in/ encapsulates the Prime Minister's vision for a strong, developed and inclusive India that actively engages with the global community to strengthen the cause of world peace and development. It reinforces the Prime Minister Shri Narendra Modi's firm belief in the power of technology and social media to communicate with people from across the globe, and aims at creating a platform that offers opportunities to listen, learn and share views.
In his welcome message to the users on the website, Prime Minister Shri Narendra Modi hails the website as a very important medium of direct communication between him and the people of the world. Shri Modi warmly welcomes the fellow Indians and citizens of the world, and seeks their support, blessings and active participation so as to script a glorious future for India.
The website features many sections, including 'Know your Prime Minister', News Updates and Official Statements. Shri Narendra Modi's focus at involving people in the Nation's development journey has also been duly taken care off as the comprehensive website not only offers an undiluted user-friendly experience and appeal, but also promises to be an interactive medium inviting feedback from people across the globe. It will also put forth the latest information about Shri Modi's speeches, schedules and foreign visits, apart from being a ready reckoner of the innovative initiatives undertaken by the Government of India.
The new website has gone live from May 26, 2014, and is located at: http://pmindia.gov.in/
Kidsfreesouls Tweets:
#mypmnamo at PM #oathceremony – He has adopted the guiding principle of "Minimum Government and Maximum Governance" and also rationalization with a commitment to bring a change in the work culture and style of governance. #narendramodi Day 1 action – In the #firstcabinet meeting, SIT formed to unearth Black Money #ModiTakesCharge
Arise, Awake and stop not till India becomes Super Power – Ek Bharat Shrestha Bharat #Modi #PMNaMo #ModiTakesCharge
Follow on Twitter – http://twitter.com/kidsfreesouls
Follow on Facebook – http://www.facebook.com/kidsfreesouls
Some sources from : www.narendramodi.in
{jathumbnail off}