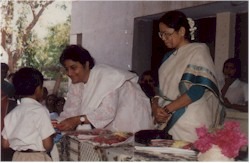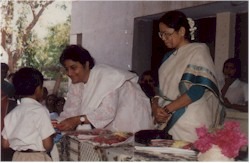 Giving Away Medals & Certificates to children at Annual Day Prize Distribution, N.R. Primary School.(GLS)
Principal Ms. Rita Baker standing beside.
Ms. Rita Baker has ever been my Friend more!
She's supported Swagat in its Mission and encouraged kids as well as Teachers to participate in various Competitions at Swagat & Freesouls supplements. N.R. School Teachers have written and submitted their Articles for Print media too. We've taken Competitions like Swagat-Rasna Environment theme coloring Competition in School, Handwriting,Quotation writing competitions, etc. Also been as Judge various times for Poetry, story telling, etc. competitions.
Your Activities are Outstanding. I appreciate your move for making kids develop Reading habits & encourage them for creativity excellence
– Mr. Raja Pathak, Educationist & Principal
Swastik School, Udgam School, etc.
Your Contribution towards Education is appreciated. Children need the love & guiding care. Such Library Reading & Activities are the stepping stones.
– Ms. Ansuyaben Jhaveri, Principal,
GLS Nursery & Kindergarten School
I am happy to see a 'Carmelite' engaged in Education field apart from being a Business person & Journalist. We are Proud that our ex student is engaged in social cause and spreading love around. God Bless you!
(When Present as Chief Guest @ Navratri Function)
– Sr. Lorena, Principal, Mt. Carmel School
I highly appreciate your Activities. Your love for kids and teaching techniques will help Kids & Parents alike. Best wishes and keep up the wonderful job.
– Ms. Perin Aunty Lalkaka,
Thumbelina, Nursery & K.G. School
It is nice to know a Business person like you who is actively involved in Teaching. Your encouraging kids in Singing and esp. playing keyboards is creativity. My best wishes are always with you.
– Mrs. S. Bhagwat,
Ex Principal, N.R. Primary School, GLS
I offer my Gratitude to you for your Presence at our Teacher's Day Function and being a judge to award the 'Best Teacher'. I look forward for your Support in future. All the best wishes for your Library Activities too. Your efforts towards teaching values of 'Personality Development and Human Relations' is highly appreciated.
– Sunanda Shah, Principal, N.R. High School, GLS
It is happy to feel nice to see you here amidst our Annual Function as Chief Guest. Your Contribution towards Education is special as it instil Reading habits and encourage kids for creativity.
Keep up the good work.
– Ms. Dsouza, Principal,Sahajanand School
I am really amazed to see your contribution in so many fields. We've to learn lessons from you. It would be nice if you could start something for Gujarati medium kids and provide Gujarati Library
– Ms. Bela Mehta, Principal, GLS (Gujarati Medium)
You are doing a wonderful Activity by encouraging kids for Reading and participating in Times of India Wee Wonder. Your contribution is always welcome and I wish you Great Success. Keep up the Good Work.
– Ms. Margi Sastry, (Known as Margi Didi)(above pic)
Co-ordinator, Wee Wonder, Times of India