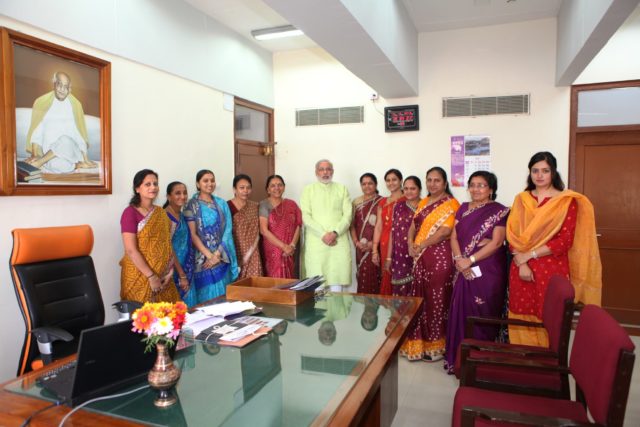 On the morning of 8th March 2013, 11 Women MLAs of Gujarat paid courtesy visit to Shri Narendra Modi. The team was led by Minister of Revenue, Smt. Anandiben Patel and Minister of State for Education, Women & Children's Welfare Smt. Vasuben Trivedi.Shri Modi extended his best wishes to the Women MLAs on the occasion of International Women's Day. The women representatives greatly praised the State Government's efforts to enhance Women Empowerment in Gujarat.
Later during the day, CM blogged on his website. He said, "On the occasion of International Women's Day, I remember these wise words of Swami Vivekananda. Women power is nothing but an incarnation of Shakti, who is the goddess of power. Once we are bestowed with her blessings our strengths will increase manifold! On this day, let us resolve to make women equal stakeholders in the decision-making processes and economic growth of the state as well as the nation. Till this happens we cannot say that true women empowerment has been achieved! In the past many months, there have been shocking incidents that have aroused the conscience of the entire nation.
On International Women's Day, let us affirm our commitment to eradicate any form of injustice against women and ensure that what the nation saw in the last few months does not happen ever again. A civilized society, etched in liberal democratic values has no place for those who disrespect women.Through innovative initiatives, Gujarat remains committed towards the complete empowerment of women. Be it correcting adverse gender ratio through Beti Bachao Andolan, spreading the joys of girl-child education through Kanya Kelavani initiative, strengthening Aanganwadis, improving maternal mortality rates through Chiranjeevi Yojana and E-Mamta or the Mission Mangalam initiative, we wish to ensure that our women can stand on their own feet. I am also sharing more details about the state Government's initiatives towards women upliftment (http://www.narendramodi.in/empowering-women-empowering-society/ ).
Read more on CM's Blog here:http://www.narendramodi.in/tribute-to-nari-shakti/
Pic courtesy: Vasuben Trivedi Facebook