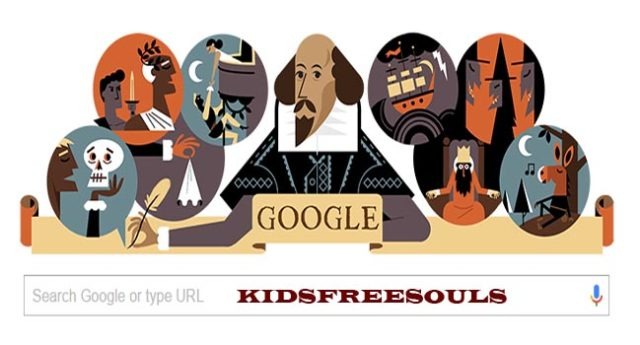 April 23 we recall Shakespeare Literature as we observe World Book and Copyright Day. This day, Unesco seeks to promote reading, publishing and the protection of intellectual property through copyright. On 23rd April, great personalities, Cervantes, Shakespeare and Inca Garcilaso de la Vega all died. It is also the date of birth or death of other prominent authors such as Maurice Druon, K.Laxness, Vladimir Nabokov, Josep Pla and Manuel Mejía Vallejo. The idea for this celebration originated in Catalonia where on 23 April, Saint George's Day, a rose is traditionally given as a gift for each book sold.
The original idea of World Book Day was of the Valencian writer Vicente Clavel Andrés as a way to honour the author Miguel de Cervantes, who died on April 23. The date is also the anniversary of the death of William Shakespeare and Inca Garcilaso de la Vega.
Google doodle also celebrates the incredible work of the Bard of Avon with beautiful illustration.
The illustrations depict some of his most iconic plays appeared at the far left and right, with the playwright himself in the middle.
The depiction of his plays included Hamlet, Julius Caesar, Othello, Romeo and Juliet, The Tempest, King Lear, Macbeth and A Midsummer Night's Dream.
A book is a link between the past and the future. It is a bridge between generations and across cultures. It is a force for creating and sharing wisdom and knowledge.

A window onto our inner lives, books are also the doorway to mutual respect and understanding between people, across all boundaries and differences.

Ms Irina Bokova, Director-General of UNESCO
Shakespeare occupies a unique position in world literature. His works include 37 plays, including comedy, Tragedy and Historical along with Poems, sonnets. Shakespeare is astonishingly clever with words and images, so that his mental energy, when applied to intelligible human situations, finds full and memorable expression, convincing and imaginatively stimulating and to read his stuff is a rich experience for a life time. It has ever been great to read 'Romeo & Juliet', Hamlet, Midsummer Night's dream, Tempest, As you Like It, Merchant of Venice, King Lear and all the stuff that we taught in Literature Lessons at School.
A lot is said on Shakespeare on the web but here is Kidsfreesouls Literature page that you may like.
Frank Kafka once said, "a book must be an ice-axe to break the seas frozen inside our soul."
READ WILLIAM SHAKESPEARE IN LITERATURE