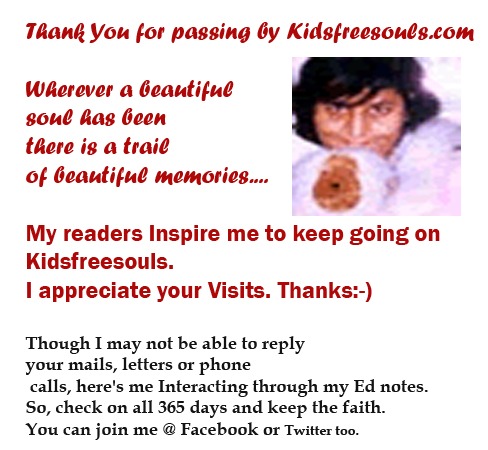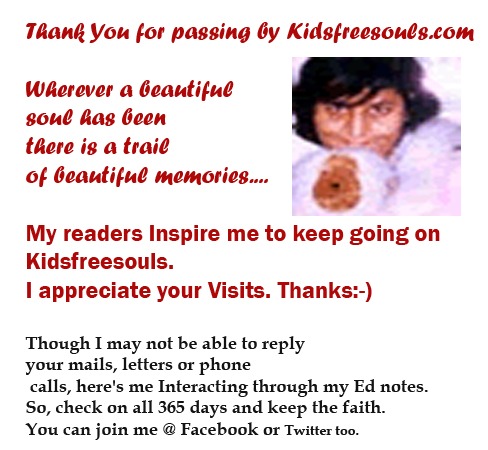 Thank You comes in an amazing way to be fondly appreciated and who else can be so happy than parents or teachers when children bring in a creatively made note with the courtesy words 'Thank You'!
Teaching children to write 'Thank You' notes is teaching them simple social manners of expressing gratitude.
Sincerely,


– ilaxi patel
Editor Online, www.kidsfreesouls.com
Just as much as we value the experience of gesture when somebody writes a 'Thank You' note, children too can receive our 'Thank you' notes for their good behavior or any positive attitude. This can be the first step in teaching them to consider writing Thank You notes to others. Most of the children need to be encouraged to write Thank You notes, as a child will not initiate to write on his own. How often, we forget to send our 'Thank You' notes and especially, when the tradition of 'Thanksgiving' is completely not observed in many places like India. Sometimes, merely we say words. However, writing notes has its own charm and has an educational value when children learn to write them.
So, how do we help kids to write these lovely 'Thank You' notes? Maybe a few Thank you note guideline tips for kids might help:
1. Talk to the child about Thanksgiving Day. Discuss what manners are all about. Explain why writing gratitude notes makes a difference in lives of people whom you love and care. When you receive a gift, your word 'Thanks' means you appreciate the person who gives you. However, merely saying is often brushed away but written note is cherished and remains in collection drawer, filling in memories.
2. Provide material. Provide appropriate paper, pencils and decorative color pens. Children like creativity and dabbing in colors on paper. Let them draw, paint and write notes with creative words expressing gratitude or write just 'Thank You'. Children can be encouraged to add flashy stickers and ribbons to decorate. They can even make cards, posters with 'Thank you' – simply appreciative!
3. Writing the message. Help children to express themselves by writing simple Thank You notes. Let them write simply 'Thank You' or help them write kind thoughtful words of appreciation. They can even follow quotes books and add related quotes with 'Thank you' for the gift or even thanking parents or teachers for what they do for them.
4. Educational value. Provide tips on how to write. Make the children understand the importance of being gratified. Kids can be explained on EQ – Emotional quotient and why feelings of other people is of concern when they love you and shower gifts or care for you.
5. Writing notes should be fun. Do not force children to write when they can't and is a boring activity for them. However, join in with fun or let them make crafts with simple 'thank you' chit attached to the piece. Writing notes is great way to put a child's creativity – reading, writing or arts and crafts skills. Let the message be clear and what it specifies.
6. Sing along fun. A great way to encourage writing is singing tunes esp. one like 'Manners' – Thoughtful Manners. Children who don't like to write can sing along or listen to music while they get to write. This will ease their inner stress of not wanting to write and readily be creative with other children. Singing is music to soul and soft tunes vibrate the soul.
7. Set an example. Get together and write the stuff. Sometimes, we preach kids but often miss writing notes with simply saying, 'No Time' or rather say it in words. Recharge self and let there be an inner feeling of child like vigor back to add color on paper and be creative to write 'Thank You' notes to children or others. Sometimes, some people just mean a lot – an inspiration, a word, a glance means a lot and makes our day. When we say 'Thanks', kids too follow our example as kids are Watching.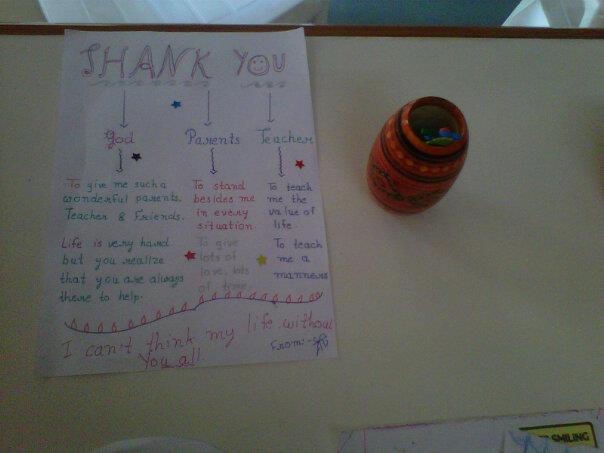 I remember, I got a 'Thank You' note card and it still means a lot to me as it lies on the magazine rack beside me. Human beings crave for love and appreciation and our live revolves round the people we like and admire.
I thank all my readers and well wishers who pass this way kidsfreesouls.com, swagatgroup.net and all my other work areas online (check my aboutus page) as I keep going day in and out to be actively and your visits inspire me to fulfill my commitment and mission to spread the message of love, faith, peace and unity among human beings. Somebody did ask me How and maybe the answer is in kidsfreesouls itself!
{jathumbnail off}