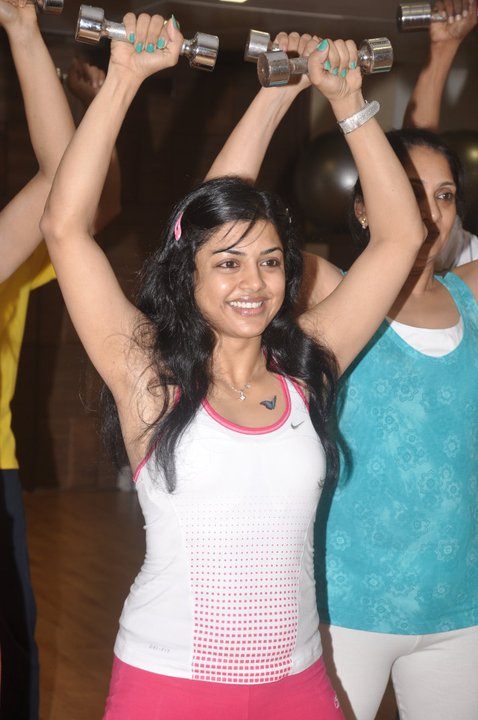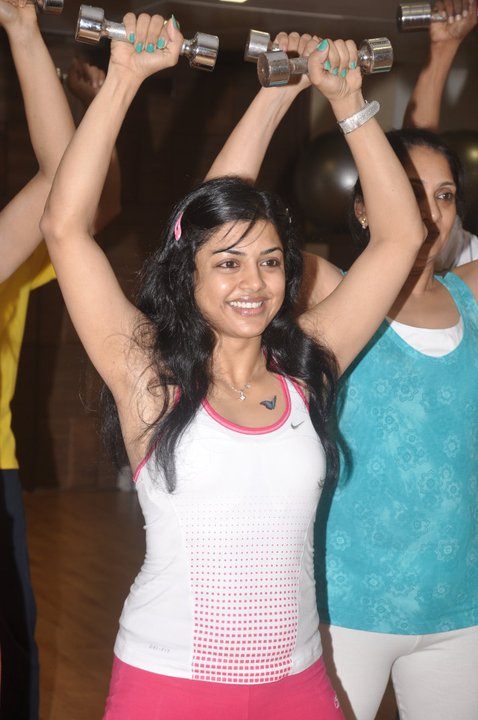 A fitness dance created by Columbian dancer and choreographer Alberto "Beto" Perez during the 1990s is creating waves in the town this summer. It is learnt that Beto Perez forgot his tape of aerobics music for a class he was teaching.
So, he took the tapes he had in his backpack which consisted of traditional salsa and merengue music. He improvised a class using this non-traditional aerobics music. Zumba soon became accepted dance form in Colombia and he later moved to the United States where he teamed up with cofounder Alberto Perlman and a childhood friend, COO Alberto Aghion. The trio produced a demo reel, and the Zumba concept was discovered and licensed by a company called Fitness Quest to create a direct marketing campaign and a line of home videos.
A young and dynamic Fitness Trainer Ruju Desai is all set to teach Zumba Dancing to kids, teenagers and adults in Ahmedabad. She has indepth experience of more than 13 years in the field and thorough learnt her moves on the floor. She has learnt various dance forms which includes Zumba and have been practising since last many years with Group Fitness classes. She has been associated with Ellis Bridge Gymkhana Club , N I D , Golds Gym as a Aerobic Trainer. At Sports Club, Ruju Desai's Zumba fitness batch begins from May 6, 2013.
Zumba involves dance and aerobic elements. Zumba's choreography incorporates hip-hop, soca, samba, salsa, merengue, mambo, martial arts, and some Bollywood and belly dance moves. Squats and lunges are also included. Zumba sessions are typically about an hour long and are taught by instructors licensed by an organization called Zumba Academy.They even sell videos and products. Approximately 14 million people take weekly Zumba classes in over 140,000 locations across more than 150 countries.
Benefits of Zumba
Zumba has many benefits
1. Huge calorie burn workout
2. Total body toning
3. It works for all ages
4. Great stress Release
5. Fast moves with vigour and fun
6. Its social
7. It makes people happy
What to Wear to Zumba Class
It's important to wear clothing that is moveable, breathable and will wick sweat away. The room can heat up fast with the tempo, so consider dressing in layers that you can remove. Also, sport a pair of supportive fitness shoes that allow you to pivot your feet easily.
What to Bring to Zumba Class
Bring a towel and a water bottle because you'll need them! And unlike some fitness classes, you'll have ample time to use these items. Most instructors give a short break between songs.
Amdavadis need no more reason to pass their Summer Vacation. It is all about opportunity to 'Stay Fit, Stay Healthy' all round the year. With the happenning party culture and hip n happenning music with weekends being more social, here is Fitness with Fun that is more Happenning. Zumba Dance on the floor with Ruju Desai at Sports Club is an amazing experience to freak for Fitness and Dance in style.
Ruju says, "I feel good by providing Fitness benefits to the people to help them be healthy and happy. Zumba can be done at any age and this is the best form of exercise apart from aerobic dancing too." Zumba is safe for a range of ages and fitness levels because the steps can be modified so that it's very low-impact. And all you need are a good pair of dance shoes, says Ruju.
Indeed, Fun is the secret ingredient with Zoomba Dance workout. Turn on the Music, go for a blast with roof raising, uplifting music!
– Kidsfreesouls News Desk
Pic: one of the Aerobic Session pic of Ruju Desai