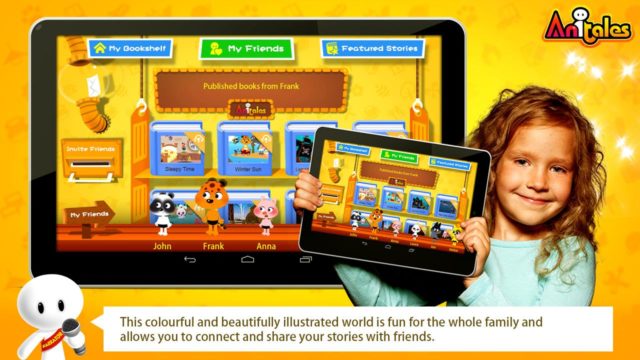 Anitales is a new and original user generated content platform that is simple to use and understand but has a high quality, professional finish. It captivates users with its wonderful illustrations and interactive nature whilst developing their creative writing skills within a close-knit online and offline community.
With an independent R&D patent, this unique and exciting App combines creative writing with customize avatars and high quality animation. Children are able to create personalized characters, choose from a variety of scenes, props and music, record their own voices, and animate each character using a comprehensive list of animations. This high level of interaction allows the user to go from a consumer to the producer of their own original content.
Jame Guo, Co-founder/CEO, explains:
"As parents, we set out to create an App that would not only entertain children but also engage their creativity and develop their creative writing skills. We passionately believe that Anitales can be used in educational settings, such as primary schools, to provide a fun, innovative, and safe way of learning."
Children's safety is the biggest priority for Anitales, which is why they have created a closed social networking group, meaning that only a child's real life friends will be in their friend circle. Unlike other social networking sites, there is no search function, forum, or live chat. Therefore users will need to know their friends exact user ID in order to add them. This greatly reduces the risk of unknown adds.
Children can, however, safely view featured books that have been published by other users via the Anitales YouTube page. This ensures that children can expand their reading range and benefit from other user's stories in a safe environment.
And the optional time limit means that parents can keep an eye on their children. Bill Lin, Co-founder/CTO, adds: "We wanted to create a platform that would immerse children not only visually and socially, but mentally as well. But don't worry, we have included a time restriction feature so that parents are still able to monitor their child's usage. However, we greatly encourage parents to sit down with their children and create a storybook together."
The App, which will also be released in China shortly, promotes cross-cultural communication. Mr Guo explains: "We want to encourage children to share their stories with others across different countries and cultures as we think it is important to experience and understand other ways of life. Anitales gives children the opportunity to do this."
With more than 80 million child tablet users in the USA, UK, and China combined, Anitales has the potential to connect children and families across the world.