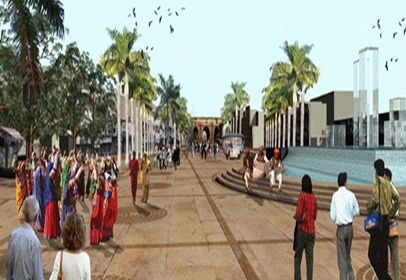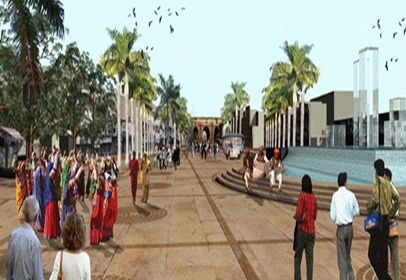 Bhadra Plaza Development Project (BPDP) wins Housing & Urban Development Corporation Award for 'Best Practices to Improve the Living Environment'. A committee from HUDCO had gone through the detailed design of the area and the AMC's plans redevelopment and conservation of heritage buildings around the Bhadra square.
The works of Bhadra Plaza Development Project (BPDP) had begun on 26th January 2012 and this more than 100 crore project aims to turn the entire Bhadra area into a centre for leisure activities.
AMC had inked MoU with Archaeological Survey of India(ASI) for this project that involves landscaping and betterment of 600-year old Bhadra fort and surrounding area. The Project is funded Rs 74.39 crore for the development of the area between Bhadra fort and Teen darwaja and has been approved under JnNURM scheme.
In an earlier interview in January, Shri Guruprasad Mohapatra, Commissioner of Ahmedabad Municipal Corporation gave the details of the Project in the You Tube Video here. http://youtu.be/FwzICgDG07c
The detailed project includes:
> Development of the public plaza and a pedestrian space from Bhadra Fort to Teen Darwaja,
> Restoration of the fort
> Development of Azamkhan Sarai area,
> Pedestrian bridge connecting Bhadra fort to the Sabarmati riverfront
> Multilevel parking facility at Lal Darwaja
The area between Bhadra fort and Teen darwaja will be declared as pedestrian plaza. A Pedestrian bridge will be connecting Sabarmati River Front and pedestrian plaza.
Design and detailed project report of this project has been prepared by Ahmedabad based CEPT university.
Kidsfreesouls News Desk