On Tuesday 17th September 2013 Shri Narendra Modi sought the blessings of his mother Smt. Hiraba Modi, on his birthday. Shri Modi drove to his mother's residence in Gandhinagar and spent time there. Shri Modi's mother presented him with a copy of the Gita and gave her blessings to her son.
Dignitaries from all over world convey birthday wishes to Mr. Narendra Modi
Prominent dignitaries from India and all over the world conveyed well wishes to the Gujarat Chief Minister Narendra Modi today on his 64th birthday.
The dignitaries who wished Mr. Modi on phone include the Prime Minister Dr. Manmohan Singh, BJP National President Rajnathsinhji, Mr. L. K. Advani, Mr. Arun Jaitley, Ms. Lata Mangeshkar, Mr. Shivrajsinh Chauhan and Mr. Venkaiya Naidu along with BJP's senior office bearers and the leaders of Indian communities and organizations residing abroad.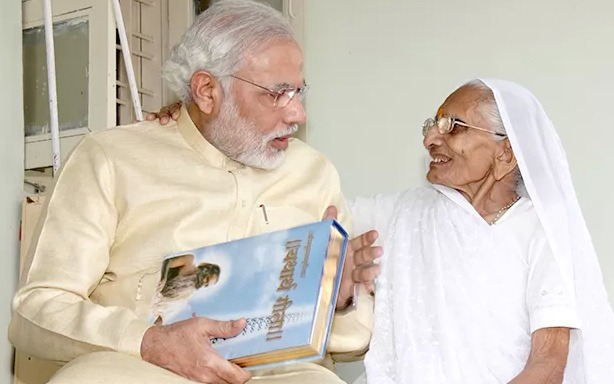 An unceasing flow of people was seen from the early morning today to convey birthday wishes to the Chief Minister.
Narendra Modi, BJP's PM candidate, is continuously strengthening his presence on social media, as he has currently, 2315922 followers on Twitter and 4032927 likes on his Facebook page, and the number is increasing by each passing day on both the accounts.
Sources: Gujarat Information Bureau / Kidsfreesouls
Wish Chief Minister Narendra Modi on his website
{jathumbnail off}