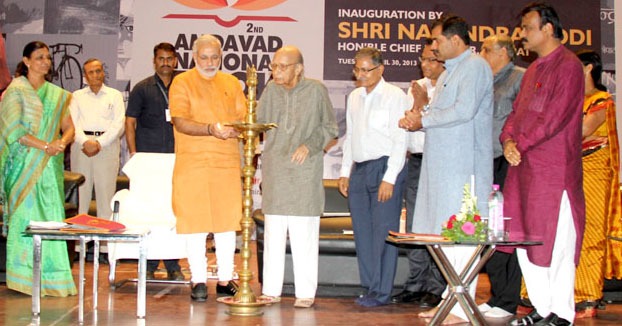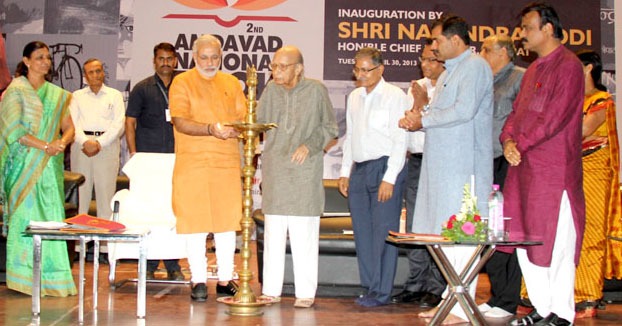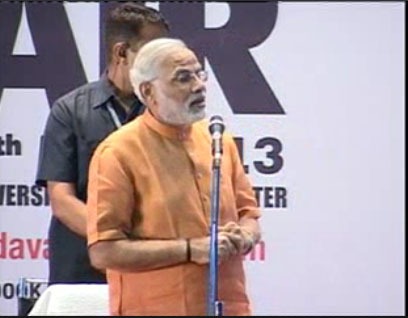 Amdavad National Book Fair is held in Ahmedabad from 1-7th May 2013. The Fair is organized by the Ahmedabad Municipal Corporation in association with National Book Trust and support of Gujarat Sahitya Parishad and Gujarat Prakashak Mandal.
Shri Narendra Modi inaugurated the National Book Fair today at 6.45 pm (30th April) at Gujarat University Convention Centre, Ahmedabad.This is the 2nd National Book Fair being organized in Ahmedabad as a part of the Vanche Gujarat Mission. CM said, "When this book fair started a year ago, one inspiration was Sayaji Rao Gaekwad ji's 150th birth anniversary.The other was the success of Vanche Gujarat. There were such programmes all over and from there the thought came."
CM further added, "Book fair represents a collective effort and strength to make books more popular. This time there is a counter to donate books at the book fair. This way, books can reach sections of society where books have not reached. This is not about a budgetary allocation but about our values and culture."
The Chief Minister also released a book 'Kutch: A Pictorial Journey' written by Mr. Dinesh Kumble, who is the brother of well-known cricket player Mr. Anil Kumble.
CM's tweets of the speech at the inauguration:
2 good events associated with this. It is 125th birth anniversary of Kanhaiyalal Munshi & centenary of Rajendra ji Shah.
This time a counter has been made to donate books at the book fair. I am sure many will donate books.
We had a thought to give e library. We are first state to give the bar associations with e-library
Through technology we are trying to spread books to every house
There would be many instances where books have helped us. During times of need we remember something we read
Go to Google Guru and you will get everything. Then one does not go into details"
When you are eating with 6 friends, the conversation in on dieting but you are eating more. This is due to Samoohikta
Read Ramayana alone and go for a Katha…the Katha you go for will be a very different experience
We too want to make our Lakshmi Pujaris to Pujaris of Saraswati ji – If there is Saraswati ji, Lakshmi ji does not go away
Books have that magnetic power. Calls for more books on Gujarat's tourism, as a kind of guide.
I tell all new writers, go nowhere these 7 days, perhaps you can write a book on this only
More than stage, the words that a writer gets from the reader are more priceless
Reader inspires the writer, writer inspires the reader. May this grow through this book fair
When children are going to video games I urge software professions, can we have video games that take kids to books through games
Through Panchtantra became popular among new generation
Visitors at the Amdavad National Book Fair will get a slice of literature and movies through an exhibition organised to celebrate 100 glorious years of Indian cinema.
This year the book fair will focus on the use of technology in reading. Shri Bhagwati Kumar Sharma, an eminent Gujarati Scholar graced the occasion as the Chief Guest. Newly elected Ahmedabad Mayor Smt. Minakshiben Patel spoke on the occasion. Shri MA Sikandar, Director of National Book Trust and Ahmedabad Municipal Commissioner Shri Guruprasad Mohapatra, the outgoing Mayor Asit Vora etc were present on the occasion. Other people from Literature field, Publishers, Authors, dignitaries graced the function.
– Kidsfreesouls News Desk