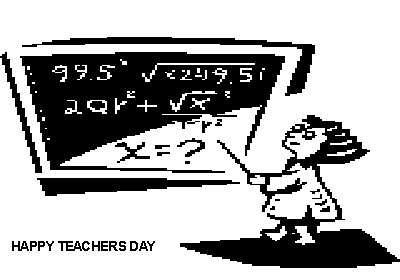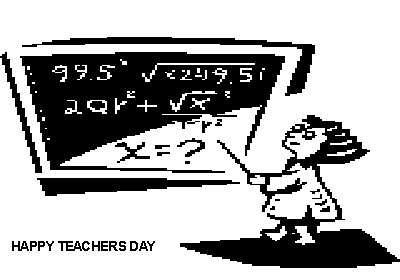 DR. SARVAPALLI RADHAKRISHNAN
(Born on 5th September 1888-1975)
Dr. Radhakrishnan said once:
"A good teacher must know how to arouse the interest of the pupil in the field of study for which he is responsible. He must himself be a master in the field of study and be in touch with the latest developments in the subject, he must himself be a fellow traveller in the exciting pursuit of knowledge"
Dr. Sarvappali Radhakrishnan was an Indian Philosopher and a Statesman. He was regarded as a major interpreter of India's philosophical and religious traditions to the west. He was Born in Tiruttani, Chittur, Andhra Pradesh. His father was Veeraswami and mother Sitamma. He married Shivakamomma ama in 1909. He was an Educationist too with proficiency in English, French, Sanskrit, Tamil, Bengali, Hindustani and Telugu. He wrote a very important essay during his student life 'The Ethics of Vedanta and its Metaphysical Presuppositions". He wrote more than 150 books including 'The Philosophy of Rabindra Nath' and 'The Reign of Religion in Contemporary Philosophy'. He had also served as Professor & Asstt. Professor of Philosophy in Madras, Mysore, Calcutta universities. In 1930, he was as Chairman of the All Asia Educational Conference. In 1936, he was appointed as Professor of Eastern Religion and Ethics at Oxford University, London. He was selected as Fellow of the British Academy in 1939. He recieved 'Knighthood' award in 1931 and 'Bharat Ratna' award in 1954 and was conferred with several honorary degrees and titles.
His first important post in public office was as India's first Ambassador to the Soviet Union. He served from 1949-1952. His most political contribution was helping in the smooth transfer of power following the death of India's first Prime Minister Jawaharlal Nehru in 1964. He was India's Vice President from 1952 to 1962 and President from 1962 to 1967. Radhakrishnan died on April 15, 1975 in Madras.
TEACHERS' DAY is celebrated in India on the Birthday of Dr. Radhakrishnan.
In 1962, Dr. Radhakrishnan became the President of India. On his Birthday on 5th September, his students and friends thought of celebrating his Birthday and this is when, he gently told them "Instead of celebrating my Birthday, it would be my proud privilege if September 5 is celebrated as 'Teachers' Day.
Since then, Teachers' Day in India is celebrated on Dr. Radhakrishnan's Birthday.
Shower of Roses to all Teachers.