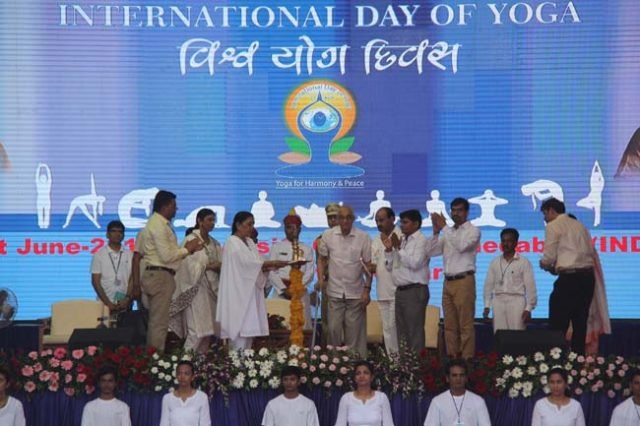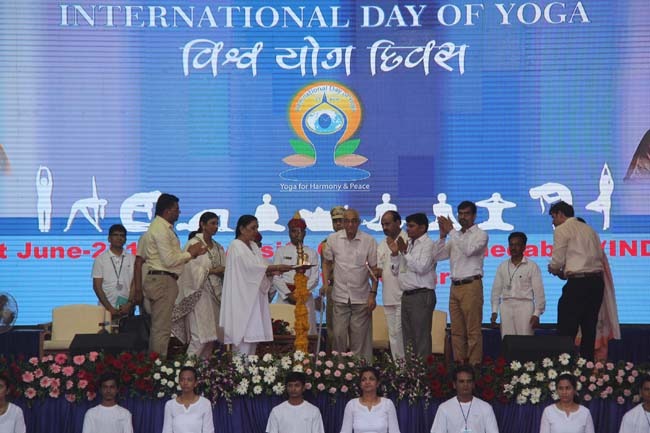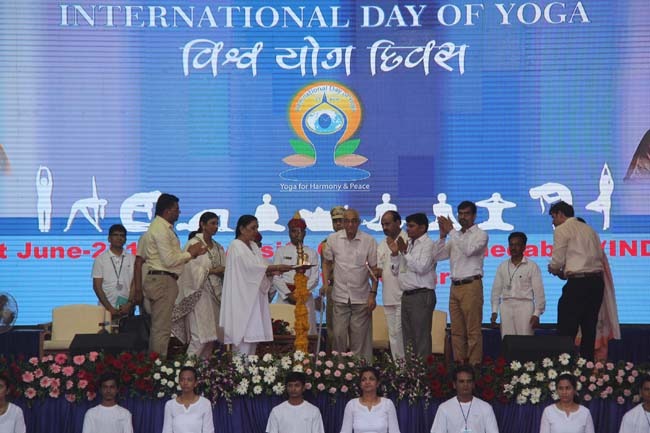 Even as the world celebrates the 1st International Yoga Day today, nearly 1.20-crore people are estimated to have participated in the events with éclat and enthusiasm at 29,000-odd places across Gujarat under the supervision of yoga gurus – down to the district, taluka and village level.
About 75,000 people voluntarily assembled at the main International Yoga Day function held at the GMDC ground here this morning.
Gujarat Governor O.P. Kohli, who wished all success to the grand event, said that Yoga practiced since ancient times in India is a gift of saints and seers to the mankind. It is relevant even in the modern times as the best remedy for several lifestyle diseases. He appealed to the people to practice Yoga daily to remain mentally and physically fit.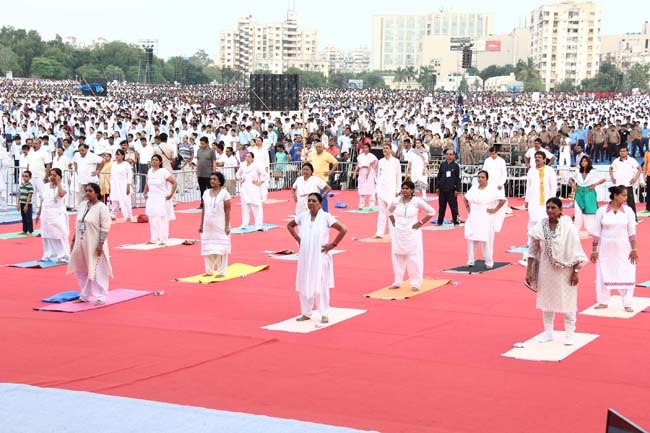 The Chief Minister Anandiben Patel, who herself joined the event and performed various yoga asana, said the State Government's Sports and Youth Affairs Department would take up Yoga as a statewide regular affair with people's participation.
Nearly 1.20-crore participated in International Yoga Day function at 29,000 places in Gujarat
"India's ancient tradition of Yoga has drawn world's attention"
– Governor O.P. Kohli
"Gujarat to make Yoga asana routine affair in cities and towns"
– Chief Minister Anandiben Patel
Hon'ble PM Narendra Modi's efforts for introducing Yoga is now recognized by the United Nations Organization as International Yoga Day
She also wished the Yoga asana should be practised daily and not just celebrated on a particular day alone. It is a time-tested way to health and well-being. It is the way to a balanced life. People should regularly practice yoga in groups in open grounds, school and college compounds in cities and towns, she said.
The Chief Minister hailed the Prime Minister Narendra Modi's tireless efforts for introducing India's ageless tradition of Yoga to the world, now recognized by the United Nations Organisation as the International Yoga Day – a matter of pride for the entire nation.
Prominent among those present at the event were Ahmedabad Mayor Meenaxiben Patel, Chief Sercretary G.R. Aloria, Sales Tax Commissioner P.D. Vaghela, Youth Services & Cultural Affairs Secretary Manish Bharadwaj, District Collector Rajkumar Beniwal, heads of various religions and sects, bureaucrats and office-bearers.
Sources: Gujarat Information Department
{jathumbnail off}