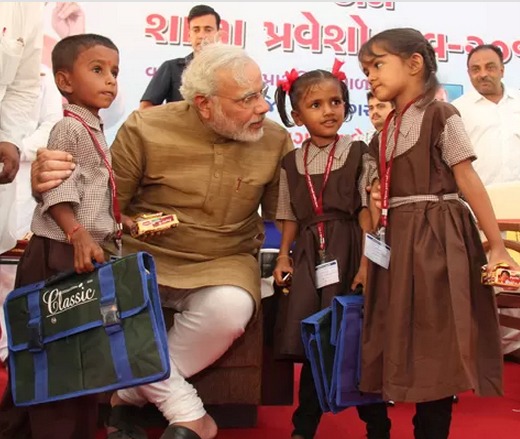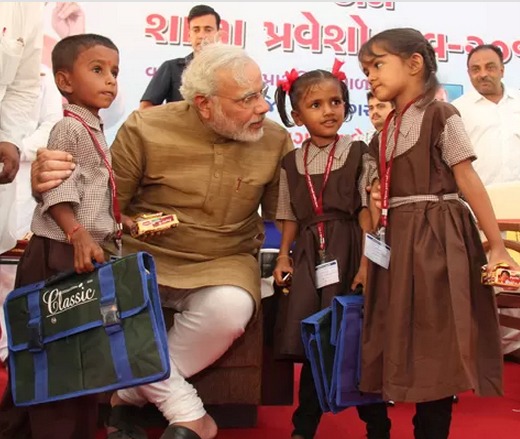 The Kanya Kelavani Abhiyan and Shala Praveshotsav drive of the Government of Gujarat commenced on 13th June 2013 and for the next 3 days (13th-14th-15th June 2013) the ministers, officials and the Chief Ministers will travel to the villages of Gujarat and inspire parents to send their children to school.
For the last eleven years, the Kanya Kelavani Abhiyan and Shala Praveshotsav have contributed in a big way in terms of increasing school enrollment as well as reducing drop out rates across Gujarat.
CM visited Lihoda village in Dehgam Taluka (Gandhinagar District) to inspire parents and teachers to educate their children. He gave a clarion call to make efforts, as a society, to ensure that the children and particularly the girl child go to school. He urged parents and the larger society not to differentiate between the girl child and boy child and added that when a girl is educated, two families enriched. He said, "I have seen families with four sons, with each son doing well but parents are in an old age home. But I have seen families where is a daughter who has sacrificed marriage to take care of her parents." CM also said he would be donating books from his personal library to the schools he visits to give impetus to reading among young children.
Shri Modi pointed out that it is not something to be proud of that after sixty years of Independence a Chief Minister has to come to take children to school. "But then someone had to find a way. We could let things go on and had to change the situation," said the Chief Minister. He recalled that the previous Governments gave money to educate the elders but they did not get education and the money went into the pocket of a select few. He also urged people to plant a tree during the Shala Praveshotsav.
In his speech the Chief Minister talked about steps taken by the Gujarat Government to improve primary education in the last decade. He shared, "When we took over we realized that over a lakh teachers had to be recruited. If we did not recruit teachers, generations would be left behind!" Likewise, he spoke on the Vijayalakshmi Bonds that have brought a major difference in the lives of girl students. The Chief Minster said that the state Government undertook efforts to build proper sanitation facilities for girl students and added that Rs. 200 crores have been set aside to build hostel related facilities for students. In this, he also sought the support of various community organisations.
Chief Minister Narendra Modi also blogged on the start of Shala Praveshotsav & Kanya Kelavani Abhiyan. Here's the Blog note as below:
Dear Friends,
For the next three days, the entire Team Gujarat goes to school! Yes, senior Ministers, officials and myself are going to spend the next three days in the rural areas of Gujarat, going to villages and asking parents to educate their children as a part of the Shala Praveshotsav and Kanya Kelavani Abhiyan 2013-2014. We will go to the rural areas of Gujarat on 13th-14th-15th June and in the urban areas of Gujarat on 20th-21st-22nd June.
I vividly recall when I had taken over as the Chief Minister, an official came to me to discuss dropout rate in our primary schools. The numbers that were in front of me left me startled! Why does such a vibrant state have such high drop out rates? Why is the girl child lagging behind in primary education? We decided to tackle this menace immediately and that is how the Kanya Kelavani Abhiyan was born.
Be it scorching heat or thunderous rain, my Cabinet colleagues, officials and I set out to the villages, we tell the parents, give us your child so that we can take them to school. I can say without doubt that taking a toddler to school is one of the most satisfying moments in my many years in public life. There is no better joy than laying the foundations of a strong future for these little children.
After a decade of doing this, I am glad to share that our efforts have received immense success. The drop out rate, which stood at 17.83% in 2003-2004 has drastically come down to 2.04% in 2012-2013 for Standard 1-5 and the drop out rates for Class 1-7 has dropped significantly from 33.73% in 2003-2004 to 7.08% this year. The results of the Kanya Kelavani Abhiyan are also for all to see. In the last decade, female literacy has increased from 57.80% to 70.73% today.
While there is tremendous improvement, we want to go higher. You must have noticed that whenever results of the Class X and XII Board Exams are announced, the most common headline is- girls outshine boys yet again. It just shows that if we give the right opportunity to our women, they can do wonders. This is what we seek to do through the Kanya Kelavani Abhiyan and Shala Praveshotsav.
We noticed that a common reason for the high drop out rate among girl students was lack of adequate sanitation facilities. Thus, we constructed over 71,000 sanitation blocks. Similarly, we saw that the state did not have enough classrooms to facilitate quality education for our youngsters so we built over 1,04,000 classrooms in the last decade. We did not stop there. In this age, where technology is constantly redefining the world, it is a crime to keep our youth away from these advances. That is why we have equipped over 20,000 schools with computer facilities.
Friends, let us all become partners in this quest for ensuring education for all. Look in your neighbourhood, in your offices, ask your support staff if they send their children to school and if they do not, inspire them to do so. Education brings employment as well as opportunity. And, by doing this, we are not only safeguarding the future of the child but also adding a new strength to the future of Gujarat. We are also doing a great service for our nation, who will greatly benefit from the intellectual power of these youngsters, the seeds of which we are fortunate to sow today.
Sources: CM site / Gujarat Information Bureau
{jathumbnail off}