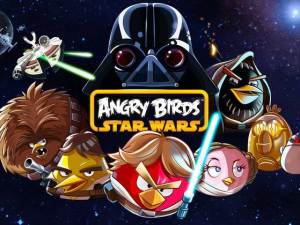 Kidsfreesouls Google Games News section is all about Games – Indoor, Outdoor and Video Games Influencing children. These selected Personalized News gives an insight to the most debated topics on Should kids be allowed to spend more hours playing games or decide which games are best for them and all the news to have fun.
Despite a burgeoning market filled with educational children games and apps which turns smartphones and tablets into tools for learning, Kids love the games that are fun than more being instructive. As per the research of Kytephone, the startup, which offers tools that turn Android phones into kid-safe devices with parental controls, found that Rovio's Angry Birds Star Wars is the most played game since its release, and several other Rovio titles top the charts in terms of time spent gaming.
The most popular games, in terms of time spent playing, were as follows:
Angry Birds Star Wars
Angry Birds
Bad Piggies
MineCraft (demo)
Angry Birds Seasons
MineCraft
Angry Bird Space
Temple Run
Logo Quiz
Addicted to games on smartphones, ipad – Here's picked news that says all…
___________________________________________________________________________
Kidsfreesouls-Google Personalized News – Games (Weekly picks)
Dead playing Games !
A man died after playing games in an Internet café in Taiwan for three days without a break. Doctors say it was over-exhaustion from an intense gaming binge, local media report.
The incident happened in Kaohsiung city, Taiwan, when a man identified as Hsieh was found slumped motionless in his chair, the Taipei Times reported. The death occurred last week, but reports emerged in local press only Friday.
Other customers, who were also on an extended gaming binge, thought he was just sleeping after three days of non-stop gaming. But then an employee at the café came to realize the man was not breathing. The 32-year-old was taken to hospital where he was pronounced dead.
"Hsieh was a regular customer here and always played for consecutive days. When tired, he would sleep face-down on the table or doze off slumped in his chair. That is why we were not aware of his condition in the beginning," the café attendant told reporters.
Sources: http://rt.com/news/223615-taiwan-man-dead-internet/
It was a large UK study, tracking children aged from five to seven years of age, to see what – if any – effect TV viewing and video game playing had on their behaviour, attention span, emotions and peer relationships. Researchers found that regularly…
To attack this deficit head-on, a group of Italian researchers wondered whether children with dyslexia would benefit from intense immersion in an activity that forced them to practice these skills.
When I bought my first Android tablet (the original Samsung Galaxy Tab 10.1), I never guessed that my then 2-year old son would be so keen to it.
Mathematics is one subject which has the maximum practical applicability. This develops fear among children which is technically known as, maths phobia (fear of mathematics).
The trend is known as "gamification" because the learning comes through computer-game simulations of real-world financial events.
Powerhouse children's network Nickelodeon launched an iPad app that lets kids play games, watch videos, and view full-length episodes of the cable channel's shows.
We're pretty certain that we don't have to explain the premise of thegame, but thought we would supply a video for your viewing enjoyment below just in case.
"Also, we vet the games he plays by checking them out first, but other kids – especially those with older siblings – seem to be into more violent, less-appropriate games for their age group, and we worry about their influence on our son." Here's what …
Road trip Road trips with kids can be some of the most memorable occasions for families. Of course, the memories aren't always good ones if the kids are kicking each other in the backseat, and driving mom and dad insane upfront. From the right snacks …
Despite a burgeoning market filled with educational children's games and apps which aim to turn smartphones and tablets into tools for learning, when it comes to time spent actually playinggames, kids are still gravitating to games that are more "fun …
The ads change, but their target age stays the same. Children rake in so much in sales, marketers work hard to get their attention everywhere.
Violence in video games is becoming a highly debated topic not only in KELOLAND, but also across the country. When a new video game hits the shelf, 12-year-old Nathan Wahle can't wait to pick it up. But his mom, April, says she gets the final say on …
Non-violent video games for kids
Non-violent video games for kids. Kinect Sesame Street TV: An interactive version of the well-loved educational TV show. Age 3. Platforms: Xbox 360.
Kids love tablets and smart phones for the wide range of games and educational apps, and there are a few developers coming to the fore with growing ranges of fun apps for children. Alongside the popular Toca Boca mobile games is another Swedish app ..
I recall when I was a toddler; I loved to play with other children using mud and pretending I was cooking and such. Sadly, my playtime was limited and I had to remain within a certain parameter.
Stan Lee may have turned 90 last December, but he is still in touch with his playful side, and that came out last week with the debut of his Stan Lee's Kids Universe line of books, e-books, and games, all available in a single web portal. The first …