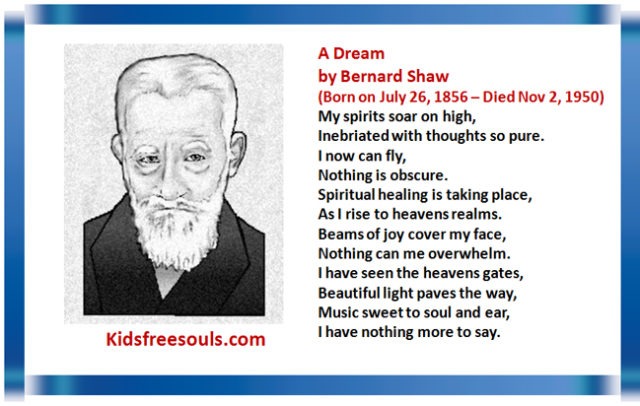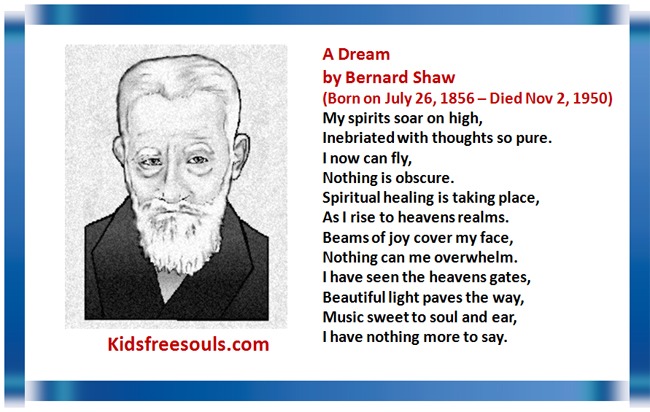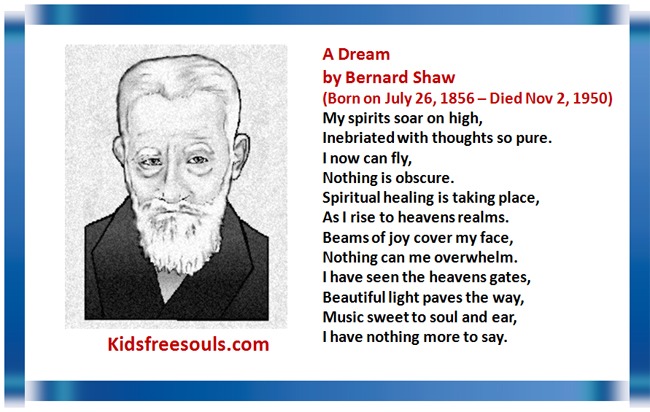 Reading George Bernard Shaw's Works is a genuine treat:-) His birthday reminds me of my love for George Bernard Shaw's work since school days. Shaw is my favorite of the Victorian playwrights. His works were revolutionary in many ways. He used Humor exceptionally and even tackled serious moral, political, and social issues in his plays at a time when sappy dramas were all the rage. He had an amazing ability to make people think while simultaneously making them laugh. As our children learn about this Author in school, here's sharing his quote : "What we want is to see the child in pursuit of knowledge, and not knowledge in pursuit of the child. "
George Bernard Shaw's Pygmalion (1912) – This ironic Cinderella story describes how a professor of phonetics (speech sounds) demonstrates the absurdity of class distinctions by changing an ignorant Cockney girl into a counterfeit aristocrat by changing her speech. The play was adapted into the musical 'My Fair Lady' (1956). And, my favorite song from this movie has ever been 'Lots of Chocolates for me to eat' . Teachers may get the class to sing the song and follow the George Bernard Shaw Literature Project in the classroom.
CLOCK
by Bernard Shaw
There are twelve numbers on the face of my clock,
I know that it's happy for it goes tick tock.
It has two hands, one large, one quite small,
They go round and round as it hangs on the wall,
I think you know that they are playing a game,
Each time that I look, it is always the same.
They chase each other day after day,
Around they go from June until May.
What are they doing to tell the time?
Copying one another with hands that mime.
As they pass each number they seem to say,
Please don't hinder me, I'm still on my way.
The large hand says it's really not fair,
I seem to be doing more than my share.
The little hand laughs and said what fun,
I love seeing you go past always on the run.
Some people you know don't like my old clock,
But it keeps me happy, as it goes TICK TOCK.
MY FRONT ROOM
by Bernard Shaw
There's been a battle in my front room.
The shovel fought against the broom.
You should have heard my old arm chair.
It said, 'Go on Lads, I don't care.'
A picture of Lord Kitchener upon the wall,
'Let out a hearty rallying call,'
Your country needs you, That's the stuff.
The Aspidistra said, 'She'd had enough.'
The Sofa cried with piercing shriek.
'You are making my old springs squeak.
It's bad enough to watch you fight,
I'm sure to have a very rough night.'
The light shade called, 'That's enough from you,
You need re-stuffing you silly old Moo.'
The Tele in the corner has the hump,
It's got four legs and cannot jump.
It in turn had a go at the books upon the shelves.
But they held knowledge and could defend themselves.
Even the Carpet on the floor was mad,
Its colours were the same as the Wallpaper had.
But the curtains had the best time of all,
They kept telling the windows they were having a ball.
The Clock upon the mantel-piece,
Said 'It's time I think to call the Police.'
But what do you know as I entered the room,
All was quiet as shovel kissed broom.
Here's some Quotes by George Bernard Shaw:
Make it a rule never to give a child a book you would not read yourself.
What we want is to see the chid in pursuit of knowledge, and not knowledge in pursuit of the child.
I am afraid we must make the world honest before we can honestly say to our children that 'Honesty is the Best Policy'
A happy family is but an early heaven.